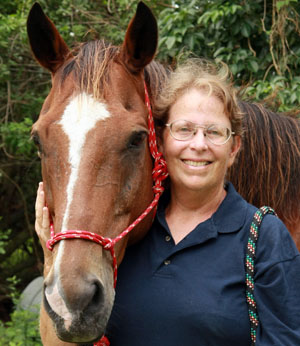 TALES FROM THE TRAILS
The weather couldn't have been more perfect on Sunday, March 22 — a mix of sun and clouds, light breeze, not too hot — when students and parent volunteers stood ready to greet each car, handing out balloons and fliers, and directing them to parking spaces at Casperey Stables.
The lush 10 acres at 2330 D Road in Loxahatchee Groves has been going strong, offering camp for more than 20 years and training for more than 30. The barns, turnout paddocks, riding ring and covered tacking up area were ready for the mini-tour offered by parent volunteers.
Jaime Garfield was one such tour guide. Her 11-year-old daughter, Sarah, has been riding at Casperey for two years.
"I don't ride or know a lot about horses," she said. "We came to one of these open houses two years ago. Sarah had a friend riding here, and she wanted to give it a try. I was fairly apprehensive. There's my allergies, plus horses are pretty big animals."
Yet, the Garfield family was impressed.
"This farm is wonderful, and Sarah loves it. If she could, she'd live here. She started attending the camp. We signed her up for a few sessions, but she ended up attending them all. Now she rides here each week," Jaime said. "I feel totally comfortable dropping her off here. The staff always shares information with me, so I learn a lot, even though I have no horse background. And safety is always a main consideration. I feel welcome watching lessons or going along to the local shows."
She was quick to point out that it's about much more than just riding.
"Sarah is learning bathing and grooming and all the things involved in caring for horses," Jaime said. "I'm glad she's seeing that keeping a horse is a big job, a lot of responsibility. Being able to do all of it is a great boost to her confidence and self-esteem. I highly recommend Casperey to anyone who loves animals and horses and riding. It's a welcoming atmosphere where you'll learn a lot and have fun."
There were plenty of opportunities for visiting kids to have fun: pony rides, a coloring contest in the air-conditioned clubhouse, equine trivia contests and games.
Six-year-old Alera Hurwitz of Loxahatchee enjoyed her pony ride, led around by more volunteers while her parents watched.
"She wants to try riding," her mother Fayth explained. "I love the programs they offer, both the camp and the regular riding programs. They start with the basics and bring them right along, so they learn about all the responsibilities. Alera loves animals. She hopes to have her own horse one day."
"It was fun," Alera said after she had dismounted. "I liked being up that high. And he was a nice horse. I'd like to do it again."
Owner and manager Lori Cooper laughed, overhearing the comment as she strolled past, keeping an eye on all the proceedings. "Our goal at the open house is introducing Casperey Stables to the community," she said. "We promote affordable riding opportunities to kids and adults, and offer a fun, safe camp. We stress not just the riding, but all of the work involved in horse care, which promotes all kinds of life skills."
This gives riders the "full horse experience," Lori explained.
"If they hope to someday own their own horse, this is a great place to start building that knowledge base so they'll know what they're doing," she said. "We're well-organized, and all of our programs are structured to allow fun and learning in a safe environment. Safety is always a major focus. Our instructors are professional and experienced, and enjoy being with children."
Casperey also has the right mix of horses for the program.
"We have 16 of the most wonderful school horses, quiet and friendly. Everything from slow and steady for our beginners to horses willing and able to take more experienced riders to the next level. Temperament is everything in a good school horse. I look for quiet, tolerant horses who've been there and done that, sound and sane. We offer western riding, but mostly do English, focusing on hunters, jumpers and dressage."
The camp offers many different riding opportunities, along with other activities.
"We'll be having different themes for two-week sessions: Frontier Days, Patriot Days, Medieval Days, Circus Days and Indian Days," Lori said. "In addition to the regular lessons, we have mounted games, trail rides, jousting, vaulting and taking the horses swimming bareback in the pond. We also attend the posse shows during the year. Last year we had quite a few circuit champions."
Lindsay Baum was one of the instructors on hand to help out and answer questions. She has lived in the area for 15 years.
"I love being with the kids," she said. "This barn is a nice break from the WEF craziness, where I worked as a barn manager for a lot of years. Over there, it's all about who's wearing or riding the fanciest or most expensive whatever. Here, it's the pure love of horses and the sport, where no one's competing with each other — what riding and showing should be. It's a welcoming place with amazing horses. I'm blessed to be here, doing what I love."
"I love coming here," agreed 10-year-old Adrianna Reed of Loxahatchee. She has been riding at Casperey for a year and a half.
"My favorite horse is Beau. He really listens to me and comes when I call," she said. "We just started cantering, and we're doing a little jumping. We're going to show in the walk trot classes. This is a fun place, a happy place. I feel good coming here."
To find out more about Casperey Stables, call (561) 792-4990 or visit www.caspereystables.com.