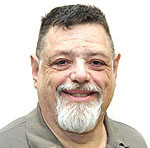 'I' ON CULTURE
Seeing the new movie Danny Collins is like going to a golden oldies concert. It's like comfort food: It goes down easy, although there's not much new.
Danny (Al Pacino) is an aging rock star who has not had a hit in years but rakes in money by doing concerts that are a rehash of his songs for aging Baby Boomers. He comes out wearing a fake tan and a girdle, with a nose filled with coke, and sings 40-year-old songs as his old fans cheer and sing along. Then he goes back to his huge showpiece of a home with a young fiancée (Katarina Cas), who he knows is cheating on him.
One night, his devoted manager Frank (Christopher Plummer) gives him a fabulous present: a letter he never received from John Lennon, written after Danny worried in a magazine article that he might be corrupted by fame. Lennon wrote that only he could corrupt himself. By the way, this is based on the true story of a British folk singer.
Danny, recognizing the truth of Lennon's words, decides to change his life. He quits the tour and flies to New Jersey to reconnect with his muse, as well as a grown son he has never met. The son, Tom (Bobby Cannavale), is 40 years old and the opposite of Danny, a hard-working, devoted family man. But Danny works to charm his wife Samantha (Jennifer Garner) and hyperactive 5-year-old daughter Hope (Giselle Eisenberg). He also spreads charm and cheer at the Woodcliff Lakes Hilton, where he takes up residence, playing Cupid for a couple of young workers and chasing the uptight manager Mary (Annette Bening).
Most of the film focuses on Pacino's attempts to redeem himself by returning to writing his own songs and attempting to connect with his son. A charming set piece in which Danny takes the family to a special school for ADHD students where Hope seems to fit in perfectly while her grandfather pays for everything was excellent. If not played with a light touch, this would have seemed deadly, but it worked, thanks to good acting.
Danny is torn in different directions: He desperately wants to write new music and wants to make things right with his son, but also needs to tour in order to provide money. Things do work out in the end, although not necessarily as Danny might want.
Although there are a few unexpected twists and turns, the plot is a bit cheesy. What saves it is the remarkable cast. Pacino has long been one of our best actors, albeit a quirky one. This movie lets him use all his shtick to fill in details. He should be a hateful character, but we wind up rooting for him even when he lets us down. He even sings reasonably well. Bening is great opposite him. She is able to bring some real warmth to a stereotypical character.
Plummer simply steals every scene he is in. He comes across as both caring and careful. Cannavale is very effective as the son. He manages to be stalwart while in the throes of personal crisis. Garner is charming, and young Eisenberg is truly charming. We seldom see little girls so hyperactive, and she manages to be adorable even while seeming to constantly get a bit in the way.
One of the things I liked most in the film is the idea of how small things can change someone's life. Danny is convinced that if he had actually read Lennon's letter, his life would have changed for the better. Most of us have things like that in our past, and most of us go through life wondering how things might have been different had we not made a decision or had one made for us in the past. And our musings generally go nowhere because we can't go back. Danny had some options, did make some changes and probably became a better person for it. This film is a lot of fun. The dialogue is often quite good, and, as performed by the cast, it is easy to ignore the script's problems. It is good fun, particularly if you enjoy old music (most, though not all, of the songs are by John Lennon) and a nice family story.