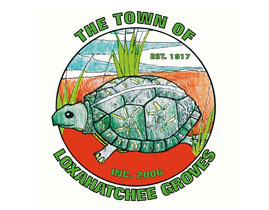 The Loxahatchee Groves Town Council on Tuesday postponed a vote on Big Dog Ranch Rescue's plan to move to a site at Okeechobee Blvd. and D Road. The decision was moved to April 21 at the applicant's request.
Several residents attended the meeting to speak about the Big Dog application.
Town Manager Bill Underwood said he had received correspondence from Big Dog asking to continue the site plan hearing to the April 21 meeting, and he recommended that the council agree to the delay.
Councilman Jim Rockett said he thought the continuance was a delaying tactic to discourage people who had shown up at that meeting to speak on the request.
"This will be another continuation, moving it to another date," he said. "We keep bringing people back to talk on the subject. They keep coming back, and we tell them they have to come back again. To me this is a delay, nothing more than a tactic to weaken our position to the variance as requested."
Rockett said that by allowing the continuance, the council was allowing the problem to continue.
"If the council wants to delay this, that's their prerogative," he said. "If the council knows what they want to do on this, then let's do it. All I see it doing is making it harder for people to object."
He suggested that the council hold the hearing that evening and approve it or reject it.
Councilman Tom Goltzené said he personally opposed Big Dog locating in town, but pointed out that the council had already approved it as a use in the land development code.
"This is just whether or not their site plan's OK," Goltzené said. "They are already going to do what you're objecting to. You've already allowed this. It will go forward unless you go back and change the rules."
Attorney Michael Cirullo said he was concerned that Big Dog had asked for the continuance and staff had already told them it would be granted, and the argument could be made that they were not allowed due process.
"Not wanting to grant any further continuances, I would suggest that that be made clear this evening, but I would have a concern about process," Cirullo said, pointing out that if an applicant asks for a continuance, it is usually granted.
"I understand the frustration, but I would recommend that you go ahead and continue it to April 21," he said. "If you don't want any further continuances, you can make that clear this evening."
Vice Mayor Ron Jarriel said he did not think the proposed location at D Road and Okeechobee was beneficial to the town.
"I told them that if you want to think about coming into Loxahatchee Groves, you stay on Southern Blvd. where you have a major thoroughfare," he said, adding that he wanted to give the applicant due process. "We do not need to go to court because we did not give them a chance. I've got enough faith in the people in this room to know that you can make one more meeting."
Rockett objected to the council being obligated to grant a continuance because staff had recommended it, and also thought the council had made it clear when they granted the land use approval that they did not want it in the center of town, and directed them toward Southern Blvd.
"Personally, we've been betrayed by this organization," Rockett said. "They tell us one thing, and we find out something else. We tell them one thing, and they do something else."
Mayor Dave Browning was concerned that Big Dog had held an open house two weeks ago to get residents' input and had not had the opportunity to respond.
"They are going to come back and say: 'We heard what some of the residents said. We're trying to tweak the project,'" Browning said. "I would be very careful what I say because this is not before us tonight."
He added that in the past, developers have asked for continuances and the town and council had worked with them.
"I, personally, am not in favor of putting it anywhere in Loxahatchee Groves because I'm not going to put it on the people on Southern Blvd.," Browning said. "I think we need to make the next meeting the last meeting and specify that in a motion, but to protect us, I would like to see us move it to the [next] meeting."
Goltzené made a motion to continue the hearing to April 21, which carried 4-0 with Rockett abstaining.
In other business:
• The council rejected a motion by a 3-2 vote to contract a hunter/trapper to control coyotes that have posed a threat to livestock and pets.
The rejection was primarily out of concern that the contract should be for general public benefit rather than specific property owners, and that the proposed contracts had not been thoroughly reviewed by staff.
At its last meeting, the council had directed staff to locate hunter/trappers and received several responses.
Goltzené thought the contracts were unacceptable because they did not specify the property they would target to control the coyotes, and suggested posting the names of the contractors on the web for property owners with coyote issues to seek out themselves.
Rockett suggested contracting with a trapper and allowing residents to come in and apply for the service. "It is a problem that happens to reside on individual properties, and it affects the town," he said.
Cirullo, however, said he had not seen the proposed contracts and was concerned about liability and whether they were bonded. He added that the council needed to show a clear public benefit, not just to certain property owners.
Councilman Ryan Liang said he would favor placing a bounty on coyotes, but other council members pointed out that the town would not be able to verify whether the animals actually were taken in town.
Browning said the direction from the council was for staff to find resources.
"I don't think we as a town need to do it, because, honestly, it's very specialized," he said. "Coyotes are one of the hardest animals in the world to track."
Jarriel said he favored a contractor out of Jupiter who appeared to be a professional and has a reasonable price.
"Let's at least give them a try and set an amount and see how it works," he said, explaining that if they don't get any coyotes, they would not be paid, except for a fee to set the traps.
Rockett made a motion to approve a contractor, seconded by Jarriel, but it failed 3-2 with Goltzené, Liang and Browning opposed.
• The council delayed consideration to May 5 to determine whether forfeiture provisions to remove a town council member falls within the parameters of the town charter. The issue centers on a 10-year-old incident regarding Liang, who pleaded guilty to catching undersized spiny lobsters, which is a third-degree felony.
• The council reappointed Browning as mayor and Jarriel as vice mayor.