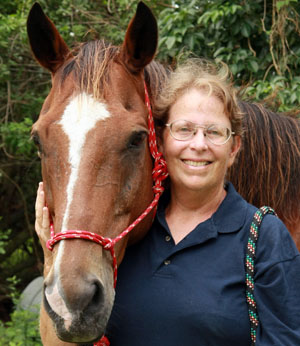 TALES FROM THE TRAILS
Julie McKean grew up a long way from Wellington, in the small boating village of Camden, Maine. Her father offered day trips on his windjammer, and Julie naturally grew up sailing. Ah, but then horses caught her fancy. She started pony lessons when she was 8.
"They were such naughty, willful ponies," she recalled. "They'd do everything to throw you off — bucking, refusing jumps, sudden stops. It was traumatizing, but also a good challenge, trying to make the pony understand that I was the boss."
After doing some jumping and eventing, Julie switched to dressage at age 14.
"I found the intellectual aspect of it intriguing. It made me think and apply my body in a cerebral way," she said. "It also felt a lot safer than jumping. With dressage, you get close to a goal, and then you realize how much more work you have to do. That endless journey is very thrilling. Once I knew I'd found my calling, I never doubted that I'd go far in the sport."
Julie was one of the pioneering riders in the FEI Pony Test. She competed at Devon in 2003 and 2004, when it was first offered. She continued in the Young Riders Program, competing in the 2006 championship, where she won team gold, individual silver and freestyle gold medals.
And yet, she shrugs at the mention of past accomplishments. "That all seems like it was so long ago, so far gone. But it was an enriching experience," Julie said.
What she liked best about the Junior Riders Program is how it laid out all the steps needed in order to progress and learn. When she aged out, she was on her own.
"I had the great good fortune to acquire my dream horse, Stelina. She was 11 when I got her in 2009. I was in Germany, looking at horses, and they brought her out," Julie recalled. "She was at the far end of the arena, and my mom and I both remarked, simultaneously, how cute and pretty she was. I rode her. She was so powerful and well-trained. I knew she was mine right then. I was so excited. I could hardly wait to bring her home and start training with her."
However, the entire experience was not easy.
"At home, an odd thing happened. I started feeling anxiety and real uncertainty, like I wasn't good enough to ride her," Julie said. "All these feelings of doubt kept creeping in. But my trainer told me to stop worrying. My mom put a magnet on the refrigerator with a terrific quote from John Wayne: 'Courage is being scared to death but saddling up anyway.' I learned to be fearless in pursuit of what I love."
It all worked out, and soon she had formed an incredible bond with Stelina.
"It took time, grit and dedication, but I kept riding and training, and we're a really great team," she said. "There's a lot of harmony between us, and people enjoy watching us ride. It was so encouraging. Every time we showed, I believed in myself a little more. I recognized I needed Stelina to realize my potential. She has taught me so much, and now I try to help her realize her potential."
Julie hopes to start showing in national-level grand prix classes and work on a grand prix freestyle. She might even enter some CDI level grand prix classes.
"I'm surprised at how well we've done, with some scores in the 70s, but Stelina has taught me that the ribbons and medals aren't everything," she said. "I've just turned 27, and when I was younger and not so mature, I was dazzled by winning. Now I understand that my relationship with my horse is absolutely the most important part of riding. Every day that I can ride her is a high point."
Now, Julie understands her equine partner.
"The thing about mares is, they don't give away total trust and acceptance easily. Stelina made me work for it, made me earn her respect, but it was worth the effort," she said. "Good mares are always worth the effort, because then you have a special synergy and oneness."
Julie has been showing at the Adequan Global Dressage Festival for years. Last year, her family bought a house in the community, and she thought everything was set. Then she discovered that her trainer had suddenly decided to sell his farm in New Hampshire (he couldn't handle another winter) and move to Ocala.
"So now I'm a little at odds, trying to figure out exactly what I'll do and where I'll go," Julie said. "Stelina is 16 now, and I know she still has got a couple more good years. I'm hoping to find my dream job, where I could groom, ride and teach, and still have time to train and compete. Starting young stock isn't my forte. I'm willing to go wherever a good training opportunity leads me. This is a big juncture in my life. I'm hoping to find an assistant training position with a good farm somewhere when the show season ends here in Wellington."