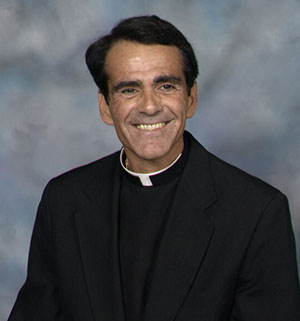 Rev. Father John Mericantante, pastor emeritus of St. Mary's Catholic Church, is teaming up with the Homeless Coalition of Palm Beach County to help end homelessness across the community.
The esteemed Pahokee priest has agreed to serve as an honorary co-chair for the fourth annual Senator Philip D. Lewis Center Luncheon on Wednesday, May 6.
Mericantante joins Palm Beach County Commissioner Priscilla Taylor and Bank of America Senior Vice President Fabiola Brumley as an honorary co-chair of the annual event.
"We need leaders from all segments of our community, from every area of Palm Beach County, to step forward to help us solve the issue of homelessness," Homeless Coalition Executive Director Marilyn Munoz said. "This well respected trio is the perfect combination of faith, government and business leaders combining their energy to make a difference."
The Senator Philip D. Lewis Center is Palm Beach County's first homeless resource center. It is a central point of access for individuals and families seeking to end their homelessness. Since opening in 2012, the center has served more than 10,000 men, women and children.
The Homeless Coalition hosts the annual luncheon to help fund services at the center, including immediate housing and meals, rental deposits and job certifications and training. Funds from the 2014 luncheon helped to move 74 families into permanent housing. With the community's support, the Homeless Coalition hopes to help even more families and individuals move from homelessness into homes.
The fourth annual Senator Philip D. Lewis Center Luncheon will take place on May 6 at the Kravis Center for the Performing Arts. Tickets are available for $75 through the Homeless Coalition's web site at www.homelesscoalitionpbc.org.