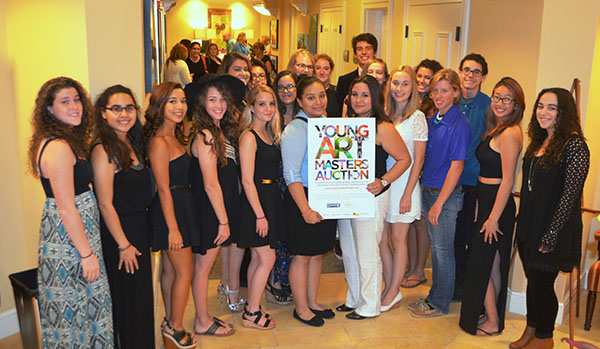 The halls of NuVista Living Wellington were filled with student artists, their teachers and supporters Thursday, April 16 for a reception honoring the 2015 Young Art Masters Auction participants.
Student artists got a chance to talk about their work and share stories about what inspires their creativity with more than 100 guests and supporters who viewed the pieces on display at NuVista.
An array of inspired art by talented painters, photographers and ceramics artists from Wellington, Royal Palm Beach, Palm Beach Central and John I. Leonard high schools was chosen for this year's event, which benefits the visual arts programs at the schools.
Guests included elected officials, school district representatives, Young Art Masters sponsors, as well as family and friends of the student artists.
"This work is incredible. These kids are so talented," said Kim Jacobs, who attended the reception on behalf of the Jacobs family, which underwrites Young Art Masters. "I love hearing the stories behind their art."
Each school was given supplies for the students to create pieces in each of the art genres the schools teach. For many of the students, it's their first opportunity to paint in such a large format or to see their works displayed publicly.
Young Art Masters not only provides the opportunity for the students to participate in a gallery show but raises money for the schools through an online auction. Each of the pieces is available for bid at www.youngartmasterswellington.org. All the money raised through the event goes directly to the high schools' visual art departments.
All the pieces will be on display at NuVista Living through the end of April when the auction closes. NuVista, a comprehensive rehabilitation and assisted living community, incorporates art as part of its programs, Marketing Director Dean Tendrich said.
"As soon as the art went up, it was amazing to see not only our residents but therapists and visitors stopping in the halls to look at the art," Tendrich said.
This year, Young Art Masters included "Sponsor a Young Artist," which generated several sponsorships from area individuals and businesses.
For more information, or to view and bid on the art, visit www.youngartmasterswellington.org.
ABOVE: Participants in the 2015 Young Art Masters Auction. Photo courtesy Tina VaLant