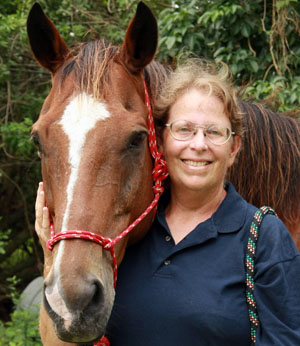 TALES FROM THE TRAILS
Monday, March 30, was a gorgeous day, with the tail end of a cold front still lingering. No one had any complaints about the weather at Lionshare Dressage in Palm Beach Point, where about a dozen people had shown up to shoot a unique music video featuring internationally famous contemporary violinist DSharp and Grand Prix dressage rider Caroline Roffman.
The pair's goal was to create a music video of Roffman and her horse "dancing" through complex riding maneuvers while DSharp's captivating music backed up his motto, "Do not underestimate the violin."
Originally from South Carolina, Derryck Gleaton, better known as DSharp, began playing the viola and violin in school at the age of 11. He played strictly classical music during his first few years, then began dabbling in other styles, developing his improvisational skill and ability to play practically anything by ear, creating his own style and flavor.
He drew his inspiration from such musicians as Will.I.am of the Black Eyed Peas, Regina Carter, Bond, Stuff Smith, Timbaland and Jimi Hendrix. This turned into a fusion of dance, house, pop, rock, soul, electro, hip-hop and, of course, classical.
Since 1999, DSharp has used the violin strings and his deep soulful vocals to grace a variety of high-profile clubs around the world, including in Sweden, Amsterdam, the Philippines and Dubai. He's known for his emotion-invoking V-mix tracks, jaw-dropping video performances and energetic live performances.
The other half of this duo was internationally successful Grand Prix rider Caroline Roffman, who epitomizes beauty and grace in the dressage saddle. She became the first U.S. rider in history invited to compete in the Under 25 Grand Prix division at Aachen, Germany, and win its CDIO5* reserve championship. She was also a star member of the U.S. gold medal team at the Nations Cup in Wellington. The general public grew to know Roffman last year when an amazing video of her riding freestyle to Katy Perry's "Roar" went viral on the Internet.
Last month's shoot lasted about four hours, from 10 a.m. to 2 p.m. The venue was one of those impossibly beautiful Wellington barns that apparently cost more than I will ever earn in a lifetime.
A friendly German shepherd named Elsie wandered about, thrilled that all these people had shown up just to visit her. ("Call the dog out of the shot," yelled the director. Again.)
The horses were all quite interested in the unusual goings-on as well, and had their ears up and their heads over the doors and out the windows, checking out the action, which involved a lot of hurry-up-and-wait. People moved lights, checked camera angles, fixed people's makeup, then did it all again.
"Put that light here, move that horse there," intoned the director, Malkio.
Owner of the Malkio Entertainment Group, he described himself as DSharp's manager, agent and creative director.
"I wear many hats," he explained. "This is the first time I've ever shot a video with an animal. This is not the usual run-of-the-mill doings. Horses have definite personalities. They do what they want, and they don't always take direction. We're very intrigued with the horse community."
Caroline sat bareback on Vade-Mecum Intergro, who was wonderfully patient but could stand perfectly still for only so long. They had borrowed the 13-year-old gray Lusitano gelding for the shoot, because Caroline had recently sold her regular mount, Her Highness O.
Caroline and Her Highness, a black Hanoverian 12-year-old mare, began their international Grand Prix career a year ago, earning a place on the U.S. long listed squad to go to Europe six months later, the youngest rider in the group, hoping to be on the World Equestrian Games team and a prime prospect for the 2016 Olympics. "The sale was bittersweet," Caroline said, "one of the toughest moments of my life, saying goodbye to a horse I'd had for five and a half years. We had an incredible journey."
Finally, the shot got lined up, the lights were right, the horse was in frame, Malkio yelled, "Action," and for the next five minutes, DSharp played the violin while Caroline sat on her gray. Then it was on to the next shot.
"I first got involved with DSharp a while ago," Caroline said. "I watched some of his YouTube videos, and he blew me away. His passion and love of music is really special. I contacted him through Facebook, and we decided it would be fun to do something together. He actually put together a whole musical piece for me to use for a freestyle with Her Highness, but then I sold her."
There was a pause of sadness at the memory, then she continued. "But we still wanted to collaborate on something unique. I think it'll be new and different, a fusion of opposites, and a great opportunity," Caroline said.
DSharp was equally intrigued. "It's great to be here, a good vibe, an easy work environment," he said. "Working with the horses is pretty interesting. Some of them like the music, and some have to get used to it. It's a different way to communicate with them."
Choosing the right music is key.
"I chose the music by looking at the charts to see what's most popular, something a lot of people would like, and also, something that will work well with the horse and the scenery," he explained. "I decided to do my own rendition of Taylor Swift's 'Style.'"
The finished video will be available in the near future at www.youtube.com/user/IAmDSharp.