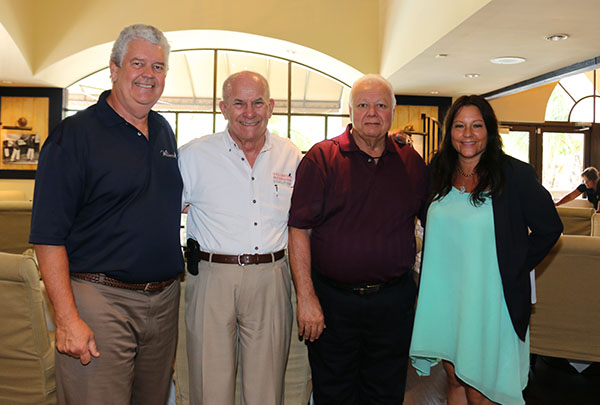 The Wellington Chamber of Commerce held a luncheon at the Wanderers Club on Wednesday, May 20, and the special guest speakers were Wellington Parks & Recreation Director Bruce Delaney and Cultural Programs & Facilities Manager Joe Piconcelli.
The two discussed many of the exciting upcoming events, as well as the unique offerings that Wellington provides for the community. Starting off the list were the many activities, live music, food truck events and free movie nights hosted at the Wellington Amphitheater.
The village also offers summer camps from 8 a.m. to 6 p.m. Monday through Friday for ages 5 to 15. There are many camps and academies available, including the aerial trapeze circus academy, the basketball academy, the fishing academy, tumblekid camp, volleyball camp and more. There is also open play available at various parks within Wellington, including Village Park, Wellington Green Park and Community Park.
The Wellington Aquatics Complex, a great place to splash around and beat the summer heat, will be open Monday through Saturday from 9 a.m. to 7 p.m. and on Sundays from noon to 7 p.m. this summer. Admission varies from free for those 2 and under to $5 for adults 18 to 54, with summer passes available from May 26 to Aug. 31. Swim classes and lessons are available for all ages. There are even facility rentals available for pool parties. For more information, call (561) 791-4770.
Wellington offers the two environmental preserves — the Marjory Stoneman Douglas Everglades Habitat and Peaceful Waters Sanctuary. Both offer beautiful views, walking trails and more.
There are also a number of special events coming up this summer:
• On Saturday, June 6, from 9 a.m. to noon, is Make a SPLASH, a special event at the Wellington Aquatics Complex. Visitors can learn about water safety from Palms West Hospital pediatric residents, Palm Beach County Fire-Rescue first responders and other vendors. Admission is free, and there will be a live water rescue demonstration.
• On June 6 and 7, the Palm Beach Blast lacrosse tournament will be at Village Park and the International Polo Club Palm Beach. For more information, visit www.flunitedlax.com.
• The new Wellington Tennis Center, located at 3100 Lyons Road, will celebrate its grand opening on Tuesday, June 9 at 9 a.m.
• On Sunday, June 21 at 7 a.m., the third annual Father's Day "Daddy Dash" 5K run to benefit the Leukemia & Lymphoma Society will return to Village Park. For more information, visit www.active.com.
• Wellington will host its free Fourth of July celebration with live music, games, face painting, bounce houses, a petting zoo and more at Village Park from 6 to 9:30 p.m. on Saturday, July 4, culminating with fireworks at 9:15 p.m.
For those people who follow Wellington events, there soon will be a free app available to notify residents of field, weather and event alerts. The program will alert residents if an event has been canceled, rescheduled, postponed and more. Users can sign up for e-mail or text alerts, download the free app or view current statuses online.
Volunteer opportunities are always available with the Parks & Recreation Department. Contact Meridith Tuckwood to learn more, including how to earn community service hours, at (561) 753-2476 or mtuckwood@wellingtonfl.gov.
For complete listings, as well as additional information, visit www.wellingtonfl.gov.
ABOVE: Bruce Delaney, Tom Wenham, Joe Piconcelli and Michela Green at last week's chamber luncheon.