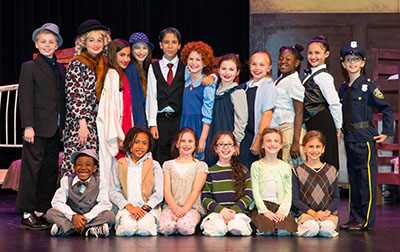 Dance Arts Conservatory's Broadway Stars will present the musical Annie Jr. at the Delray Beach Center for the Arts/Crest Theater on Saturday, May 9 at 3 and 7 p.m.
Based on the Tony Award-winning Best Musical Annie, and inspired by the popular 1920s Chicago Tribune comic strip by Harold Gray, the show tells the rags-to riches story of little orphan Annie, an optimistic girl who wins everyone's heart despite her dim start in 1930s New York City.
Annie is determined to find her parents, who abandoned her years ago on the doorstep of an orphanage run by the mean Miss Hannigan. Annie escapes to the wondrous world of New York City, where she finds a new home with billionaire Oliver "Daddy" Warbucks, his secretary Grace Farrell and a mutt named Sandy.
Tickets start at $18 and can be purchased online at www.delrayarts.org or by calling the box office at (561) 243-7922, ext. 1. Seating is reserved. The Delray Beach Center for the Arts/Crest Theatre is located at 51 N. Swinton Ave.
Dance Arts Conservatory's Broadway Stars summer production will be The Little Mermaid Jr. Auditions will be held Saturday, May 23 at Dance Arts Conservatory, 11260 Fortune Circle, Suite J-1, in Wellington. Bring $10 cash or check for the audition fee. Contact Studio Manager Randy Ballen at (561)-296-1880 or e-mail info@danceartsconservatory.com for more info.