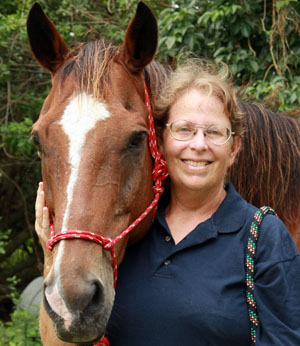 TALES FROM THE TRAILS
Parking was hard to come by April 24-26 at the Jim Brandon Equestrian Center. Riders, families and well-wishers had traveled from all over the United States to participate in and support the Interscholastic Equestrian Association Hunt Seat Finals.
Established in 2002, the IEA provides riding and showing opportunities for students in grades 6 to 12 in hunt seat and western disciplines. One unique aspect of IEA competitions, both local and national, is that none of the riders supply their own horses or tack. That's done by the host team. The scores are based on horsemanship and equitation. All disciplines offer a variety of ability levels, beginner through advanced.
The IEA is an affiliate of the National Reining Horse Association, the United States Equestrian Federation, the United States Hunter Jumper Association and the Intercollegiate Horse Show Association. It has more than 11,500 members in 42 states. Students can earn college scholarships through competition and sportsmanship awards.
There were 350 riders competing in the finals and a total of 525 rides (some ride in more than one class), representing 167 teams. They had accumulated the highest number of points within each of eight U.S. zones in order to attend. Classes ranged from Walk/Trot Flat to Varsity Open 2'6" Over Fences. Local participating barns supplied the 71 horses, which were randomly drawn by riders and allowed a brief warm-up. Each horse had a piece of paper with his name on it stapled to his saddle pad.
"We were thrilled to hold the finals here this year," said Roxane Lawrence, IEA founder and executive director. "We hold the finals in different areas each year, especially places of particular interest to young equestrians. By holding the finals in the Wellington area, the kids have an opportunity to see a locale renowned for its hunter, jumper and polo competitions."
Some people, however, were not used to the Florida weather.
"Our only concern was the heat, but the horses are used to it, and we have the covered arena, which provides shade and shelter in case of rain," Lawrence said. "The layout is perfect. Lots of room, and the stalls are close to the ring, so the horses can rest between rides. We added 500 bleacher seats, because each kid brings along her whole family! The dads can play golf; everyone can visit the beach. It's great."
The horses that were provided are rated for different levels, explained Simon Towns, Zone 4 administrator. Zone 4 comprises Alabama, Florida, Georgia, Mississippi, South Carolina and Tennessee.
"Some are versatile and can go in any class. Some are only for the flat, some only over fences, plus we need horses comfortable jumping everything from small cross rails to 2-foot-6 courses with unfamiliar riders," Towns said. "Student schooling riders check each horse to make sure it's comfortable with the venue and appropriate for each level. These are students who didn't qualify for the finals but still came to support their teams. They also help with grooming, feeding, tacking and mucking stalls — whatever's needed."
Participating in the IEA is a very affordable way for youngsters to participate in riding and showing, said co-founder Myron Leff, who serves as chief operating and marketing officers.
"Members get to ride and show locally with their friends and peers all year, and then can attend a national event like this. There are scholarship opportunities, as well as a benevolent fund to assist riders and coaches in need through programs such as the IEA Financial Assistance Program and the IEA Coaches Assistance Grant," Leff said. "Teams can be affiliated with public or private middle and high schools, or through a barn team. Each team needs a minimum of three riders able to walk, trot and canter an unfamiliar horse, and a qualified coach."
Participants can also earn college scholarships and get recruited for college teams. "These kids are the greatest," Leff said. "I've yet to see any youngster who participates in equestrian sports who's not poised, confident and a great sportsman. They're wonderful."
Alyssa Kelly, 17, accompanied the Full Moon Farm teams from Finksburg, Md., which had qualified 13 high school and seven middle school riders, one of the largest teams.
"I love being in the IEA. It's a great way to meet people from all over. You see different styles of riding. I've been to finals three times, but I've never been to Wellington before," Kelly said. "The horses are really, really nice, compared to some at the other shows, and I love the venue. It's so warm here! It's snowing at home in Maryland today. I love the palm trees. I've never seen palm trees before."
Hannah Bentz, a senior at Spanish River High School, competed as a member of the Wall Street Farm team out of Boynton Beach. She has been with the team for five years.
"My first year, I didn't ride, just came and helped out and learned. I was too new to show," Bentz said. "Just being a part of the team is a big deal. Learning how to be a member and relying on your teammates is a really important aspect of this whole experience. It helps you out in a lot of real-life experiences and gives you people skills."
Her horse, Rosie, a chestnut Dutch Warmblood mare, was one of 16 that Wall Street Farm provided. Bentz drew and rode her on Friday, winning the Open Flat Class. She drew a different horse Saturday in the Open Team Over Fences Class.
"I did well, got a little long on the last fence, and didn't place," Bentz said. "So I learned something I can apply to the next class. The color of the ribbon you win doesn't determine your success as a rider. I highly recommend the IEA to anyone interested in learning to ride or show, or who just likes horses. You should definitely give it a try, even if you don't want to compete. There's something for everyone."
The Western Finals will take place in Oklahoma City in June. To find out more about the IEA, visit www.rideiea.org.