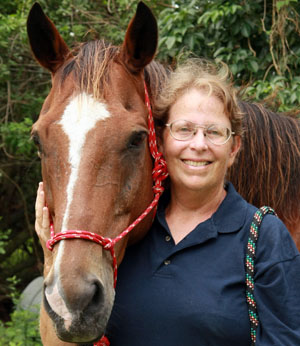 TALES FROM THE TRAILS
Joe Mangravito has a simple philosophy: every horse should be trained the way every zebra must be trained. And he should know. In addition to his five dogs and seven horses, Joe owns two zebras. He drove to Texas to get them last July. They were three days old.
"You have to get them when they're babies," Joe said. "Any older, and you'll never catch them. The owner called me the day they were born, so I had two days to get to the Lonesome Bull Ranch, near San Antonio."
Zebras aren't like horses, he explained.
"If you try to push them beyond their comfort zones, they'll attack you. People who get zebras don't know how dangerous they can be," Joe said. "In the wild, zebras can take down lions. Our two zebras, Bullet and Sandia, are so sweet and lovable that they give kisses on cue and are safe for children to pet."
Joe, who moved to Loxahatchee Groves from Fort Lauderdale in August, trains not just zebras, but horses of all stripes.
"Any horse with any problem can be worked with effectively in a gentle way," he said. "I've learned the concept of gentle persuasion, not breaking a horse's spirit. My goal is to communicate with the horses and show the owner how to do the same. Helping owner and horse understand each other, seeing the deepening of their relationship, is my greatest joy."
Joe learned his craft after retiring from the Fire Department of New York in 1990. He spent years on a Montana horse ranch and completed a three-month, intense certification course in John Lyons' Conditioned Response Training with Steven and Linda Ducha, the first husband-and-wife team certified by Lyons.
The art of gentle persuasion, the Lyons method of horse training, is rooted in the belief that the most effective and enriching ways of instruction lie not in the traditional way of forcing a horse into submission, but in a humane, respectful method of conditioned response training and developing a partnership between human and horse.
"Many people don't understand horses' needs," Joe said. "When a horse misbehaves or isn't perfectly obedient, their answer is a more severe bit. I can work with that horse and, in one session, have them riding it with no bit at all, just a string around its neck."
It is a technique Joe gladly teaches others.
"I can teach anyone how to recognize, handle and change unwanted behavior so they can feel and be safe on and around their horse in any situation," he said. "They can learn to prepare their horse for pleasure or performance in any riding style and at all levels."
It all starts with understanding what the horse is thinking and feeling.
"It's basic and simple. I've worked with many abused horses in Costa Rica and for the Miami ASPCA," he said. "The horses start out defensive and dangerous. I can fix them in 20 minutes into calm, relaxed and safe horses so they can be adopted. That's the goal, getting every horse into a good home."
Joe offers a variety of clinics and training sessions. He can start unbroken horses and fix a variety of problems such as spooking, kicking, biting, rearing, stiff neck, being head shy, yielding to the bit, bucking, running away, not standing still while tacking up or mounting, and trailer loading.
"Trailer loading is probably the most dangerous thing you can do with a horse. You're trying to put a thousand-pound animal in a metal box. Behavior problems become magnified," Joe said. "We teach your horse to load one foot at a time, slowly and calmly. You can't expect a horse to be calm inside the trailer if he's not calm outside. Your horse will be taught a 'go forward' cue, which you can use any time you need him to go forward, over a puddle, a bridge, an obstacle on a trail ride, or something he may see and be afraid of. You and your horse will be calm and in complete control at all times."
Joe visits barns, works with owners at their homes, or you can ship horses to him for a month of intense training. He also holds clinics of varying lengths in which he teaches his training methods.
"Our clinics and symposiums are designed to teach you to communicate with your horse in a safe, gentle manner," he said. "We cover every problem, on the ground and under saddle. We teach your horse to have the soft mouth and flexible neck necessary for all riding disciplines. We have private classes and certification courses. Be prepared to work and learn! You'll leave with knowledge, confidence and inspiration."
As for those zebras, Joe plans to eventually ride, drive, exhibit and compete with them around the country. This Christmas, he'll be taking them in parades. "I'm really looking forward to it," he said.
Joe calls his business "A Perfect Horse," which reflects his goal: creating perfect horses through gentle persuasion, building a perfect world for horses one person at a time.
"I do it all for the horses," he said.
For more information, call Joe at (954) 599-7272, e-mail aperfecthorse@aol.com or visit www.aperfecthorse.com.