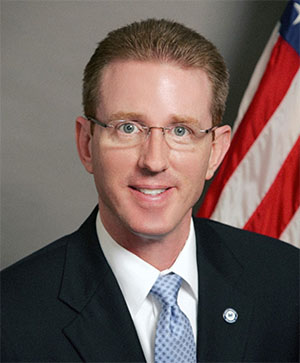 Wellington Councilman John McGovern on Monday filed his intent to run for Seat 3 on the Wellington Village Council next March. Seat 3 will be one of four Wellington council seats on the March 15, 2016 ballot.
McGovern was appointed to Seat 3 in February to replace Councilman Howard Coates, who resigned after being appointed a circuit court judge. The Seat 3 election next March will be to complete the final two years of Coates' council term.
"I have the experience, passion and vision to continue to serve on the village council," McGovern said. "I want to protect Wellington for future generations. Our village is a unique, family-focused, environmentally friendly, equestrian-based community made up of diverse neighborhoods and great schools. I understand it takes a village to build a community, and I am focused on working with our residents to ensure they are a part of the decision-making process."
McGovern is a partner with the law firm of Custer-McGovern, where he co-manages a staff of five and litigates cases on behalf of those injured by the negligence of others. In 2009 and 2010, McGovern was recognized in Florida Super Lawyers as one of its rising stars.
Since 2012, McGovern has served on the Board of Directors of the Palm Beach County Justice Association, a 350-member professional association of Palm Beach County's plaintiff's trial attorneys. He was recently elected secretary of the board and has served in numerous leadership positions within the organization.
McGovern has also volunteered his time with the Legal Aid Society of Palm Beach County, where in 2014, he sponsored and hosted a gift gathering gala at the Winter Equestrian Festival. McGovern was a founding member of the West Palm 100 Inc., a young professional's service organization. He also spent five years working with high school students as a volunteer attorney coach for the Palm Beach County Mock Trial Competition.
McGovern first moved to Wellington in 1986 and was a member of the first graduating class to have attended Wellington High School for all four years.
In 2011, McGovern and his wife Michelle moved back to Wellington to raise their two daughters. He holds both a law degree and a bachelor's degree from the University of Florida, where he also served as president of the student body.
ABOVE: Wellington Councilman John McGovern.