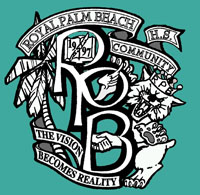 Royal Palm Beach High School was recently named the sixth Palm Beach County School District high school to offer the rigorous International Baccalaureate diploma program. The new IB program will get underway in the 2015-16 school year.
RPBHS Principal Jesus Armas is thrilled that the school was chosen, and also that there is a centrally located IB program for local students.
"It's not that it's important for Royal Palm Beach High School to have an IB program, it's that it is important for the western communities to have an IB program," Armas said. "For too long, our students in the western communities have had to get on buses at 5 o'clock in the morning to travel out of our community in order to get an IB curriculum and an IB diploma. It's time now that those of us in The Acreage, Royal Palm Beach and Wellington have an opportunity to stay home to be able to earn an IB diploma."
At the district level, it was determined that the western communities needed an IB program, a prestigious international curriculum originating in Geneva, Switzerland, that allows students to obtain college credit.
"The minute that we saw that, we began the process of trying to be that school," Armas said. "We did want to have the IB program here. We do feel that it will benefit all of our students to be able to have that program on our campus."
Armas said everyone in the school is excited about the program, which will increase the opportunities available to Royal Palm Beach students.
"It has always been our goal to provide all of the students in the Village of Royal Palm Beach with a comprehensive high school that meets the needs of our students," he said. "We believe that in these last five years we've brought in several programs that will meet the needs of our students."
The school has several special program offerings, including the Excelsior, Global Business, HVAC, Medical Sciences and STEM academies.
"Now with the IB program, along with all of the existing programs that we've had, we believe that we provide all of the options that a student would want in a comprehensive high school," Armas said.
Armas and his team have been working hard to improve the school's image.
"It has always been our goal to be a source of pride for this community. We will continue to work toward that, and we believe that we are," he said. "We believe that our interactions with the community, with the way that our students continually step up at charitable events and in being a part of the community, we believe that we are a real part of the fabric of this community."
Armas called RPBHS "a beacon for the community."
"All we want is for people to just look at the great things that are going on at Royal Palm Beach High School, and we believe we are a source of pride for this community," he said.
Royal Palm Beach Councilman Jeff Hmara said that adding the IB program is important to the community at large.
"We're filling a need here in the western communities," he said. "We, of course, are excited about it being brought to Royal Palm Beach High School, but when you look to the western communities in general, there's a lot of growth, a lot of development, a lot of new and exciting opportunities to bring new people into our community."
When potential residents look for a new location to call home, they often focus on the schools.
"One of the things that is going to attract them here is a high-quality educational system," Hmara said. "One of the real indications of a quality educational system is programs like the IB program, the academies and also the Advanced Placement and honors programs, which Royal Palm Beach High School has had going for a while."
Hmara taught for several years as an adjunct professor at Palm Beach Atlantic University and knows the reputation of the IB curriculum.
"It's great for the school, the community and everybody involved," Hmara said, noting that village officials are working diligently to support the efforts of Armas and the staff at RPBHS.
Prior to Armas taking over as principal, the school had an image problem, Hmara said. Under Armas' tutelage, he has been able to bring the kind of staff, programs and education to the school that have changed it for the better.
"It's really an extraordinary school made up of really dedicated, highly competent teachers with an excellent leader," Hmara said.
The school district, the school board and parents are showing their support for the school through the IB program, Hmara said, calling it a turning point for RPBHS. He said that's evident in the number of students already interested in the program.
As of Wednesday, 31 spots in the IB program have been applied for.
"That's a number that more than meets our expectations for a first-year program," Armas said.
The school will have teachers teaching IB-level classes in all of the core subjects. To start, three teachers with IB certification will handle the classes.
"The diploma program is the program that we've asked the International Baccalaureate to sanction. We're in the process of becoming a candidate school," RPBHS Choice Academies Coordinator Laurie Cotton said. "That is a program for juniors and seniors."
The students entering in August, she said, will spend their first two years at the school getting ready for the rigorous IB program.
"Another reason why we believe it is important for our community is because once we have the diploma program in place, what will happen is that we will get the middle years program — for ninth-graders and tenth-graders — and Crestwood Middle School will get the middle years program also, which will cover their seventh-graders and eighth-graders," Armas said. "Then, down the road, there is the primary years program for elementary kids. Eventually, our students in Royal Palm Beach will be able to attend their neighborhood schools and go K-12 in an IB program. We are very excited about that."
To learn more about what the IB program entails, visit www.ibo.org. For more about the new IB program at RPBHS, contact Cotton at (561) 792-8659 or laurie.cotton@palmbeachschools.org.