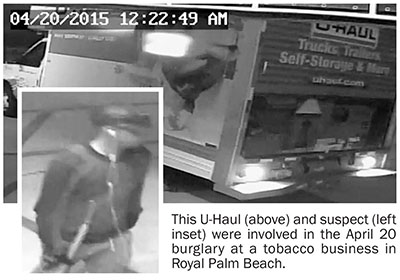 The Palm Beach County Sheriff's Office is seeking the public's help in finding suspects wanted in connection with the burglary of a tobacco business in Royal Palm Beach during the early morning hours of Monday, April 20.
Tobacco products valued at thousands of dollars were stolen from Selmark Tobacco Products, located on Business Parkway in Royal Palm Beach.
Surveillance video captured one suspect who appears to be a light-skinned male, dressed in dark clothing, carrying red bolt cutters. Detectives believe this suspect did not act alone.
The suspects used a U-Haul truck to conceal the stolen tobacco products. A second suspect vehicle, a white Ford pickup truck with a ladder in the back, was also seen at the scene.
Anyone who has information about this burglary is urged to contact Crime Stoppers at (800) 458-TIPS.