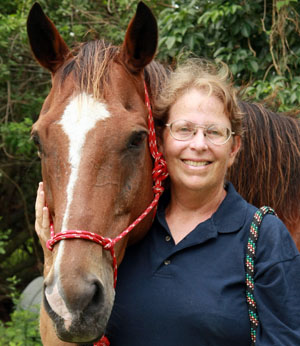 TALES FROM THE TRAILS
It doesn't look like much at first glance: just another horse property off Collecting Canal Road in Loxahatchee Groves. But look a bit closer and you might see some clues: the taller fences in good repair; the herd of small, shaggy-coated horses that sticks close together; the extra-long, 36-foot Gooseneck trailer.
Ashley Stevenson and her mother, Darlene, are mustang people. They live, love, breathe and train mustangs and find them homes. It's just what they do. They can't help themselves.
"They're like potato chips," Darlene said, shrugging. "You can't stop at one."
An understatement. On their last trip to the Bureau of Land Management holding facility in Mississippi, they brought back 11. That's 11 wild horses that have never been touched. Oh, and not just any wild horses. Sometimes Ashley picks out the older ones, 3 years and up, which have been rejected or returned and deemed unadoptable. "We look for the ones that are the hardest to work with. The ones with the most strikes against them," Ashley explained. "They've been offered at numerous adoptions and passed over, usually because of their age. They're all trainable. You just have to be willing to put in the time."
Ashley is keeping one of those, a tall paint mare with a tangled mane named Stella.
"She was 10 years old, the alpha mare," Ashley explained. "The older mares pick and chose their people, especially Stella. She's doing pretty well. She'll give me her hoof, but she doesn't like strangers. It's a trust thing."
This load came back here in March and have all been placed.
Which leaves her with only her own horses, all mustangs, of course. How many? She looked at me and scratched her head when I asked. "I have to count," she said, and did so.
She owns 16. Plus Stella. And two burros.
Ashley's plan is to save as many mustangs as she possibly can. She hauls them home in bunches, gentles them, and makes them comfortable with leading, tying, loading, picking up their feet, walking over obstacles on the ground — everything except backing. That's up to the new owners, but she's available to help with that, too. The cost of adopting a mustang from Ashley: $125.
Ashley has competed five times in the Mustang Makeover, sponsored by the Mustang Heritage Fund. She is sponsored by the Trainer Incentive Program, which allows her to bring in more than the four otherwise allowed.
But it's getting slightly more difficult for Ashley to bring them home. "This year, there was one adoption event in Brandon, Florida, at the end of January. I got 11 and adopted them all out. I got another 11 in Jackson, Mississippi, and they're all placed. But they're closing that facility. The next closest is Ewing, Illinois. That's 18 hours each way."
Interested in adopting a well-started mustang? Ashley takes orders. Tell her what you're after, and chances are she'll bring it back on her next trip. You'll need a pen with 4-foot fences.
"Any age, color, size, conformation, disposition," Ashley said. "Anything from 13.3 to 16.3. We have a network of mustangers. Someone has just what you're looking for. We work together to find the right home for each horse."
Be warned, mustangs are wary of strangers.
"It usually takes them a couple of weeks to adjust to having new people work with them," she said. "They're curious by nature, very smart and versatile and learn quickly. You can do anything with them — run barrels, dressage, jumpers, drill team, mounted shooting. They're the best trail horses, quiet as can be. And they're like ninjas: they can hear, see and smell danger from miles away."
Training mustangs is a unique experience, Ashley said.
"The nice thing about mustangs is they make you slow down and take the time to do things right. You can't manhandle them," she said. "You have to train them on their terms, but you'll have a real partner for life. They want someone to lead them. The amount of work you put into training your horse is what you get. Most become oversized dogs."
Want one? That can be arranged.
"There are 50,000 of them out there that need homes," Ashley said. "Come out and meet them. It'll be hard to leave without one. Everyone should own a mustang at some time in their life."
For more information, or to place an order for a mustang, call Ashley at (954) 605-0028.