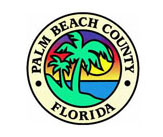 The Palm Beach County Commission adopted its mid-year update to the county's five-year road program on Tuesday, leaving most planned road projects in the western communities unscathed, although some remain pushed to later improvement dates.
The plan calls for the three-lane design and right-of-way acquisition phase of the 1.2-mile stretch of 60th Street North from 140th Avenue North to east of 120th Avenue North, to be done in 2015 at a cost of $900,000.
The construction phase of three-laning a half-mile piece of 60th Street North from west of Royal Palm Beach Blvd., at a cost of $5.6 million, includes raising the roadway for better sight distance due to the large culvert over the M Canal, and installation of a traffic signal.
County Road 880, also known as Old State Road 80, from 20-Mile Bend to Sam Senter Road is currently closed for about five months while the road is being rehabilitated. That project will cost about $7.2 million over the next five years. The design phase to replace the bridge at 20-Mile Bend is also planned for 2015 at a cost of $800,000, with construction budgeted in 2019 at a cost of $2.2 million.
Several projects are planned for Northlake Blvd., including four-laning a one-mile stretch in 2016 from east of Seminole Pratt Whitney Road to east of Hall Blvd., at a cost of $3 million. Research and mitigation for the four-laning of 2.4 miles of Northlake from east of Hall Blvd. to Coconut Blvd. is budgeted for 2016 at a cost of $2 million.
Mitigation and right-of-way acquisition for five-laning a one-mile stretch of Roebuck Road between Jog and Haverhill roads is budgeted for 2016 at $150,000, while four-laning a three-mile stretch of Roebuck from State Road 7 to Jog Road remains scheduled for 2019 at a cost of $50 million.
Right-of-way acquisition and mitigation for expanding a one-mile stretch of Royal Palm Beach Blvd. from three to five lanes from the M Canal to south of Orange Blvd. is budgeted for $300,000 in 2016, with construction set for 2018 at a cost of $3.7 million.
Seminole Pratt Whitney Road's expansion from four to six lanes between Orange Blvd. to south of Northlake Blvd. is set for 2016 at a cost of $6.5 million, and intersection improvements at Northlake Blvd. in 2016 will cost $3.5 million.
At Tuesday's meeting, Acreage resident Alex Larson said that there is not enough concurrency money coming in from developers to support the large number of roadway improvements that will be necessary since the state relaxed developer concurrency rules, and that road maintenance and improvements were cut severely during the recent recession.
Drew Martin, representing the Sierra Club, agreed that there are not enough roadway improvements to support development plans in the area.
"My concern is that the roads are not good, and there are too many people on the roads. A lot of the problem is what Alex alluded to, and that's a lack of impact fees for new roads when we allow developers to build," Martin said. "I think that Palm Beach County, being a hurricane evacuation zone, needs to look at limiting building out west [because] we're never going to be able to put adequate roads into those areas. I think we have to accept that."
Martin urged the commissioners to keep development in the eastern parts of the county.
"Originally, the county plan was to put people into the eastern part of the county because that gave them access to the road system," he said. "Allowing people to move farther and farther west is going to put them farther and farther out of reach of these roads, unless we can get to a point that we can use public transportation."
Martin said that he has ridden the bus system, and it works pretty well.
"A lot of people use it, but most people don't want to wait for the bus," Martin said. "They don't like the weather. It's too hot to stand outside and wait. The bus stops, a lot of them aren't covered, so I think we need to begin to look at limiting the amount of people who are going to be living out in these far western communities, because we just aren't going to have adequate roads to meet their needs."
County Engineer George Webb said that he met with Minto representatives about two weeks ago regarding the two-lane bottleneck that remains on Seminole Pratt Whitney Road north of Seminole Ridge High School.
"We asked about this project, because it has been a priority of ours to try and get that area widened," Webb said. "They told me that they would be able to start construction by the end of the summer or first part of fall. It's a priority for them. It's a marketing issue, as you might imagine. They estimate the project is going to be about a $12 million improvement in that area, which is going to be a great thing. We will work with them to make sure the appropriate permits are in hand to make that thing happen in a timely fashion."
Webb pointed out that the mid-year five-year road plan review is primarily budget adjustments and that any changes in the plan come at the end of the fiscal year.