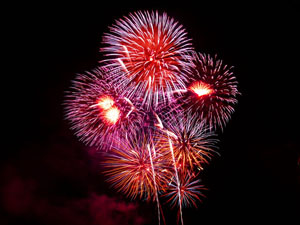 Hamburgers, hot dogs, fireworks and fun are what Independence Day is known for, and Wellington and Royal Palm Beach will be holding spectacular events to celebrate all day long on Saturday, July 4.
Wellington Community Programs Manager Michelle Garvey is excited about the celebration, which is expected to be one of the biggest in village history.
Wellington will start off the day with a Patriotic Pool Party from noon to 5 p.m. at the Wellington Aquatics Complex (12150 W. Forest Hill Blvd.) with games and activities scheduled on the hour. The regular pool entrance fee applies.
The Family Fourth Celebration kicks off at Village Park (11700 Pierson Road) at 6 p.m. It will feature indoor and outdoor activities, such as pie and watermelon eating contests, sack races, egg toss games and more, as well as bounce houses, face painting, pony rides, bingo and a petting zoo.
A different company is providing the petting zoo this year, Garvey said, so kids might find new furry friends to meet.
"Our newest attraction this year is that we're having food trucks," she said. "We're having 20 food trucks — all different vendors — a couple different ice cream or icee businesses, as well as traditional food."
There will also be live music during the evening.
"Our band this year is Studio 54," Garvey said. "They're kind of eclectic, and they really get the crowds going."
Rain last year brought smaller crowds — closer to 6,500 people, compared to previous years' almost 8,000.
"As long as the weather holds out, we're expecting a record-setting year," she said. "Last year we did have some rain early in the event, but it cleared out just in time for the fireworks. We're hoping for a great, sunny day."
There will be a parking shuttle from the Mall at Wellington Green starting at 6 p.m.
"Usually, by 8:30 p.m., we're at our max at Village Park," Garvey said. "Avoid the stress. Park at the mall, and take the bus over. It makes for a more relaxing evening."
There will be many local vendors at the celebration. As of last week, platinum sponsors include the Donner Foundation, Dick's Sporting Goods, the Wellington Preservation Coalition, Wellington Regional Medical Center and the Goddard School.
At 9:15 p.m., the sky will light up with a fireworks extravaganza by Zambelli Fireworks International.
Be sure to bring a blanket or chair to sit on, Garvey said, stressing that everything at Wellington's event at Village Park is free, with the exception of food and drinks. "Get ready to have a great time," she said.
For more information, or to become a sponsor or vendor, call (561) 791-4005 to speak with Garvey or visit www.wellingtonfl.gov.
The Fourth of July holiday will also be a busy day in Royal Palm Beach.
"It's an all-day celebration," Community & Cultural Events Superintendent Carlos Morales said. "All around the Village of Royal Palm Beach, we'll have activities."
Royal Palm Beach, known for its all-day bash, is starting at 6 a.m. with the annual Red, White & Blue Fishing Tournament at Lakeside Challenger Park.
Registration for the fishing tournament can be done through the Royal Palm Bassmasters club or through the Royal Palm Beach Recreation Center. Typically, children compete in the fishing tournament, and the weigh-in takes place at noon. Registration can be done the day of the event.
The Firecracker Golf Tournament will be at the Village Golf Club at 8 a.m. "Registration can be done at the Village Golf Club ahead of time," Morales said.
Registration is $75 per person and includes a buffet. There will also be raffles, prizes and giveaways.
Everything else for the day takes place at the 160-acre Royal Palm Beach Commons Park (11600 Poinciana Blvd.). With a 10-acre great lawn, it sets the stage for a huge all-day family festival.
The events at the park begin at 10 a.m. with a volleyball tournament. "We're limited on how many courts we have, so if a team wants to sign up early, I'd go over to the Royal Palm Beach Recreation Center or call (561) 790-5124, and they can pre-register a team. Early registration will be at 9 a.m. at the park," he said. "They pretty much go on all day, depending on the age bracket."
There will also be a disc golf tournament in the morning.
Starting at 1 p.m., arts and crafts vendors will open and food trucks from the Food Truck Invasion will be available. As of earlier this week, there were approximately 20 food truck vendors confirmed.
Kids will be able to enter the Kids Fun Zone with a $10 bracelet. They will be able to enjoy field games, rides, slides, bounce houses and more with an interactive DJ and an open mic session.
The games continue with a spike ball tournament at 2 p.m., followed by a cornhole tournament at 4 p.m.
There will be live music throughout the day, starting with Lynyrd Skynyrd tribute band Saturday Night Special at 3 p.m., and at 5 p.m., Foreigner tribute band 4NR2 and Bad Company tribute band Bad Inc. At 7:30 p.m., Journey tribute band Odyssey Road will take the stage.
At 9 p.m., there will be a Zambelli fireworks show, which is sure to be a hit.
The same park rules apply as for most events, Morales said. As always, glass bottles are not allowed. There will be a beer vendor available at the park. Bring chairs and blankets to sit on and enjoy the day.
In addition to parking at the park, there will be off-site shuttle parking behind the park at Lindsay Ewing Park, which is directly behind Village Hall. From 5 p.m. on, there will be a shuttle to Ewing Park and back. "If people want to get out early and avoid the rush, it's probably the best plan to take the shuttle," Morales said.
There are designated areas within the park to set up personal tents for private parties. Pavilions are also available for rent.
"There are a lot of activities going on for everybody: adults, kids, teenagers, whatever they may be. We have something for every age," Morales said. "We also have the interactive fountain that's going to be on, if kids want to play in the splash fountain."
It will be available from 2 to 8 p.m., he explained, with a DJ providing music.
Even if there is rain, the fireworks will go off.
"There is no such thing as a July 5 celebration. It has to happen on July 4," Morales said. "If we have to shut down a tournament or entertainment because there's lightning, that's understandable, but the event must go on. The show must go on."
For more information, visit www.royalpalmbeach.com or call (561) 790-5124.