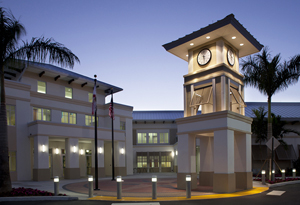 The Wellington Village Council chambers were overflowing with residents providing input Tuesday in the first of a series of public meetings on the future of the 66.8-acre K-Park site, located at the southwest corner of State Road 7 and Stribling Way.
Only 100 digital input clickers were available for more than 200 residents seeking to weigh-in on a survey prepared by staff to record their preferences for the land, which leaned more toward passive open space than athletic fields or a mixed-use commercial development.
Residents appeared to strongly oppose any residential development, including single-family homes, townhomes or multi-family condos/rentals, which had been proposed in most of the six plans submitted by developers and considered at a raucous public meeting conducted in January that resulted in the council postponing any decision until a series of public input meetings could be completed.
Several dozen residents also spoke at the meeting or submitted their opinions on comment cards.
Growth Management Director Bob Basehart said that the purpose of the meeting was for council members and staff to get ideas from the public.
The site was purchased in 2003 for almost $8.5 million and was designated for future park land, as well as stormwater retention. In 2006, the village came up with a plan to develop the site for recreation uses, including ball fields, a new swimming pool, community center and walking/jogging trails, but the plan never reached the final design phase.
Since then, the village has considered several different iterations for the land: as a park for athletic and recreational uses, as well as a large baseball complex with 10 fields and training facilities, plus entertainment facilities and a hotel. Other proposals have included technology centers and mixed commercial uses, a Palm Beach State College campus, an equestrian facility and a large athletic complex.
In January, six proposals were submitted to buy the site, all of which were mixed use. The prices offered ranged from $15 million to $25 million. At that meeting, the council directed that a series of meetings be conducted to get citizens' opinions.
The village is currently renting the property for agricultural use.
On Tuesday, Wellington Projects Manager Mike O'Dell said that there are many planning issues with respect to the SR 7 corridor and finding a balance of commercial, residential and recreational space, either for athletic fields or passive uses.
"When you look at that section, about 45 percent is retail and 55 percent is residential," O'Dell said. "Only 5 percent remains undeveloped."
O'Dell asked that residents consider the strategic aspect of K-Park's development and what the best use would be.
"How should K-Park fit into that corridor?" he asked. "That is the question being asked tonight."
Wellington Parks & Recreation Director Bruce DeLaney said that the village is on par with or ahead of other municipalities in its parks and recreation services, but that the balance could fall behind with population growth or repurposing any existing parks in the village.
"For the most part, we are right on the national standards," he said. "As with most things in Wellington, our level of service is quite high."
He cautioned that the level of service is also maintained through careful program management, including scheduling youth athletic programs such as soccer with three or four teams practicing on one field.
"We are able to meet the demand for recreational programming by consciously managing that program," DeLaney said. "If the population continues to grow, it would certainly put a greater demand on those facilities."
About 50 percent of almost 100 residents holding clickers responded that they live near K-Park.
About 67 percent said passive-type fields should be provided at K-Park.
If K-Park were developed as a community park, 6 percent said they would favor a tax increase to cover the construction, 52 percent responded affirmatively to a tax increase only if it's guaranteed for K-Park and, 42 percent said they would not favor a tax increase.
Several other options were presented, asking whether:
• K-Park should be a future location for an entertainment district such as CityPlace in West Palm Beach or the Delray Marketplace — 64 percent said yes.
• The village should sell about 5 acres of the site for commercial development — 79 percent responded not to sell any of it.
• The village should sell a portion of the park site for senior housing development — 78 percent said no.
• The council should control the development plan for the property — 87 percent said yes.
• The future development plan should include a hotel — 48 percent said no.
• The development plan should include residential use — 78 percent said no.
• The plan should include an arts center of some type — 61 percent said yes.
• The development plan should include employment-oriented uses — 81 percent said no.
Bill Flack, president of his homeowners' association in Olympia, across SR 7 from K-Park, said his HOA and several others were not notified about the meeting, contrary to staff's assertions that they were. He thought the survey was skewed to favor mixed commercial and residential uses.
"We are all here for one reason," Flack said. "We want the council to know what we think, and that requires transparency on their part. I was disappointed in the survey… If the council truly wants to hear from us, I don't think I want this survey used as what our community thinks. We know as a practical matter a mixed-use park is what we need, but if you're going to have surveys, do it appropriately."
Karen Lobello, a resident of Castellina, said she would prefer uses such as a botanical garden, a park area and restaurants, but was concerned about traffic congestion with access on Stribling Way, which had been proposed by several of the developers in January. She was against commercial development there.
Jupiter Jenkins of Village Walk said he and his wife moved to Wellington about a year and a half ago from near Village Blvd.
"One of the reasons we left was because it was all apartment complexes," Jenkins said. "The clientele that was in that area got bad. That's one of the reasons we came to Wellington."
But on weekends, he and his wife usually go to movies and dinner at Harbourside in Delray Beach.
"I think we need the restaurants," he said. "I think we need the movie theaters. We need to spend our money in Wellington, not other areas."
Robin Kantor of Sugar Pond Manor said she was born and raised in Wellington and moved back here from New York City to raise her family, and that she'd prefer more athletic and recreational amenities for younger families.
She pointed out that during a recent sporting event, teams had to be turned away because there was not enough space, and her 9-year-old son wound up practicing until 8 or 9 p.m. due to limited space.
"I am an administrator with Palm Beach County schools, and I am constantly thinking about the future," she said. "I want my kids to want to raise their kids in Wellington."
The village will host three more K-Park meetings: July 21 at Polo Park Middle School, Aug. 4 at Wellington Landings Middle School and Sept. 15 in the council chambers. All meetings are on Tuesdays and begin at 7 p.m.