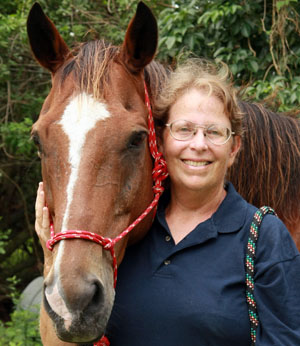 TALES FROM THE TRAILS
Heidi and Steve Lengyel make a great team, personally and professionally. Together they own and run Wall Street Farm. Formerly located in Wellington, they moved to new digs in the Equus Equestrian Center on Lyons Road in suburban Boynton Beach last November. Their goal is to provide a safe atmosphere where anyone can walk in and learn to ride, whether for fun or with the goal of showing at local schooling shows or the A circuit.
"I'm more the instructor, the guy who's managing the barn and working with the horses," Steve said. "Heidi also teaches, but she's in charge of all the books and computer paperwork. We're pretty evenly balanced in how we run the business."
The recent move was prompted by a need for a bigger facility.
"Now we have a nice barn with a huge ring, about 200 by 300 feet. The management does a fine job keeping everything well-maintained," Steve said. "Also, this is more centrally located to all of Palm Beach County, with easy access to I-95 and the turnpike."
Wall Street Farm has 25 filled stalls with the option to grow. Clients include boarders and all kinds of students, from children to adults. The Lengyels are also very involved with the Interscholastic Equestrian Association (IEA).
The IEA provides students in grades six through twelve with the opportunity to ride and show in hunt seat and/or western classes. In April, the Hunt Seat Finals took place at the Jim Brandon Equestrian Center. Wall Street Farm was one of the host farms and provided a good number of the horses.
"We've been involved with the IEA since 2009," Steve said. "Heidi has been the Region 4 president for the past four years. We have our own Wall Street Farm team, and next year we'll also be supporting a second team from the Oxbridge Academy."
Steve's life has always included horses. He has been working professionally in the equestrian field since 1979, when he was 19. He has always enjoyed spending big chunks of time outdoors and being around horses and people, watching students learn and progress. He also has a soft spot for one particular breed.
"We love our Thoroughbreds," he said with a smile. "I know a lot of people are heavy into Warmbloods and tend to pass on Thoroughbreds. They think of them as too hot or not strong enough to get the job done in the hunter/jumper classes or the dressage arena, but a good Thoroughbred has so much heart, they'll give you all they've got."
Steve noted that some people, when they start searching for a horse, have a specific breed, gender and maybe even color in mind.
"That's a mistake. You should find the one that works for you and is a good match, emotionally and physically. Getting something beyond your riding ability is a big mistake, as is getting a horse who doesn't fit your personality," he said. "Even with the students who ride our school horses, we teach them to understand the horse's emotions. There are days a horse can be quite fresh, or grumpy, just like us. You have to figure out how to get the best out of them that day, and not take it personally."
Heidi also enjoys working with the students, especially the kids on the IEA teams. "We have 28 riders on our Wall Street team, everything from beginning walk/trot through open riders jumping 2-foot-6 courses," she said. "More than half the Oxbridge students started out this year as beginners who'd never sat on a horse. I love watching them learn and progress."
The Oxbridge team rides every Wednesday after school, and again on Saturday afternoons.
"Competing with the IEA gives students a great opportunity to get involved in horses and showing without all the expenses of owning your own horse," Heidi explained. "Our school horses are all older, typically over age 15. They're seasoned show veterans who know their job and do it well."
One of those horses is Eddy, a quiet gray, and student Morgan McClure's favorite. Morgan, 15, is from Lake Clark Shores and a member of the Oxbridge team. "I just started riding a few months ago," she said. "I'm just starting to canter and trot over little cross rails. It's a really neat experience; there's always something new to learn. It's also really cool that we learn other stuff besides riding, like taking care of the horses. I think it's very important to know everything you can about caring for horses, not just riding. I'm really grateful for this opportunity to come here each week. I'd love to have my own horse someday. I don't know if that'll ever happen, but I'm keeping my fingers crossed."
Lilli Markel, also 15 and an Oxbridge student, lives in Jupiter. She began with the program during Christmas break.
"I started riding when I was 8, then stopped, because it got a little scary," she said. "I was pretty excited to get back into it. So far, I'm doing pretty good, although it's still a little scary. I've just started cantering. I want to keep riding and get better. Maybe one day I'll have my own horse, but that's just a dream for now."
For additional information, contact Wall Street Farm at (561) 628-0973 or visit www.wallstreetfarms.com.