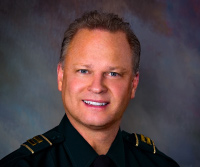 Summer season often sees an uptick in property crime, but following some simple advice from experts at the Palm Beach County Sheriff's Office can keep residents — along with their homes and vehicles — secure.
The man entrusted with public safety in Wellington, PBSO District 8 commander Capt. Jay Hart, said his advice is applicable year-round, but especially when school is out.
Vehicle burglaries are Wellington's typical crime, Hart said. "It's a crime of opportunity," he said. "The vehicles get left unlocked."
During the summer, he said, youths (typically) will go creeping around and checking car doors, especially at night. If one's unlocked, they'll take what's available and then walk away.
People can prevent this by simply locking their doors.
"We are working on a program where we can get magnets that people can put on their refrigerators that remind them to secure their vehicle," Hart said. "So that way, before they go to bed, it's just a little reminder to go out and make sure their car doors are locked."
Living in a gated community does not make one immune to such crime, either, Hart said, explaining that such residents often have a false sense of security.
"In fact, it's the kids living within the community that are doing the stealing," he said.
One community where this crime has been prevalent lately is Olympia, where the PBSO now is using undercover methods and extra deputies to trap thieves.
The PBSO also has a "Walk and Talk" program, he said, and during those events, PBSO representatives point out to residents that their doors are unlocked.
"If we could get people to lock their doors," Hart said, "99 percent of the car burglaries would just go away."
Another way to minimize the chance of becoming a victim is to not leave valuables in plain sight.
"We ask people that if they go to a park, if they go to the tennis center [or] someplace and leave their car, they need to put their purse and any valuables in the trunk," Hart said.
One common bit of advice, though not always practical, is to lock things in the trunk before arriving at the destination where the car will be left unattended.
"Most of the time, trunks are not accessible, and they're going to move on to the next car. They're not going to spend a lot of time trying to get into a locked trunk. They're not looking to break windows unless it's in plain view and it's a sure thing," Hart said.
PBSO District 15 commander Lt. David Combs, who's in charge of the more rural Acreage/Loxahatchee areas, urges his residents to lock up, but also to take other, slightly different precautions to fight theft.
"The single biggest issue that we've had over the past several years is burglaries — residential burglaries followed by automobile burglaries, and then different kinds of theft or larcenies," Combs said.
Typically, he explained, there is an increase in burglaries, particularly residential burglaries, during summertime when kids are out of school.
"However, in the past three years, we have not seen any spike at all. Our numbers have remained consistent… through the summer or through the school months. That hasn't been an issue," Combs said.
Usually the spike isn't large, but it will be noticeable, particularly with automobile burglaries. Though District 15 has been fortunate, deputies are not letting their guard down.
"We're always aware that it could be this year. We keep our patrols up and educate people to lock their cars," he said. "The overwhelming percentage of automobile burglaries, for instance, which are very often committed by young people — young men especially — the common factor is that the car was specifically left unlocked."
Living in a rural area such as Loxahatchee Groves or The Acreage, he pointed out, tends to make people feel more comfortable leaving vehicles unlocked.
"Usually a group will go out and hit a bunch of cars at once," Combs said.
Keeping porch lights on and lighting up the home's exterior is an excellent deterrent, Hart said.
"Cameras are great," he said. "We've solved so many crimes because of cameras from neighbors. Anytime we have a camera, and we have a suspect on the camera, we find out it's actually a neighborhood kid."
Contrary to what residents might prefer to think, those committing most crimes in the western communities are not from another area.
"The thieves are amongst us, and so often they're in our own neighborhoods," Hart said.
Because many of these crimes are committed by pre-teens, usually 12-year-olds, he said, the best thing that parents can do to try to deter their children from committing these crimes is to pay attention to where they're going and what they are doing.
"If they're out running the streets at 10:30, 11 o'clock at night… [and] if they say they're spending the night with little Johnny, [parents] need to make sure that they're spending the night with little Johnny," Hart said.
Palm Beach County crime, he said, is pretty much similar across the board.
"Breaking into a vehicle is a crime of opportunity, and it's by far the easiest," he said.
In order to give the PBSO the best chance possible of collecting fingerprint or DNA evidence, Hart said, it's important for residents to call as soon as they notice something is amiss.
"They should just call us. We can always do fingerprints and do fingerprints that eliminate their own," he said.
Residential burglaries, which have been the biggest issue in District 15, Combs said, are down considerably — about 50 percent over the last four years.
"We're very happy about that, but the truth is, that could change," he said.
To minimize a home's attractiveness to burglars, he advised residents to remember a few simple tasks.
"Lighting is very important because it is a rural landscape; it's very dark," Combs said.
Using motion-detector lights, car alarms and locking doors are all effective.
"It's amazing how many people have fences with gates and don't bother to lock their gates," Combs said, adding that taking the few seconds to do so can make a difference.
Lighting with timers, or televisions with timers, he said, also work, especially when the occupants are leaving town. Even something as small as an additional light can deter someone from coming up and jimmying a door because it is too bright.
"Those small things will go a long way toward protecting you," Combs said. "If you make your property more difficult to victimize, the bad guys… will move on to the easier target."
The Acreage/Loxahatchee area is a wonderful place to live, he said, but, basic precautions are always necessary.
"Out here, I think it's just that people feel really safe and they just don't think it's going to be them," he said.
Combs often attends meetings and stresses to people to take valuables inside with them, or put them in their trunk, and take common-sense precautions.
"When you live in a rural district, you just have to think a little bit differently," Combs said. "Use a little technology to your advantage, — alarms, electronics, that sort of thing — and you can find that you can make yourself… or your property much less attractive to target."
Looking out for your neighbors is also important, he stressed.
"If you see something, say something," Combs said. "Give us a call and let us check it out. We don't mind."
ABOVE: PBSO District 8 commander Capt. Jay Hart,