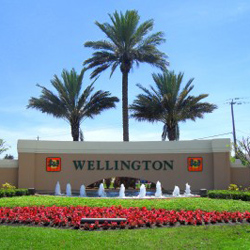 Wellington is in the process of amending its parking codes, and a workshop session on the changes dominated Wednesday's Planning, Zoning & Adjustment Board meeting.
Wellington Planner Damian Newell led the multi-point discussion on the proposed parking regulation changes. "We are doing updates to our planning and zoning regulations, and we wanted to do a workshop with the PZAB to go over some of the changes and get your input before formally having it on the agenda," Newell said. "In terms of the parking updates, the intent is to improve it and… just make it simpler."
For multi-family residential developments, the current code requires 1.8 parking spaces per unit. Village staff would like to round that number up to two parking spaces per unit, making the parking requirement the same as for single-family homes and requiring 20 additional parking spaces per 100 units.
PZA Board Chair Carol Coleman asked whether that change considered every size unit the same, whether it is a two-bedroom or a three-bedroom, and Newell explained that it does.
Board Member George Unger inquired whether bedrooms count, citing Olympia as having insufficient parking with people parking on lawns and in the streets.
"Typically, the code is done based on the unit itself," Newell said, noting that the board could suggest increases based on the number of bedrooms.
Unger suggested that the village consider a code based upon bedrooms to improve quality of life. "A two-bedroom house should not have the same amount of parking space necessarily as a five-bedroom house," he said.
Unger suggested that the requirement for four-bedroom units be increased to three parking spaces.
Staff liaison David Flinchum clarified that the changes being discussed pertained to multi-family housing, not single-family homes. The code, he explained, pertains to new development and not already-established developments.
If the code changes, then anything not in compliance is considered nonconforming. Nonconforming, in this instance, means that it is allowed to keep to the old code until there are going to be changes. At that point, whether through construction or a natural event, the current code needs to be followed.
Coleman summarized the discussion, saying, "We like the two spaces, but we'd like to also consider the number of bedrooms, correct?"
Board Member Michael Drahos disagreed.
"I think that some of this is overregulation," he said. "If I move into a neighborhood and I have two kids and I anticipate I'm going to have cars, that's what I have to consider when I'm buying a house."
Since the parking is already regulated, Board Member Kenneth Kopp disagreed with Drahos. "I get where you're coming from, and I appreciate it," Kopp said. "In this case, we're actually easing regulations by allowing more parking."
Non-residential parking requirements, the next topic, focused on the common ratio of one space per 200 or 250 square feet of building space, with staff's recommendation to simplify the parking to one parking space per 200 square feet.
"We have uses that are not in Wellington or no longer exist. We are consolidating it and adding new uses to the chart," Newell said.
Many items are in Wellington's code as a holdover from when the village adopted Palm Beach County's parking code regulations upon incorporation in the 1990s.
Use categories such as a marina, airport, yacht club and boatyard do not apply to Wellington, and were deleted. Other categories, such as a clubhouse, retail nursery and wholesale nursery, were added uses.
Some uses are being consolidated: auditorium, theater and public assembly were combined with arena and stadium. Other uses were moved under another umbrella use, such as library being moved to government services, and garden center, lumber yard, meat-cutting, bakeries and hardware stores being categorized under a general retail use.
The board agreed with the changes and moved on to staff's recommendation to change retail and restaurant use parking space size from 9.5 feet to 9 feet wide, as are residential and office parking spaces.
"Our recommendation is to change that to 9, as it is the most common width of parking spaces," Newell said, noting that staff went back and forth on the issue.
The board expressed concern with opening vehicle doors, getting in and out, taking strollers and other items in and out of cars, and not hitting other vehicles upon exit.
Vice Chair Andrew Carduner noted that there are many larger cars in Wellington. "When you're taking into account Escalades, Tahoes, Suburbans, Navigators, vehicles that are larger, I'm sure you are aware, the size of the vehicles in this country is related to the price of gasoline," he said.
Board Member Elizabeth Mariaca expressed concern about the existing parking spaces after Carduner asked about why parking is different at Publix as opposed to the Mall at Wellington Green or Whole Foods Market.
Flinchum explained that the parking codes have changed in the last 40 years, and driving around Wellington will make the different parking ways apparent. The landscaping code spurs changes, he said, especially with the interior perimeter and island widths.
Rather than make it smaller, the board presented the recommendation to change other use categories to 9.5 feet.
The final issue of the night focused on loading zones for commercial projects.
"We are changing that to simplify it to indicate that it is one space per 25,000 square feet, with additional space required for each 50,000 square feet," Newell said. "We're also requiring that restaurants will require parking spaces, and the reduction of those parking spaces is determined on a parking demand study."
The board did not have any comments on this section and agreed with staff's recommendations.
In other business, the board elected its chair and vice chair for the upcoming year.
Carduner renominated Coleman for the position, which drew comments from Kopp.
"This is the end of my first year on the PZAB, and I want to say that I was very impressed with your performance as a chair and a vice chair, and I really appreciated your leadership throughout this last year," Kopp said. "It was a great introduction to this process. Having said that, this is no way an indictment upon how you performed, but I personally think there is a lot of value in rotating that position, and it's not only for the board itself but for the development of the individual as well."
Kopp recognized Mariaca and Drahos, who both have spent years on the board. He asked that other members consider that in their nominations before nominating Mariaca as chair.
Coleman was re-elected on a 6-1 vote with Kopp dissenting.
"Thank you all very much for all of your support," Coleman said.
Board Member Paul Adams nominated Drahos as vice chair, which was seconded by Carduner. Additionally, Coleman nominated Carduner to remain. However, Carduner withdrew from consideration, clearing the way for Drahos to be the new vice chair.