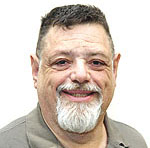 'I' ON CULTURE
Just what we needed! A really good summer romantic comedy. And we certainly have it in Trainwreck. The brainchild of comedy writer and actress Amy Schumer, it turns the whole genre on its ear in a wonderful pastiche of good-natured humor, female-oriented dirty jokes, and a couple of delightful twists and turns. This is a great date movie, although it has a well-deserved R rating.
Schumer plays the leading character, Amy Townsend, who writes for a sleazy magazine (one of its stories is, "You're not gay; she's boring"), is hard-drinking, hardworking and has lots of one-night stands. Her father (Colin Quinn) has taught her that monogamy is unnatural. She does have a sort-of boyfriend, dim-witted Steven (John Cena) whom she uses for her pleasure and flees from when she learns he actually is thinking of things like marriage and children with her. Her monster of an editor Dianna (Tilda Swinton) assigns her a story about a gifted surgeon, Aaron (Bill Hader) who handles top athletes (his best friend seems to be LeBron James). She knows nothing about sports, but he thinks she's attractive. However, when he calls her to ask her out, she's convinced he's a stalker.
They do have to meet again because of the story she's writing, and he constantly surprises and, to her chagrin, delights her. He even gets along with her cranky father. Aaron seems like the perfect man; he even gets an award from Doctors Without Borders for his charity work. Her sister Kim (Brie Larson), married with a stepson and pregnant, likes Aaron. So Amy does everything in her power to push him away; she is cranky and nasty. And, as part of the genre, her life falls apart and eventually… well, if you can't figure this one out, you haven't seen many movies.
The cast is great. Schumer is a great new voice. Most of our comic auteurs are men, and their movies reflect that. Schumer is a very funny feminine voice. I had never heard of her before this film, even though she has had a show on Comedy Central. Her material seems wonderfully fresh. I was with my wife and several friends in the theater, and they were hysterical at points.
Hader was very good as the surgeon. It is difficult to seem both so perfect while also being more than a bit prissy. Yet he carried it off well. LeBron James was great in the role of best friend, able to poke fun at himself in a charming way. I do, however, suggest he keep his day job. Quinn was appropriately funny and cranky as the dad. I particularly enjoyed seeing Norman Lloyd as the father's friend. It could be the last role played by the 100-year-old actor, who started in show business more than 90 years ago.
Of course, all of this is a twist on our traditional romantic comedy notions, where the guy has all sorts of girlfriends and gives them all up for the nice, sweet girl. The films have created niches for the characters almost as extreme as the old Italian commedia dell'arte. Schumer changes all of that, and it's about time. In her world, the women do the hunting and face all the strange results from it that men did. When Aaron admits to Amy that he's slept with three women before her, her quick response is that she did as well. And he discovers that she has been with a lot of men.
But in the end, as expected, love wins out. Both are unhappy alone, and Amy finally figures out she wants him more than her old life. And there are great laughs along the way. Judd Apatow, famous for gross-out comedies, lets Schumer's persona come through, and it is a winner.
Note, however: This is an R-rated film and it deserves it. There is lots of sex, many off-color jokes and some nudity.
It is both romantic and a comedy. We have had far too few of those, and this is one of the best I have seen in a long while. This was my first look at Schumer, and I will be watching her in the future.
Go see it and judge for yourself.