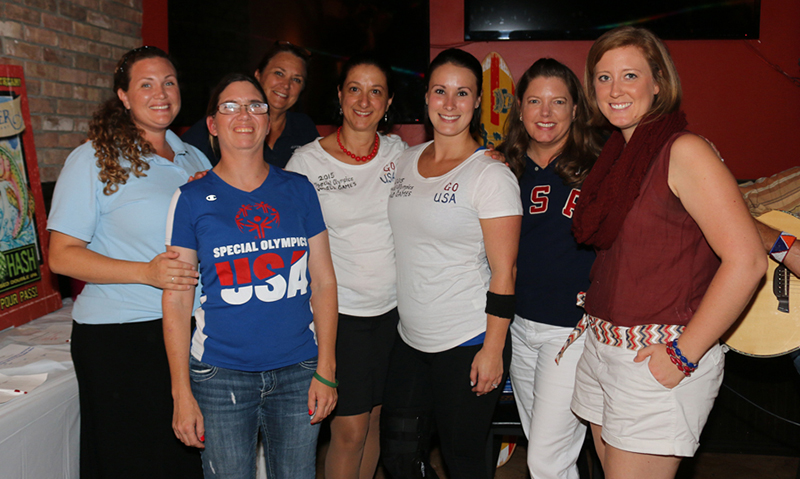 More than 200 people came out to the Lindburgers Restaurant in Wellington on Thursday, July 16 to help local athlete Christina Cooney get to the 2015 Special Olympics World Games in Los Angeles.
Christina, 37, is an experienced rider at the Vinceremos Therapeutic Riding Center in Loxahatchee Groves. She will be one of the 10 riders on the U.S. 2015 World Special Olympics Equestrian Team and will be among 7,000 competitors from 177 countries at the games.
Christina has been riding since she was 11 years old, said her father, Mike Cooney.
Hearing impaired, sight impaired and mentally challenged, riding has been a boon for Christina. When she gets on a horse, or works with a horse, her issues all seem to disappear.
Vinceremos Executive Director Ruth Menor founded the organization in 1982, and this is only the second time that she has sent a rider to the Special Olympics World Games.
Christina is excited about all the attention her bid for glory has brought.
"This, for her, this is the most attention she has ever had in her life," Mike said. "She went to the Royal Palm School, and had a circle of hearing-impaired friends, but this is the most attention she has ever gotten."
The fundraiser at Lindburgers was an extra special night. The Cooneys are regulars at the restaurant, and when employees Sara Neering and Lisa Johnson heard about the trip, they worked quickly to put together the fundraiser, which raised approximately $7,000.
After all, Christina won't be traveling to California alone — she will have her coaches and her family cheering her along and helping her prepare. Expenses add up.
"We brainstormed and put this together in a week," Neering said.
The duo worked tag-team style to drum up support from local businesses and organizations.
"One of us would work at the restaurant and the other would go out for donations," Johnson explained.
They took turns following up, working together with Mark Meyers, president of the Wellington Lindburgers location.
"A night like tonight, and seeing this amazing community come out and support this wonderful person, is just amazing," Meyers said. "We are actually doing the easy part, to have the restaurant and the walls and the ceilings and the food. The hard part is what everyone is doing behind the scenes… Including all the amazing donations that people gave — way above and beyond."
There was a silent auction, music, raffles and more as Lindburgers was filled with Christina's supporters. Local businesses taking part included: Lindburgers, Short Stacks, Dr. Marc Pinkwasser, Sam Jon's Salon, Leslie's Swimming Pool Supplies, the Movies at Wellington, Edible Arrangements, Taylor Made Café, Schaefer Drugs, Sansone AC, Visions Salon, Melody Acres Music, Village Music, Everglades Farm Equipment, Strathmore Bagels, Bonefish Mac's, Eyes of Wellington, the Tackeria, Tato's, JRD Saddlery, Joey's Outback Adventures, Tipsy Salon & Spa, Jordan's Steak Bistro, Rocky's Ace Hardware, Dive Bar, Tijuana Flats, Gold Coast, Brown Distributing, Bacio Bacio Bridal Salon, the Gold Connection, Scotty's Sport Shop, Wellington Florist, Garden of Life, Warrior Brand Clothing, Van Dell Jewelers and Kathryn Johnson.
At Vinceremos, Christina works with coaches Sarah Menor and Kim Elie, as well as interpreter Deb Levinsky. She will have different coaches at the Special Olympics, but her Florida team will be there to support her.
"It's a privilege to be supporting her. I'm just honored to be her coach. It has changed my life teaching her," Kim said.
Christina wears a small electronic device on her wrist to convey instructions, and uses posters, as well as tactile exercises, to learn the routines.
In May, Mark Elie, Kim's husband, created a gofundme account to help with the expenses for the cross-country trip. As of Saturday, July 27, 94 people had donated $8,710. The owner of K&E Travel, Mark is helping with accommodations and coordinating the adventure.
Mike was overwhelmed with the community support Thursday evening, as well as the support from Mark's gofundme account.
"We could not have found one of our riders who deserved this more," Ruth said. "She's not someone who just shows up and gets on a horse. She is totally immersed in our program. She deserves to go to the Olympics and shine."
Mike takes Christina to Vinceremos every day. "I've watched her grow from somebody who was very dependent on other people," he said. "I was very tuned in to her deficiencies, and I watched her grow in the sense that she started slowly taking initiative."
Christina started working at Goodwill Industries, then moved on to working at Vinceremos.
"Ruth offered an opportunity for her to do something constructive," Mike said. "She has always had a passion for horses. It offered a safe environment for her, in an enclosed area, and offered her to show and grow and give her initiative to become really independent, to the point where she is left on her own endeavors to do pretty much as she pleases as far as getting the work accomplished and done."
Being able to compete, and ride horses, has given Christina confidence, independence and another family. "Many athletes go out there and have this competitive nature about them, but that's not what Christina is about. It is about pleasing the crowd, pleasing Ruth, pleasing her dad and her family, and pleasing her instructor," Mike said. "That's the kind of person she is."
To help Christina and her supporters with travel expenses, visit www.gofundme.com/olympicschristina.