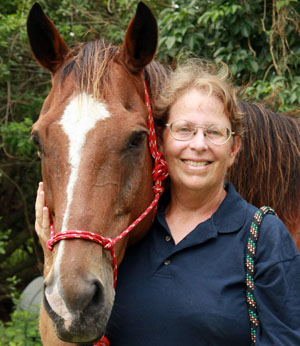 TALES FROM THE TRAILS
Father's Day was celebrated all over the country on Sunday, June 21. Many people enjoyed a backyard barbecue, a nice dinner out, funny cards or perhaps a special cake. But this Father's Day, a dozen intrepid dads celebrated (and were celebrated) in a slightly different and unique way.
The Palm Beach County Horseman's Association held its June show at the Jim Brandon Equestrian Center that weekend, and Sunday was the annual Father's Day Lead Line Equitation class. Lead line classes are open to riders 6 or younger, their ponies led around the ring by someone on foot.
This class, however, had a slightly different age limit. As in, none. For, in a wonderful twist, the riders were the dads, and the people leading them were their children!
John Cahorshak was mounted on Chip, the gray his 7-year-old daughter, Dallis, usually rides. His equestrian experience?
"Today," he quipped. "This is my first time on this horse. I think the class is a great idea. Just look around at the other dads' faces. There's a lot of tension. They look kinda nervous, like maybe they're about to get married. There's a lot of tough competition, but I'm not worried in the least. I plan on coming in first!"
"He's a good student," Dallis added. "I taught him everything last night."
Nearby, Dan Dress and his son, Travis Grzalak, were busy preparing with Gus, their palomino.
"I've had about five minutes of warming up," Dan said. "I practiced a little last week, too. I got on him and prayed. I think I'll do fine. I've got a lot of people pulling for me. But I have to say, I'm glad this class only comes along once each year."
Travis, who has been riding for two and a half years, was very much in charge. "I told my dad what to do," he said. "Keep your heels down, sit up straight. It's a lot of fun, getting to tell him what to do. I like that a lot."
Kaitlyn Sheerahamed, 10, and her dad, Asif, were also ready to enter the ring with their horse Violet, who looked the calmest of the three.
"I have absolutely no idea what I'm doing," Asif admitted.
"We're not worried," Kaitlyn said. "He didn't have to practice, since he's done it before. We did this class two years ago and won. And besides, we've got the best horse in the world."
David Schack sat on his gelding, Valentino, ready to be led in by his daughter, Julia.
"My equestrian experience?" he said. "You're looking at it. I'm sitting on the horse. I rode when I was a kid. This feels great. I'm ready to trot."
"Maybe later we could manage a few steps of trot," Julia allowed. "I don't think you're ready to try it just yet. Now sit up, separate your hands more, and shorten your reins."
A little after 8 a.m. the class was called, and the 12 intrepid fathers were led into the covered arena by their children, some led by more than one. The dads sat up straight, some in shorts and tennis shoes, some in long pants and collared shirts, a couple looking dapper in blazers. All wore hard hats. The horses (and dads) were led around at a walk to the left, and after a few minutes, reversed to repeat the maneuver going right. Then they lined up in the center, awaiting the results.
Aynn Lopes, smiling and snapping photos, watched her daughter, Audrey, lead dad Don around.
"He's the least-comfortable-looking one. He's got zero horse experience," Aynn said of Don. "But he's a good sport. This is his first time doing something like this. I think it's adorable. You know, the dads get to watch their kids ride in shows all the time. I think this is great, that they can switch places and appreciate what it takes. Look at every dad — they're all smiling, even if they're petrified. It's just the cutest thing."
The winner was announced: Andy Novy, riding Larry and led by his daughter, Kaylin Nevad. Andy actually had a little riding background. He took up the sport recently.
He credited his win to Larry, the horse, and his terrific coach and daughter. He also won $100.
The class was sponsored by Aldrich Tool Rental, which donated $250. The first four riders won, respectively, $100, $75, $50 and $25. The class was free to any members (children or families) of the PBCHA.
Talley Walker and his daughter, Corrin, didn't place with their horse, Flynn, but had a lot of fun. "It's my first time on a horse in many years," Talley said. "It's very enjoyable, a great thing to do. Corrin watched me the whole time and kept telling me what to do. I love my daughter."
Talley's wife, Kristi, enjoyed watching. "This is a great way to spend Father's Day," she said. "I like how the dads take it so seriously. It's our first time doing this. We'll definitely do it again next year."
PBCHA President Tanja Koschnick said the class is a great way to get the whole family involved.
"I think the kids sometimes see the parents as just the bankroll," Koschnick said. "This is much more cool, getting them involved in a hands-on way. They get to experience what the kids do. They're sitting where the kids sit. I think it impacts both the kids and the dads equally. It creates a lovely lifelong memory. We hope more dads will come out and join in next year."