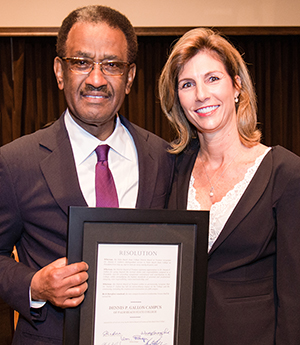 Palm Beach State College's new campus in Loxahatchee Groves will be named after outgoing President Dr. Dennis P. Gallon.
The college's board of trustees recently passed a unanimous resolution naming the campus in honor of Gallon in recognition of his service to the college and the community.
The naming was announced at a June 19 scholarship benefit dinner honoring Gallon, who is retiring June 30 after more than 50 years of service in Florida education, including 18 years as PBSC president.
"I cannot begin to describe how this announcement has made me feel. My emotions are over the top," Gallon told the gathering of 230 friends and community leaders at the Harriet Himmel Theater in West Palm Beach.
The "Legacy of Leadership" event raised almost $14,000 for the Deansy and Dennis Gallon Endowed Scholarship Fund, named in honor of the president's parents.
The college broke ground on the Loxahatchee Groves campus last fall and is working to complete the first building and open the campus to students by the fall of 2016. It is located on 75 acres on Southern Blvd. near B Road.
After receiving $6 million from the state legislature last year to begin work, the college's request for $9 million in construction funding was left out of the 2015-16 budget crafted in a special session by legislators earlier this month.
Despite the setback, college leaders are committed to continuing progress; they will continue to seek state funding as well as private support, and will also look at other budget revenues that can be used.
"It is important that we honor the commitment made to Loxahatchee Groves and the surrounding area," Gallon said. "This campus will provide greater access to programs and services, allowing more people to complete their education and qualify for employment in our area."
The board also announced a resolution formally designating Gallon as "president emeritus" of the college.
ABOVE: Dr. Dennis Gallon with Board of Trustees Vice Chair Wendy Link.