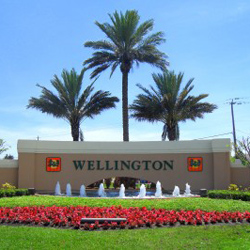 Wellington hosted the second in a series of four town hall meetings on the future use of the controversial K-Park property last week.
Approximately 100 people took part in the Tuesday, July 21 meeting at Polo Park Middle School. They gathered in the school cafeteria to take a survey regarding their thoughts and opinions about the 66.8-acre site, located at the southwest corner of State Road 7 and Stribling Way.
"The purpose of this meeting is for the Wellington Village Council and staff to get input from the community, in terms of what your preferences and desires are, relative to the use of the property," Planning and Zoning Director Bob Basehart said.
The land was bought a decade ago for a future park. Since then, it has been eyed for a number of different purposes, from a college campus to an equestrian facility. Last winter, Wellington reviewed bids for mixed-use developments at the site before deciding to reject all the proposals and gather more community input.
One town hall meeting was held in June, with future meetings set for Tuesday, Aug. 4 at Wellington Landings Middle School and Tuesday, Sept. 15 in the Wellington Village Council chambers, both starting at 7 p.m.
Unlike the first meeting, where the village found itself short on clickers used for a digital survey — more than 200 residents showed up and the village had just 100 of them — this time, Wellington borrowed 100 more, so there were plenty to go around. The same set of questions was presented at the July meeting as the June meeting.
Nearly half of the residents taking part were longtime residents of Wellington, living in the community for more than 10 years. About a third had lived in the village for less than five years. The vast majority were property owners. Attendees were split over use of the space, with 49 percent voting that K-Park should be used for park space, and 51 percent opposed.
Results were favorable when residents were asked if K-Park should be a future location for an entertainment district: 72 percent said yes, while 28 percent said no. When asked whether a future development plan for K-Park should include a hotel, 47 percent said yes, while 52 percent said no. Favorability was shown for including an arts center or something similar, with 59 percent voting yes and 41 percent voting no. The majority was against having employment-oriented uses at K-Park, with 71 percent voting no and 29 percent voting yes.
In January, six proposals were submitted to buy the land, which was purchased in 2003 for almost $8.5 million. The proposals were for mixed uses and offered between $15 million and $25 million for the land. Presently, the property is being rented for agricultural use.
After the survey portion, many residents took to the microphone to make comments, including 25-year Wellington resident Kerry Baron.
"The one thing that I find that we don't have, considering that this is also an equestrian community… is we don't have an educational recreation facility," he said.
Baron, having been a teacher, suggested a museum dedicated to horses on part of the K-Park property. "The museum could open up with the biology of the horse and change exhibits — something dynamic that would engage children," he said.
Baron suggested exhibits on horse breeds, veterinary issues, riders, horses in business, horses in agriculture and more. Such a museum would bring horses to life, he explained. Every aspect of the equestrian industry, from past to present, could be available and interactive.
Antoinette Garza, a resident of Castellina, which is adjacent to the K-Park land, suggested giving more consideration to the residents who live in the area. "People have to live with that every day," she said.
Garza mentioned that she spends disposable income in Delray Beach and Boca Raton, and that Wellington has the potential to create its own draw.
Olympia Homeowners Association President Bill Flack called Wellington "an upper-class, wonderful community of great importance."
Flack said the property needs to be mixed-use. "Anybody who comes in here to build on that property is going to be commercially oriented to make a profit," he said. "That does not mean that we cannot build in a manner to enhance our community and enhance our style of life."
Resident Joe Arol was met with applause when he urged caution on any K-Park plan.
"Based on the feeling that I got from the responses from many of you tonight, I think the consensus is that we want to keep the 'village' in the Village of Wellington," he said. "Therefore, I think we have to tread very carefully as to how we proceed with K-Park. My feeling is that we're kind of putting the cart before the horse."
He suggested waiting until people can see how the new movie theater being built in the Mall at Wellington Green affects Wellington before making any decisions on K-Park and what use it should fulfill.
"My suggestion is very simple," he said. "Let's continue to table this situation until we have results."
Stig Pedersen, who moved to Wellington about three years ago, called the traffic pattern along State Road 7 an "absolute traffic nightmare."
"If we continue down that path, very few people are going to continue to be happy. Whatever decision is made for that property, we cannot continue to make those mistakes just for the sake of those extra retail properties," Pedersen said.
Bill Wheelen, a 10-year Wellington resident living in Olympia, believes that critical mass has been reached as far as growth.
"If I wanted to live in west Broward, I'd live in west Broward," he said. "That's what we're turning into, and it concerns me greatly… If I wanted to live in Delray and Boca, where I came from, I would have stayed there. I came here because Wellington had the draw of a beautiful bedroom community. It's a wonderful area."
Satesh Raju tore into the credibility of the survey, calling it unscientific and noting that there are approximately 60,000 people in Wellington.
"You can't please all the people all the time," he said. "I think we agree that we don't want a thousand housing units. We also agree that we want green space. We also agree that we want restaurants."
Looking at those components, Raju said, a request for proposals should be sent out, following those components as guidelines.
Many people liked one of the six rejected proposals, he said, asking for a reason.
"We're rehashing the same thing we did last year all over again, with zero clarity," Raju said. "This is 97 people in a town of 60,000 citizens."
Director of Operations Jim Barnes said that the village-conducted town hall meetings all would be the same.
"We're not working to an end to develop a project," he said. "There isn't a project we're looking to improve or looking to change… What we are doing is trying to get comments."
Then, after all of the meetings, the results will be presented to council members, he explained.
"At this point, what we hope to get as input will form what we present to council members when they're considering the future of K-Park," Barnes said. "It's important to gauge the vision and feeling of what the community wants for other development in Wellington."