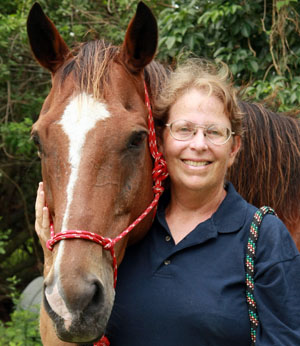 TALES FROM THE TRAILS
Originally from upstate New York, Dan Kelly grew up around horses. Like a lot of kids who love horses but can't afford them, he had to find a way to support his interest. Since he couldn't buy well-trained horses, he decided to develop some of his own. This led to Dan Kelly Stables.
"Eventually, I got tired of doing everything where it was so cold, so I bought a farm and moved to South Florida in 2000," Dan recalled. "I've also slowed down a little. I'm 75 now, so I've pretty much given up showing, which is very hard work. I leave that to my daughter. She has moved back to New York with 30 horses. She competes in the Grand Prix jumper classes."
But Dan still finds talented horses and trains them, both for himself and for clients at his farm off B Road in Loxahatchee Groves. He has a special place in his heart for Thoroughbreds.
"When I was coming up through the ranks, Thoroughbreds were what everyone rode and showed. No one had Warmbloods," he said. "When I look for a good prospect, I still keep in touch with trainers at the local race tracks: Gulf Stream and Calder here in Florida, Saratoga and Finger Lakes in New York. Thoroughbreds can really get the job done. You never know how far they can go until you start working with them. Many of them are really nice horses. Even the ones who aren't going to be able to jump the bigger Grand Prix fences can make very nice junior and amateur horses. Plus, a lot of ex-racehorses end up at slaughterhouses. I like saving them. They're sweet, willing, rideable horses with many years ahead of them."
Yet many people have false images of Thoroughbreds.
"They think they're flighty, hot. It's an undeserved reputation," Dan said. "Most of them aren't like that at all. Just the way some Warmbloods can be hot, you have to look at each individual and see what he's like and where his talents lie. Thoroughbreds tend to be soft, quiet, sensitive horses. You don't need spurs. They're very easy to ride, willing and brave. They have a lot of heart. They're great riding horses, very personable."
And there are always a lot of young, healthy Thoroughbreds looking for good homes when their time at the track is done.
"The ones who've raced may not know how to trot or canter, but they're always eager to please and very intelligent," Dan said. "They learn in no time. Many never race, because they don't have the speed or the competitive instinct. They make wonderful show horses and pets."
Dan is sad at the thought of how racehorses are treated as commodities rather than as living creatures. Often, they are treated as machines, and once the owners are done with them, they have no more use for them. It's strictly a business.
Dan's had a lot of success with the horses he has trained. In his more than 50 years of riding, training and showing, he has competed in such prestigious events as the American Invitational and the Gold Cup. Dan not only trained his mounts for those events, he has also trained numerous upper-level horses, including a two-time Grand Prix Horse of the Year and an Olympic competitor, and jumped 7-foot-6 in the Puissance.
He took Nazarius, a Thoroughbred, to the Grand Prix level and eventually sold him to Robert Ridland to show with the USET. Albany, another Thoroughbred, was Grand Prix Horse of the Year twice for Leslie Burr Lenehan. A third horse, an Appendix (half Thoroughbred, half Quarter Horse) named Alexius, placed third in the World Cup qualifier in Harrisburg, and the Canadian team was interested in him before tragedy struck. In a freak accident, he was running in a pasture, slipped and cracked his pastern.
Dan currently owns two horses. Grande came from Calder and is 8 years old. Dan describes him as a nice, big, 16.3-hand gelding. He is only jumping 3-foot courses, but Dan thinks he could go much higher if he wants to. Grande is also a great mover and would make a fine dressage horse.
"He's sound, sane and has good bone," Dan said. "He's a Thoroughbred who looks like a Warmblood, and he's for sale."
Harley is a Thoroughbred/Appaloosa/Shire mix, gray and a good jumper. He was bred in Virginia as a fox hunter. He's currently jumping 4-foot-6.
"He's great to ride," Dan said. "My wife loves riding him. It'll be very hard for us to sell him. The prospective owner will have to be thoroughly interviewed."
Dan also works with a few private owners, helping them train their horses.
"I hope people will consider getting a Thoroughbred," he said. "They should definitely explore them as an option. There are a lot of nice ones out there."
And Dan is always ready to help you find that next nice horse.
For more information, visit www.dankellystables.com, or call (561) 281-3339.