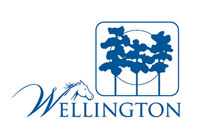 The Wellington Village Council approved $480,000 in changes for the new Wellington Community Center on Tuesday, July 14. The money will allow the inclusion of a larger balcony overlooking the lake, an extended entry cover, and a lobby on the northwest side of the building that had been omitted in the final design stage after council approval.
Councilman Matt Willhite had asked for a review of the building design at the council's previous meeting after commenting that the final plan did not look like the plan that had been approved.
The new $13 million, 26,000-square-foot facility is planned for completion in the spring or summer of 2016. The plans include an event room that will seat 360 people, an Internet lounge, three multi-purpose rooms, a fitness room, a conference room, an arts and crafts room, a baby/tots classroom and a warming kitchen.
Also at the July 14 meeting, the council approved a preliminary truth in millage (TRIM) ad valorem tax rate at the current rate of 2.45 mills, an Acme Improvement District assessment rate unchanged at $230 per unit, and solid waste assessments of $140 for curbside and $105 for containerized service, which is $20 less per customer than last year.
The 2.45 millage rate is the same as last year but above the rollback rate of 2.24 mills. It is anticipated to raise an additional $1.48 million for a total $16.16 million in ad valorem revenue due to rising property values. The total budget of $79.05 million is an increase of $2.10 million, or 2.7 percent, which proposes a total of $6.6 million in capital projects to include drainage, road and building improvements.
Also at the meeting, six proposed charter amendments developed by the Charter Review Task Force were presented to the council, which decided to plan a joint meeting with the task force for further review, as well as several public workshops.
Proposed charter questions for the March 16, 2016 ballot include proposed changes to council compensation, procedures to fill council vacancies, policy on notice for public meetings, referendum policy on increased millage rates and protection of the Equestrian Preserve Area.