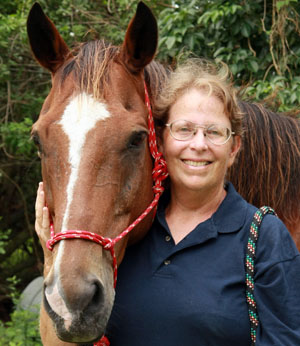 TALES FROM THE TRAILS
Located at 12440 State Road 7 in suburban Boynton Beach, Floral Acres sprawls like a lovely, beckoning spot. As soon as you pull in and park, you're all but compelled to get out and start walking around.
They have tons of flowering and leafy green plants, but that's not why I was there. You know those people with green thumbs? I have brown thumbs. If I approach a plant, even a healthy, vibrant plant, its outer edges start wilting. Were I to take it home, it'd be dead within a week. So no, not the plants.
It was the other neat stuff: the planters, benches, birdbaths, statues, fountains and pots. A few weeks ago, I was visiting a friend, and she had an amazing planter on her counter. It was in the shape of a recumbent horse, with the center hollowed out for the plant, and I couldn't get over it. She got it at Floral Acres. I had to visit.
Angie Rosacker is the gal in charge of this cast-stone and carved wonderland. Her family has been in the business since a great-great-great-grandfather moved from Germany to Minneapolis in 1880 and opened a greenhouse. Angie is the fifth generation. Her family has been in business in the Delray Beach and Boynton Beach areas since 1955.
"We stock and sell one of the best local selections of benches, fountains, statuary and pots in this area," Angie said. "Our top seller is pots, and customers can order them glazed in any color or finish they'd like. Lions are also very popular. If you see something you like anywhere in the U.S., we can order it for you."
Floral Acres has a nice selection of equestrian art, everything from small Talavera horses to life-sized bronzes and full-sized teak horses from Indonesia. They have items in cast stone, marble, terra cotta and clay. And it's not only the pots that can be customized. You can order a lovely, large horse head bust in your choice of 50 colors. There are horse-themed fountains in different sizes and configurations, and a horse head hitching post. And all can be customized to fit the customer's taste, space and pocketbook.
In addition to horse-related items, Floral Acres has many other animal figures: wildlife, elephants, Oriental figures, gargoyles, dragons, rabbits, frogs and dogs. Lots of dogs. Corgis, cocker spaniels, poodles, bulldogs, Scotties, basset hounds, pugs, boxers, shepherds, sheepdogs, puppies in a basket — even angel dogs with wings. All available in 50 different colors. And for the fox hunters, there's a way-too-cute pair of foxes dressed in hunt regalia sitting on stumps. Tally ho!
"During the season, a lot of equestrian customers visit us to decorate their farms," Angie said. "And during the Winter Equestrian Festival, they often decorate their show stalls with their barn colors. Pots, statues, fountains — some of them get pretty elaborate. We get a lot of repeat customers. Apparently, they get rid of everything at the end of each season, or sometimes people move and don't take larger pieces with them. They just come back and order new ones."
Angie noted that these pieces hold up well in the weather, and bronze and marble last forever. Statues really dress a place up and make it special to you, reflecting your tastes and interests.
"We have pieces for all tastes and prince ranges," she said. "Cast stone puppies start at $50, and there are many pieces in the $100 to $500 range. Bronze and marble pieces are the most expensive, some going for $10,000 to $20,000."
Floral Acres always has a nice selection on hand. They start beefing up the inventory in September. While I was there, a browsing couple up from Boca Raton strolled by. They were repeat customers who stop by often. "Coming here's like walking through a museum," one said. "They have top-notch quality items."
I, too, will be back. I came looking for the horse planters and walked away with two Talavera horses and a cast stone barn owl. But I could probably find room for something else.
"We've been here forever," Angie said. "We're like the Bergdorf Goodman of garden statuary. People come for one thing and find tons more, all of it top quality. We stand behind our work."
For more information, visit www.floralacresllc.com or call (561) 499-2655.