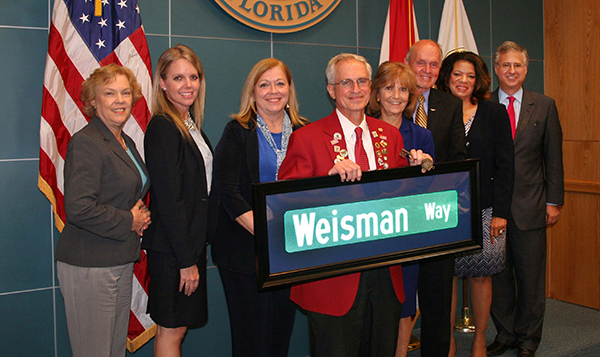 It takes a lot to surprise a man who has run Palm Beach County for a quarter century, managing an approximately $4 billion budget while overseeing more than 6,000 employees. Yet, on Tuesday, Aug. 18, the Palm Beach County Commission did just that.
Not only did they announce, during County Administrator Bob Weisman's last meeting, that they were renaming Process Drive in Royal Palm Beach as Weisman Way, the commissioners also announced that the county government building at 301 N. Olive Ave. in West Palm Beach will be renamed the Robert Weisman Governmental Center.
"I was shocked," said Weisman, a longtime Wellington resident. "It is really incredible that the commission felt that I deserved that. I'm humbled."
It seems only fitting that the announcements were made during Weisman's final board meeting, albeit a long meeting covering controversial agenda topics.
"I got some very beautiful comments from the commissioners, which I truly appreciate," he said. "It's good that it was the last meeting, I think. I'm ready to do something else."
Weisman, a civil engineer by trade, has worked for Palm Beach County quite a long time — 35 years.
"That's a very long time. I've been working downtown now, almost 25 years. I'm looking forward to retirement, but I'm going to miss a lot about the job as well," he said.
His fondest memories revolve around those he has met with and worked with over the years.
"Mainly working with the people I've worked with, the employees and the commissioners," Weisman said.
While county administrator, Weisman has seen roads and buildings named after various individuals who have held pivotal roles in the county's administration. Naming a street or a building in someone's honor is not abnormal, he explained.
"To have them both done, is kind of different," he said. "To have the main county building named for you downtown, that's really special."
Last weekend, Weisman celebrated his upcoming retirement with a special dinner party that more than 300 people attended at the Palm Beach County Convention Center.
"Four past commissioners came to that dinner. That's really incredible for that to happen," he said.
As August passes by, Weisman is getting ready for a new chapter in his life.
"I'm happy to have served the public for 35 years here," he said. "I don't plan on leaving the area — it's where my kids live and my grandkids live."
Son Matthew, also a civil engineer, is thrilled with the honor bestowed upon his father.
"Even though his job has been in management for the past 25 years, ultimately his longevity is because he is an engineer and was able to think in a certain way," Matthew said. "It ultimately led to my desire to become an engineer, as well."
Following his father's path, Matthew spent eight years as Gainesville's traffic engineer, often seeking out his father's advice for navigating the local government sector.
Daughter Janice Vassalotti works for Palm Beach County Fire-Rescue and fondly remembers going to visit her father at the office as a child.
"Ever since we were little, we would to go to the office and watch him on Channel 20," she said. "We'd go to the 11th floor and look out the windows to see the Intracoastal and the ocean."
When she and Matthew were young, they had a ritual.
"We'd always watch him on Channel 20 on Tuesdays, and sometimes call him, asking him to do something silly like touch his ear or something," she said. "We'd watch and see if he would look at us, or do something, to respond. Being a kid, that's really exciting. We didn't have texting back then, but we were able to call."
Watching Weisman on Channel 20 has also been exciting for his grandchildren, Axl, 5, and Brooklyn, 3. "My kids love going to the office," Janice said.
One thing that stands out to her about growing up with their father is that despite the stresses that go along with the job, when he was home, he was home.
"He never brought his work home with him," she said. "Once he came home, work was over. He'd come home, and just like any other day, we'd have dinner, do our homework, participate in sports… It was amazing, because a lot of people cannot separate from work like that."
As an adult, the reality of their father retiring will change some things for Matthew and Janice, but they, too, look forward to what will happen next.
"I'm really happy for him, but it's also very bittersweet," she said. "We have a lot of great memories there."
Weisman's last day will be Aug. 31, when Deputy County Administrator Verdenia C. Baker will take over. Baker was the person Weisman recommended for the post.
She is excited to be taking over, crediting Weisman for preparing her for the role. "He has been an excellent mentor throughout the entire process," Baker said.
She wasn't surprised about Process Road being renamed Weisman Way, and found it fitting for his hard work and loyalty to the county. Such a long tenure is not the norm, she said. Weisman beat the odds.
"It is unusual for any county administrator to last in one location for as long as he has been the county administrator for Palm Beach County," Baker said. "It's really unheard of. Normally, the life of a county administrator in one location is anywhere from three to seven years. They usually move on, or a new board comes in, and they're looking in a different direction, or they want to go somewhere different, and they want a change."
Weisman keeping his position for nearly a quarter of a century speaks volumes to how integral he has been to Palm Beach County.
"When we were looking at different ways that we could honor him, kind of memorialize his tenure with the organization, there were various ideas that were bantered about," Assistant County Administrator Brad Merriman said, explaining that the road and the building were the top two ideas. "Being a county employee for 35 years and being county administrator for almost 24 of those years is a huge, incredible accomplishment. The road, of course, it's the north boundary of the fairgrounds property, and Bob has always been a huge supporter of the fair. He's on the board of trustees there at the fair. It seemed like it would be a nice, fitting thing to have that particular road named after him."
Though Baker is excited about her upcoming promotion, September will bring about many changes.
"It will be very weird not having him here. For the last 15 years, I've walked through my door, and he's always been to the right, and I've been to the left," she said. "I'm going to definitely miss that. He is a gentleman and a scholar. He has been a wonderful administrator and an awesome mentor. He's definitely going to be missed."
ABOVE: Vice Mayor Mary Lou Berger, Commissioner Melissa McKinlay, Mayor Shelley Vana, retiring County Administrator Bob Weisman, Commissioner Paulette Burdick, Commissioner Hal Valeche, Commissioner Priscilla Taylor and Commissioner Steven Abrams.  Photo courtesy Palm Beach County Public Affairs