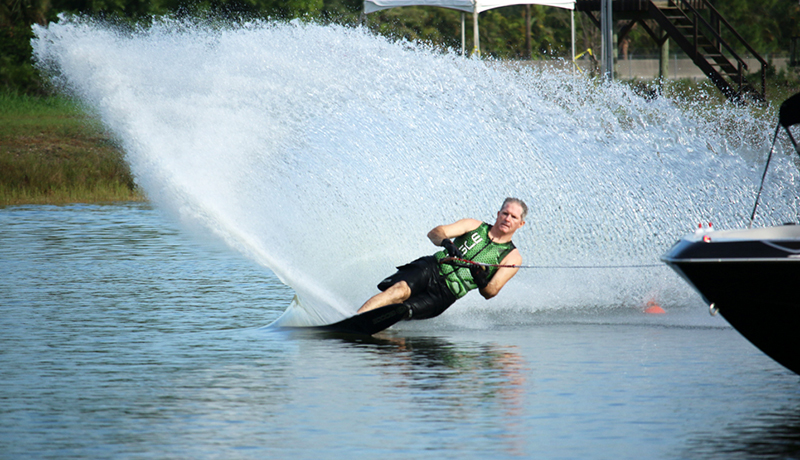 The Ski Club of the Palm Beaches hosted the 73rd Goode National Water Ski Championships at Okeeheelee Park last week, just about a week after a tornado tore through the park, ripping off a viewing stand roof and destroying a starting dock.
John Shealy, president of the Ski Club of the Palm Beaches, was pleased with the event, which brought 600 competitors to the area Aug. 11-15.
"I think it went really well this year," he said. "This is our 14th time doing the national championships, which is more than any other ski site has ever done."
The Ski Club of the Palm Beaches hosted two years of the nationals before last year's championship, which was held in Texas. This year was also intended to occur in Texas, but due to last-minute changes, the event was moved to Okeeheelee Park.
"All in all, everything went pretty well. The weather cooperated. We had a few good afternoon storms, but for the most part, we finished up everything on schedule and only had to move some late events to the next morning on one of the days," Shealy said.
The only downside to hosting such a large event, he explained, is that it is hard on club volunteers to do so many national tournaments in a row without a break.
Throughout the year, there is a core team of 25 club volunteers, controlling and taking care of the organizational side of the event, Shealy said.
Charlotte Melchers, tournament chair for the 2015 National Water Ski Championships, typically heads the organizational team.
Judges, drivers, scorers and everyone else making the tournament work are all volunteers, along with those who rebuild things during the winter and organize the tournament.
"It takes several hundred people throughout the year to really be able to put on the event," Shealy said.
Shealy received positive feedback for the organization and execution of the event, particularly in light of the tornado.
Club member Jeff Kepchia, who placed in his event — slalom — spoke praises of this year's tournament, despite the curveball Florida's weather threw at the event.
"The county really came out there and cleaned it up. You'd never know there was a tornado the week before it," he said.
A few weeks ago, Kepchia was injured, so, even though he didn't score as well as he wished, he was still proud of his accomplishment.
"Anytime you can compete in that tournament, it's pretty much an honor," he said. "Everything was great, I just fell a little short… I didn't ski the best I could have skied, but I certainly could have skied worse, too."
Kepchia is already looking forward to next year's tournament. The social aspect of competing in a sport you love is a great draw for the tournaments and qualifying events. "Every year, I look forward to skiing in the tournament, supporting my local tournament at Okeeheelee and traveling to some of the regional and national tournaments," he said. "It's a lot of fun, and it's a really great group of people. It's great getting together with them every year."
Of the 600 competitors, about 30 local skiers collectively made a strong stand for awards. Competitors are divided into different categories based upon their event, and then further divided into age groups.
Among those from West Palm Beach, Ashley Stevens placed 16th in her age group for slalom; Shelby Coke tied for 13th place in slalom; Al Sanfanandre took second place in tricks; Steve Krigbaum tied for sixth place in slalom; Mark Bozicevic took 25th place in slalom; Lee Mershon took sixth place in slalom; and Chip Debus took second place in slalom, fourth place in trick, fourth place in jump and fourth place overall for his division.
From Wellington, Samantha Dumala took second place for open women slalom; Kepchia took 10th place in slalom; Phil Cutting took 10th place in slalom; Valerie Smith took fourth place in slalom; and Bill Sowers tied for 11th place in slalom.
From Greenacres, Patricia Burt took second place in masters women slalom; Laurie Lindsey took fourth place in masters women slalom; Anne Coke took eighth place in slalom; Paul Santangelo tied for 16th place in his division of slalom; and John Shealy tied for 16th place in his slalom division.
From Lake Worth, Bruce Yekel took 20th place in his slalom division; Becky Lathrop tied for 14th place in her slalom division; Darin Montgomery took first place in slalom; Ryan Montgomery tied for seventh place in his slalom division; and Ashley Montgomery cleaned up with third place in jump, first in slalom, seventh in tricks and second overall.
Palm Beach Gardens skier Lowell Eckstein took 30th place, and Miami resident Joe Luzoro took second place overall.
Complete results are available at www.usawaterski.org. To learn more about the Ski Club of the Palm Beaches, visit www.okeeski.com.