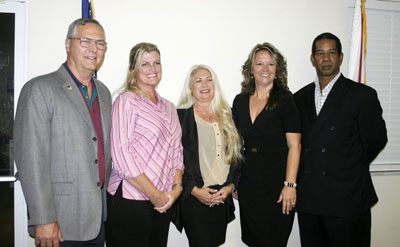 At its Sept. 9 meeting, the Indian Trail Improvement District Board of Supervisors will consider a special permit requested by the adjacent Seminole Improvement District to reroute its wastewater to the county. The wastewater from two local schools is currently fed to Seminole's treatment plant.
The permit request was one of several items postponed from ITID's regular July meeting at the request of ITID President Carol Jacobs. The ITID board will not meet in August. The special permit would allow the rerouting of wastewater discharges through a 6-inch force main from Western Pines Middle School and Golden Groves Elementary School south to the Seminole Improvement District plant, into the existing 24-inch Palm Beach County Water Utilities Department force main on the east side of 140th Avenue North.
Seminole's wastewater treatment plant is scheduled to be decommissioned, and the county's 24-inch force main has the capacity to serve the schools, according to the staff report. A special permit is needed because 140th Avenue North is within ITID's jurisdiction.
The proposed construction is to make a directional bore under the Seminole Improvement District canal to 140th Avenue North. An air release manhole will be the only visible structure after the construction is complete, according to the staff report. The project will necessitate the temporary closure of a portion of 140th Avenue North.
There will also be construction on Seminole Pratt Whitney Road, but that portion is outside the jurisdiction of ITID. The school parcels are not in the proposed Minto West/Westlake project area.
The staff report also noted that there are no fiscal impacts to ITID, as the applicant is responsible for payment of permit review and construction observation costs by the district.
In other business, the board will consider a revised enhanced roadway stabilization policy for petitioners on local service roads. Local service roads are unpaved easement roads that are generally no more than a half-mile in length.
ITID staff evaluated several different roadway treatments and determined that the only ones qualified as enhanced stabilization were several different paving methods.
A simple majority of the property owners having primary access to the road may petition the board to have enhanced surface stabilization, and the petition must identify the stabilization process desired. The design and specifications must be approved by ITID's engineer.
Any road considered for enhanced surface stabilization must be determined to have suitable road base and drainage swales.
The cost savings to the district for residents who petition for enhanced stabilization is estimated to be $1,600 to $2,000 per mile of road, but due to legal and administrative costs, a credit back to residents is not feasible, the staff report determined.
ITID staff did note that the entire unit of development would receive the benefit of reduced maintenance costs for any stabilization improvements made within that unit.