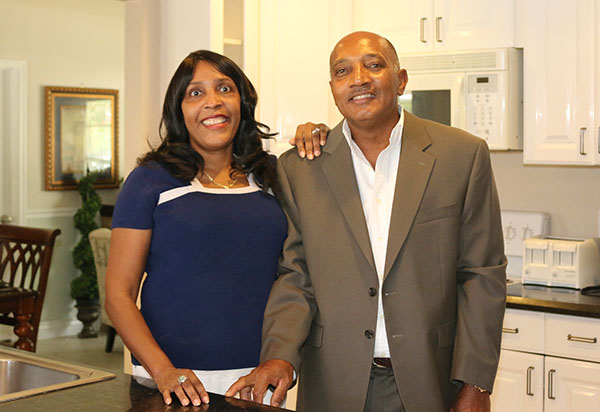 Jonas and Bernadine Auguste own and operate Lexington Manor, a new adult family home care center located on Pinetta Circle in Wellington.
"I've been a nurse for many years, and I've worked with many patients going home, and sometimes they're not ready to go home yet," Bernadine said. "They need a safe place where they can get the assistance they need."
For seniors who do not want to live in a nursing home, Lexington Manor offers a unique alternative. The Auguste family has created a home-away-from-home with a safe and caring environment for those who find themselves at an in-between area: living on their own is no longer safe, but they are not ready or do not want to live in a nursing home.
The Augustes and their staff offer transportation, personal care, medical reminders and daily activities to keep seniors engaged and entertained.
As a registered nurse, Bernadine is qualified and has the experience to provide the care that the seniors need. She also realized that they could provide the homelike atmosphere that seniors want.
Seniors have the option of staying at Lexington Manor, or returning to their home when they are ready.
One of the many benefits of Lexington Manor, Bernadine said, is that seniors make friendships. "You get people who you know, who you live with, who you can eat with," she said, explaining that there are games and many social activities available.
The goal is to make it homelike, not institutional. "We designed it like that. You don't feel like you're in a big hospital," Jonas said.
The Augustes acquired all of the necessary certifications and permits to convert the Wellington home into an adult home care facility. Currently, the three-bedroom house can house four seniors, but they plan on expanding its capacity to six or eight. They will convert an extra dining room and a sunroom into bedrooms when the time comes to expand.
The staff at Lexington Manor offers companionship, supervision and assistance, Bernadine said. "You don't have to go to a nursing home like you had to in the past, for that kind of care," she said. "You get the one-on-one supervision. You know your area. It's like if you're at home."
Lexington Manor offers assistance with meals, daily living and whatever is needed to create a safe home environment.
"I've worked with the geriatric population since I was 19," Bernadine said. "I've been a nurse since I was 19, and I've seen how stressful it is sometimes for people who go to nursing homes, and I've visited some of them when I did home care nursing."
Bernadine offers daily care nursing to residents, while Jonas works as the administrator. "It's a family business. Our daughter is a pre-RN," Jonas said, and will be helping them with the business.
Bernadine is committed to the health, care and independence of the residents and will personally oversee medical files, making sure the necessary doctors are involved and health plans are followed.
"If you're here, we can assist you," she said, "so you can enjoy your life like you're at home."
Lexington Manor officially opened on June 19. Set in a residential community, it creates an atmosphere of normalcy during what could be a scary time for seniors.
The place is decorated with light and comfortable décor, from the beautiful pictures, cozy couches and faux fireplace, to the outdoor herb garden and seating area, living and dining rooms, and more.
The Augustes specifically found a home without a pool, which could pose a problem.
"Sometimes you have clients who wake up and are confused, go outside and go for a walk, and if there is water nearby, it may not be safe," Bernadine explained, noting that they took great care in picking the location for their senior "home away from home."
Lexington Manor is located at 1337 Pinetta Circle in Wellington. In the heart of Wellington, it is close in proximity to the Mall at Wellington Green, the Wellington Amphitheater, the Wellington branch library, Wellington Regional Medical Center, Palms West Hospital, Wellington's equestrian facilities and other attractions.
For more information, visit www.thelexingtonmanor.com or call (561) 422-7059.
ABOVE: Bernadine and Jonas Auguste are the owners of Lexington Manor, a new adult family home care center in Wellington.