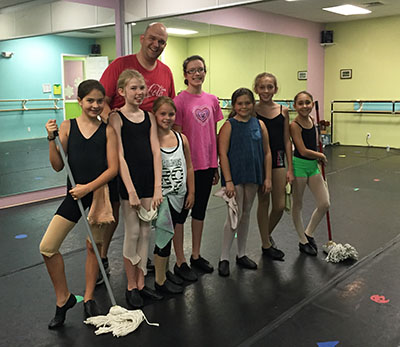 Movement Arts Dance Academy in Royal Palm Beach will be kicking off its ninth year with three open house and free class events next week. The open houses will be held on Wednesday, Aug. 19; Thursday, Aug. 20; and Saturday, Aug. 22. Returning and prospective students will have the opportunity to meet instructors, tour the studio and participate in door prize drawings. The schedule of free classes is on the studio's Facebook page and web site.
Studio students, along with the competition and performance group Synergy Dance Ensemble, under the direction of Kelly Todd Grandusky, recently completed a summer intensive, which included classes in ballet, ballet history, lyrical, tap, jazz, cardio training, stretch and strengthen, and more.
The highlight of the week was a musical theater workshop taught by Brian Padgett. The students thoroughly enjoyed learning a routine to music from Annie, choreographed by Padgett. Padgett, from West Palm Beach, has an extensive background in tap and musical theater, including two Broadway tours (The Drowsy Chaperone and Elf the Musical). He has performed in many shows throughout the country and will be returning to Palm Beach County in December to perform at the Maltz Jupiter Theatre in Billy Elliot.
New students wishing to find out more about the studio, open house events, or to register, can call (561) 792-9757 or visit www.movementartsdanceacademy.com.
ABOVE: Movement Arts Dance Academy students with guest instructor Brian Padgett after rehearsing a routine from Annie.