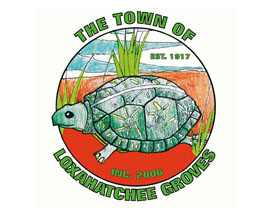 The Loxahatchee Groves Town Council's choice out of two respondents to be the town's new management firm has backed out of its offer to replace the current management company.
Severn Trent Management Services sent a letter to Town Attorney Michael Cirullo and Mayor Dave Browning on Monday stating that it was no longer interested in providing management services to the Town of Loxahatchee Groves.
Severn Trent is also the management company for the Seminole Improvement District, which is the special district serving the Minto West/Westlake development.
"Due to other contractual obligations in neighboring communities, we believe that there may be significant portions of the scope of work from which we would be precluded from performing due to ethical obligations and even perceived conflicts of interest," Severn Trent General Manager Bob Koncar wrote in his letter. "Additionally, given the public opinion presented through various residents at the town's last council meeting, we believe that it would be in the best interests of the town for Severn Trent to withdraw so that the town may pursue an agreement with another entity."
The only other responder to the town's request for proposals was Larry Tibbs, who did not meet the town charter's requirement that the manager be certified. Tibbs was also embroiled in a high-profile inspector general investigation stemming from his time as finance director with the City of Lauderdale Lakes in Broward County.
The current management company, Underwood Management Services Group, did not submit a new proposal, although it is eligible for a one-year contract renewal. Its current contract expires Sept. 30.
The respondents' presentations last week received more than a dozen protests by residents urging for the renewal of the Underwood contract.
Vice Mayor Ron Jarriel said that he was disappointed to hear of the withdrawal of Severn Trent, which is a large firm that manages a number of municipalities and special districts in Florida and Georgia.
"I felt like they had the resources that could benefit the people of Loxahatchee Groves," Jarriel said, adding that he planned to meet with Town Manager Bill Underwood this week to review the agenda package for the council meeting on Tuesday, Sept. 1.
"I don't know what direction we're going to go in right now," Jarriel said. "We have several directions we can go. I look at it, we had three people we could have chosen. Tibbs is out of the picture. My vote was for Severn Trent because they had so many resources. The next in line is Underwood Management. They have participated in the RFP for the simple fact that we can extend their contract a year."
Jarriel said that his concern with Underwood was whether the firm would be asking for more money. The current contract is for $27,083 per month.
"At one time, [Town Manager Bill Underwood] told me that he was going to ask for a two-year extension and an increase," he said. "When we went out for the RFP, he told me that he would only ask for a one-year extension instead of two and that he would not be asking for an increase."
Jarriel said that he thought the company got a $125,000 increase, in essence, when the former manager, Mark Kutney, was released, and Underwood himself took over in October 2014 as town manager.
Jarriel said another option might be to find a "road ranger" manager while they go out for another RFP.
"There's still a couple of options out there, but I'm hoping that Underwood will stand by his word and not take advantage of Severn Trent backing out, and maybe take a one-year extension without an increase," he said, adding that the situation is further complicated by the recent resignation of the town's legal and code enforcement firms.
Jarriel said he hoped to hear more input from residents at the council meeting on Tuesday, Sept. 1.
"I don't mean the handful of people who have tried to fight us on everything that we've tried to do," he said, listing the approved Palm Beach State College campus, the new town hall and the paving of roads. "I hope that we have a full house where everybody will come and speak and try to give us some direction on what the residents want."
Browning, who voted against seeking new proposals in June along with Councilman Tom Goltzené, said Tibbs did not qualify for the contract and that issuing another RFP would take the town beyond Underwood's current Sept. 30 term.
"The other thing that we can do is extend the contract with the current management team for another year," Browning said. "That's what most of the residents of Loxahatchee Groves want, and that's what I support. The other thing would be to kind of start from scratch and try to find a manager and a clerk and all those things to plug in."
Browning said that the lack of responses to the town's RFP revealed what he had said earlier about the town developing a reputation for going through managers. Underwood is the fourth manager the town has had since it incorporated nine years ago.
"There are not a lot of management teams out there that are jumping up and down about managing Loxahatchee Groves," Browning said, adding that he thought the past RFP was put out too quickly, without enough time to process it. "There's too much stuff going on, and the timing was bad."
Goltzené said that he understood Severn Trent's decision.
"I'm glad Severn Trent listened to the voice of the people, and I would hope that others do the same," he said.