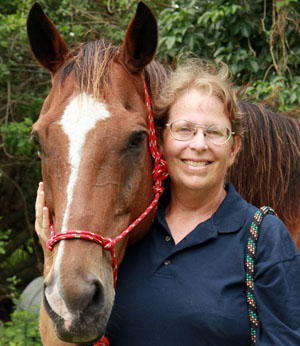 TALES FROM THE TRAILS
It dawned bright, clear and hot on a recent Saturday. There had been storms the day before, and the rutted dirt road sported puddles, but enthusiastic groups drove slowly out to visit Joe Mangravito, Brittany Beaupied and especially the two zebras at A Perfect Horse. The fences were festooned with black and white balloons to celebrate the zebras' birthdays — they were one year old.
"We've got 9.2 acres," Joe said. "We've got a garden, paddocks, arenas, a round pen and the screened-in pavilion. Lots of room for everyone and everything, even though we're way out here."
Way out meant a few miles past the end of the pavement on Orange Blvd. in the middle of mostly sugar cane fields. A herd of seven horses grazed in one of the paddocks. "We've planted 50 fruit trees. Everything's going great. We're really busy," Joe said.
Linda Sabol came. A Perfect Horse is working with her 10-year-old mare, Sugar.
"Sugar was fine before I went away on vacation," Linda explained. "When I got back and tried to ride her, she exploded, dumped me hard without any warning. I called Joe, and he and Brittany came out. Brittany is working with Sugar, who is still very tense and nervous, but we're seeing progress."
Refreshments were served in the pavilion, which boasted a birthday banner above the four-sided fireplace in the middle of the comfortably cool room. The zebras, of course, were the draw, and everyone enjoyed petting them. Joe and Brittany drove to Texas to get them when they were just a few days old.
"Brittany is my head trainer," Joe said. "She did a lot of the early work with the zebras. We met when she took one of my courses. She rides really well, and she did everything I told her to do in the course, so that was it. I hired her."
"Joe fixed my horse," Brittany recalled. "I had adopted an off-the-track Thoroughbred, and he got worse and worse. For a full year, I couldn't do anything with him. He would kick, rear, wouldn't move. Nothing worked. Joe fixed him in 15 minutes, and that was it."
After that, she became his apprentice.
"I had to learn to do what he had done. I loved how he had changed my nervous, afraid horse into a calm, confident mount," Brittany said. "I still have that horse — he's the gray one out there with the herd in the paddock."
Brittany, who is only 23, is now Joe's full-time partner.
"The hardest part of this job is working with the people," she said. "They're a lot harder to train than their horses. Getting them to change their thinking can be tough. They want to rush through things and go too fast, instead of waiting and giving the horse time to think and respond. They have to realize it's important to listen to the horse. Each horse teaches you something new and helps you figure out their problems."
That was the case with Sugar.
"Sugar is a sweet mare, but she can easily get into a panicked frenzy," Brittany explained. "I calm her down so she can respond more appropriately. Little things can trigger her fear. We're slowly building up her confidence, and she is coming around and getting better. She will be fine. Every horse can be fixed."
I was glad to visit with Joe and Brittany again, but I really liked getting up close to the two zebras, who wandered around freely and willingly came over. How often do you get to pet a zebra?
I was even more excited to learn that Joe and Brittany have planned a number of local symposiums and courses so people can learn their training methods.
"Anyone can learn to do what we do," Joe explained. "Even if you have no experience with horses. As a matter of fact, those people sometimes pick it up quicker, because they don't have to unlearn old habits. It's harder to unlearn."
Joe coordinated with Linda Rainbolt of the Acreage Horseman's Association, and the meetings have been scheduled.
A free symposium, open to everyone, will be given on Saturday, Sept. 26, from 10 a.m. to 1 p.m. at Nicole Hornstein Equestrian Park in The Acreage. It will cover an overview of Joe's training methods and philosophy, including tips on ground work, round penning, and even how to teach your horse to lie down. Don't bring your horses, just a pad, pen and your questions.
The second offering is a two-day weekend course at Joe's ranch on Oct. 10-11. These full-day sessions are limited to eight participants, and you're welcome to bring your horse. Overnight stalls are available.
"This hands-on course is useful for any riding discipline. We'll be working individually with each participant, no matter what level they're at or what problem they want to address. Whatever their horse needs, we'll help them," Joe said. "By the end, you'll see a huge improvement."
The third training seminar is much more comprehensive, a two-week course, running Monday through Friday, starting Oct. 19 at Joe's ranch. Also limited to eight participants, this course will teach you how to be a horse trainer and cover everything, from basic ground work to finishing a show horse. It will also deal with such common problems as bucking and rearing, both on the ground and under saddle.
For more information, or to sign up, call Joe Mangravito at (954) 599-7272.