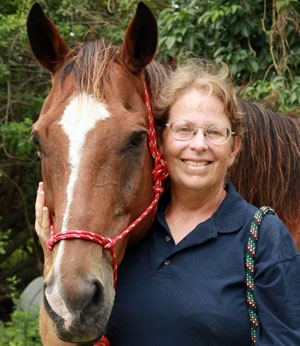 TALES FROM THE TRAILS
Until the heat breaks, actual riding can be difficult, but it's always perfect weather for shopping, and On Course Consignment, located at 12773 W. Forest Hill Blvd. in Wellington, is chock full of good stuff at great prices.
"We have so much inventory, we're almost bursting at the seams," owner Jacquie McCutchen said. "We bought out an entire store of Animo clothing, so we have tons of brand-new items. Animo clothes are made in Italy and are very popular on the circuit."
Some of the Animo equestrian offerings include breeches, riding shirts and jackets. There's also casual wear: capri pants, skirts, tops, rain gear, sweaters, hats, belts and hundreds of very sporty winter jackets.
"It's all brand new with the tags, very nice stuff," Jacqui said, "and priced below retail. Additionally, each item is further reduced anywhere from 10 percent to 30 percent."
Jacqui has also added a new clearance section toward the back of the store. There you'll find riding jackets, shirts, breeches, helmets, horse blankets and assorted tack. The front of the store contains racks of gently used saddles and a small room filled with a wide selection of riding boots.
"Many people think we carry only high-end saddles and clothes," Jacqui said. "We do have a nice selection of those, but we carry a wide selection of items for every riding taste and wallet. We have something for the person showing at the Winter Equestrian Festival, as well as for the casual, backyard rider. We have breeches for $15. Everyone can find something they need or want, at a price they can afford."
The saddle selection is particularly nice. All of them are in "like new" condition, and are current styles and name brands in high demand. The leather is clean and well-cared for. Boots have working zippers, with soles and heels in excellent condition. Helmets are approved under standards of the American Society for Testing and Materials, and horse blankets are laundered with no rips or tears.
When a consignment item sells, the owner receives 60 percent and the store keeps 40 percent. For saddles, the split is 75/25. If an item doesn't sell after a year, it's either returned to the owner or donated to a local horse charity, such as Vinceremos, Freedom Riders, the Equestrian Aid Foundation, Florida TRAC and the Good Earth Farm.
The day I stopped by to wander around, I met Rhonda Pittman from Okeechobee. She owns four cutting horses.
"I saw them on Facebook, so I decided to come and visit," she said. "It's my first time here. I decided to drive over and see what they've got. I've been looking through the clearance items."
So far, she had collected a pair of ice boots, some ice leg wraps and a set of horse slippers, but she was still looking. "I like them. They've got good prices and a bunch of really good deals. I'd absolutely recommend it. I'll definitely be back," Rhonda said.
Cassidy Gamble from Boca Raton was also perusing the clearance items, while her mother, Rashell, patiently waited. Cassidy is leasing a horse at Sport Horse International in Boynton Beach. She rides hunter/jumper.
"I come here a lot," she said. "I'm a repeat customer. I like the people and how the store is set up. It's easy to find what you're after, and they have really good prices. Just about everything I wear when I'm riding or use on the horse I got here — my bridle, saddle pads, half-pad, halter and lead rope, bell boots, breeches, show shirts, jacket, even my grooming tote."
"I like coming here because she likes it," Rashell said. "The prices are good, and the people are friendly."
While I was there, Cassidy picked out a helmet, a girth and another half-pad. But she was also browsing. There's a lot to look at.
One wall sports row after row of bridles, reins, martingales, fancy brow bands and bits. There are girths, stirrups and stirrup leathers, halters, lead ropes, fake tails, tail covers and polo tack. Breyer horses and horse-related books stand on shelves. They've got saddle stands, hay nets, bonnets and fly masks, head bumpers and belly-guard jumping girths. There's a nice selection of blankets and sheets, saddle pads and tack trucks.
There are racks and racks of polo and show shirts, breeches, belts, gloves, shad bellies, jackets, vests and chaps. Basically, if you or your horse need it, you can probably find it there.
On Course Consignment is open from 10 a.m. to 6 p.m. Monday through Saturday. For more information, call (561) 753-6256, visit www.oncourseconsignment.com or find them on Facebook.