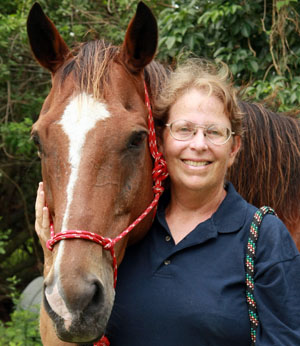 TALES FROM THE TRAILS
Peaceful. Tranquil. You can't help but relax when entering the grounds of Palms Stables South. In the south end of Wellington, at 13412 57th Place South, Leslie Dias has been running her boarding and training barn since April 1.
"I managed the boarding and lesson program for a barn across the street," Leslie explained. "When they went out of business, I moved here to run my own business."
Originally from Modesto, Calif., Leslie began riding at age 10 with trainer Jen Hannink, and stayed for the next 25 years, gaining knowledge, a solid work ethic and the confidence to start her own business.
In 2002, Leslie moved to South Florida with her two daughters. One, Allyssa Jenkins, 23, works with her mother. "I love working with my daughter, having her follow in my footsteps," she said.
"Running a barn in Wellington is not always easy, but we've been very fortunate," she said. "We love running our summer camp program and watching the kids blossom. We own six horses and currently have seven boarders, but there's room for more."
Palms Stables South has access to up to 90 stalls, 30 acres, trails, a jump ring, a dressage ring, riding fields, and plenty of turnout areas, both sand and grass.
"We personalize our services, so we can offer clients exactly what they want in terms of feed, supplements and services," she said. "We'll hand-graze horses twice a day, do horse laundry on-site, layups and rehab. I live on the premises, so I'm here 24-7."
Leslie is proud of the calm atmosphere at the facility.
"Our barn is very relaxed. Our clients become friends and family," she said. "We go out to dinner together. We hold evening campfires, and the kids have overnight sleepovers in tents on the grass. We all get along."
Leslie offers lessons herself. She handles the beginners, and another riding instructor, Kate Turner, does the advanced. Other top-notch hunter/jumper trainers are available during the season, including Rosemary Bertin, who makes the barn her home base September through June. Ki-Juan Minors also offers training services. Boarders can use any trainer they prefer. "Whatever anyone needs, I'll make it work for them," Leslie said.
Frances "Tomie" Crighton boards Rocket, her Appendix Quarter Horse, at Palms Stables South.
"I ride for pleasure," said Tomie, who is 76. "The barn has a great group of people; very upbeat and positive. I like how well it's kept up. If something breaks, it's taken care of immediately. The landscaping is manicured. The arenas have great footing. There's nice big stalls, and a tack room for every 10 stalls, so it never gets crowded with people or equipment. Leslie does an awesome job keeping everyone happy."
Amy Deen, who lives in Royal Palm Beach, also finds herself there daily.
"I have zero horse experience," Amy said. "Two years ago, out of the blue, my son, Michael, decided that he wanted to ride. We went to the barn, and he loves it. It's a great fit, and the atmosphere is so welcoming. I can't say enough good things about the place."
Michael is now 12, and is leasing a horse this year.
"Folly, a mare, chose him, and they've formed a real bond," Amy said. "He has done a few local schooling shows, and this year he is planning to do more. He started jumping, which is a little nerve-wracking. I see no end in sight. There will definitely be his own horse in the future, and we'll keep it at Palms Stables South. It's very safe, with a lot of moms around to keep the kids polite and in line. If he could, Michael would move into a stall and sleep there."
Another boarder, local TV broadcaster Roxanne Stein, was originally with Leslie when she ran the barn across the street.
"I moved with her when she came here," Roxanne said. "A lot of us did. She is wonderful, very honest and straightforward, easygoing and knowledgeable. She treats each horse like it's hers. If I can't get out, I know his hooves will be picked out and he'll be looked after."
Roxanne's horse, Bamboo, is a gentle giant, a 21-year-old, 17.1-hand Hanoverian. "He's the love of my life," she said. "I can't imagine living without him. My husband knows better than to ask me to chose between him and Bamboo."
Roxanne praised Leslie for her temperament.
"Another thing that I love about Leslie is that she is always willing to listen. She took part in a Purina feed study for active older horses like Bamboo, and as result, he's on a specialized feeding program, which has done wonders. She is always expanding her knowledge and using that to help the horses," Roxanne said. "I call our barn 'Good Karma, No Drama.' You meet all kinds of people there — every age, every level of experience, and everyone gets along and respects one another. There are kids taking their first lessons, and riders showing at WEF. Leslie doesn't care if someone has tons of money or barely enough. She helped out kids who wanted to attend her summer camp but couldn't quite afford it. Every horse and every client gets the same high-caliber, individualized care."
Leslie said that the hardest part of the business is not taking it personally when clients move to another facility.
"I give it my all, but sometimes they have needs that I can't meet," she said. "I'll lie in bed at night, trying to think what else I might have done. The most fulfilling part is seeing happy, healthy horses. This is my ideal life. I can't imagine doing anything else."
For more information, call (561) 252-2121, or visit www.facebook.com/PalmsStables.