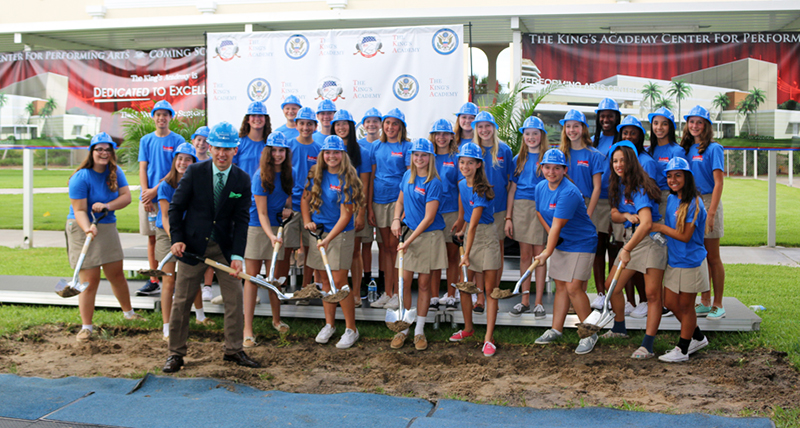 The King's Academy broke ground on its long-awaited Center for Performing Arts during a ceremony Tuesday, Sept. 22.
The $9.5 million project will add an 11,000-square-foot, state-of-the-art building with an 833-seat theater. It is expected to open in the fall of 2016.
"Today, we break ground on an auditorium, a stage, a concert hall, a theater, that will rival any school fine-arts theater in Florida," TKA Board Chair Clyde Meckstroth said.
TKA's choirs, bands, musicals and other stage programs have had national recognition for decades, he noted, adding that the dance program is now among the same ranks. "Now we are building a home for them, befitting the excellence of the programs," Meckstroth said.
Headmaster Douglas Raines was pleased with how the TKA community has supported this latest project.
"I was very proud of all the folks who came out, who have supported us in the past," Raines said. "I think the program was able to demonstrate just how excited the entire student body is for what we're doing… The groundbreaking ceremony went without a hitch. It was a very exciting experience for the entire King's Academy community."
The program was designed to showcase the fine arts program at TKA. The King's Kids sang God Bless America, the Marching Lions performed the Star Spangled Banner, Gregorio Umana sang You Raise Me Up, Noelle Leinwol sang Forever, and the King's Academy Vocal Arts and Advanced Dance group performed You'll Never Walk Alone/Climb Every Mountain.
A video compilation of previous shows was shown, as well as a video describing what the building will look like.
"Until today, it has been a vision and a hope," Meckstroth said. "Teachers and students who have heard so much about the project are excited that we're starting. Coaches and directors wish we would hurry up and get finished."
Many of the donors who made the project possible were recognized at the groundbreaking.
Meckstroth and Glenn Martin, director of development, thanked those who supported the project.
"The support that the King's community has shown has been so strong," Martin said.
TKA High School Principal Sonya Jones said her students are looking forward to the new center.
"The students are so thrilled because we have been talking about this project for a long period of time. To actually see it come to fruition, they're so excited about this," Jones said. "It will be right here in the middle of campus, so when people come up to buy box office tickets, they'll have access to it as well."
For Jones, the groundbreaking was exciting for her on a personal level.
"It means a lot. I graduated from King's in the 1980s and was part of the fine arts program. For this to actually be a part of this community now is extremely exciting," Jones said. "Our fine arts program has progressed to such a level of excellence that this is just the icing on the cake for that program."
Director David Snyder is proud of the new building, which was personalized for the needs of the fine arts program.
"A lot of hard work and dedication is now coming into fruition with this building," he said. "I think of alumni, and their hard work is what helped us get to where we are today. We have students who graduated and are going to the best colleges in the country for theater and musical theater."
Now, with a new center, the possibilities seem endless to Snyder. "This new space is going to allow us so many more opportunities for educational growth," he said.
For patrons, he pointed out, visiting will be much more enjoyable than it was in the past, when shows were staged in the gymnasium. Something as simple as having cushioned seats can make all the difference in the comfort while watching a production, he said.
Putting his shows on a dedicated stage will make them even bigger and better, he explained, and now, the seats will be softer — an extra creature comfort for the patrons who have been following Snyder and his students for the past 15 years.
"For us to have a $10 million facility, we've hit every detail," Snyder said. "It has been great. We were able to pick out everything and customize what we do."
The design team, including InterPlan Inc., Hawkins Construction, Urban Design/Kilday Studios, the Environment Design Group and Simmons & White, have been great, Snyder said.
The new center will allow the school's band and choir programs to shine in the new concert hall. The box office will be a professional, formal box office, filtering audiences in through the 2,300-square-foot lobby.
Raines is looking forward to the new facility and its ability to fuel the school's future growth.
"For years, our school has blossomed in the current facility," he said. "However, the ability to build and showcase student talent in a state-of-the-art theater will take the King's Academy to a whole new level of excellence and allow each of our departments to be able to continue to grow and to be able to demonstrate their commitment to do things at 110 percent."
For Raines, who has two daughters in the elementary program, the impacts of the facility are yet to be seen. "It's been a dream of so many who have gone before me. In my history here at the King's Academy, which has been over 15 years, I've noticed how much the students have had excitement for this program to just continue to grow," Raines said. "This is going to give opportunities that we can't even imagine at this point, over the next numerous decades."
The TKA campus is located at 8401 Belvedere Road. It currently serves approximately 1,160 students. For more info., visit www.tka.net.