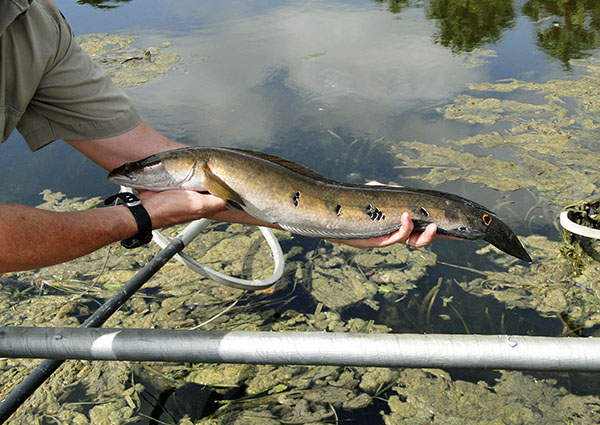 There's a new fish in the neighborhood, joining several other invasive, exotic species that have infiltrated Florida's waterways.
The bullseye snakehead fish has migrated north from Broward County and has been seen in Royal Palm Beach and Wellington waterways, according to Royal Palm Beach Councilman David Swift, who last week asked for residents' help in controlling them.
"Exotic fishes in our canals [are] nothing new. We have the walking catfish that has been here for quite a bit," Swift said in a report to the Royal Palm Beach Village Council on Sept. 3. "I actually saw one of these crawling up a driveway after the rainfall this afternoon."
He cited the sailfin catfish, Mayan chiclid and blue tilapia as several other examples of invasive exotics.
The clown knifefish is another species that has been introduced into to local waters from home aquariums after they grow too large. "They put these little clown knifefish in there, and they don't want to kill them, so they put them in the canal system," Swift said.
The knifefish can grow to more than 8 pounds, and consume lots of native fish in the process.
"For one pound of fish to grow, you need 10 pounds of little fish to eat," Swift said. "They're fun to catch; no question about that. It's kind of how much of and what they eat that's the question — and they are voracious. They're in our canals. They've been here at least since 2008."
Knifefish are found in Earth Day Park, and have been caught off the dock at Robiner Park.
"They're quite established in our canal system, but just recently another one has come up that's called the bullseye snakehead fish," Swift said. "You may have heard of the northern snakehead fish that causes similar problems. It was first introduced into the C-14 Canal down in Fort Lauderdale. They like the little canal systems. They like the vegetation that's out in the canal system, and they do very well in those canals."
Originally from Southeast Asia, the bullseye snakehead has been featured on the River Monsters TV show, where it was suggested that they can do harm to people. Swift wouldn't go that far.
"They don't harm people at all," he said. "They don't eat little dogs; they eat crayfish, small fish, native fish and exotic fish, and they eat little ducklings and other small birds. They eat anything that moves; let me put it that way. They have a really good teeth system."
Swift showed a picture of a bullseye snakehead that he saw in the canal behind his house in La Mancha a month ago, with hundreds of baby snakeheads hovering around her.
"I have two bullseye snakeheads in my canal," he said. "This is the mother, and she carries a cloud of offspring in August and September."
They have also been seen in the canal on the east side of the Village Golf Course, he said.
"What we'd like to do is ask some of our residents if they are also seeing them in our canal system," Swift said. "We actually had the game commission out, and they did some shocking in the canal system and couldn't get far enough north to see if they could actually kill the ones I've seen, but we'd like the residents to call us."
Swift said that it is important to control invasive exotics because they are encroaching on the habitat of native fish, harkening to a story and photo in the Town-Crier many years ago about his 14-year-old son, now 43, catching an 8.5-pound bass behind their house with a newly acquired Christmas rod and reel.
"It provides a lot of activity here for our kids here in Royal Palm Beach, whether you know it or not," he said. "It's a valuable resource that we need to protect."
Swift said that the local canals are still a good fishery. "If you work at it, you can catch some nice fish," he said.
Anyone who observes a bullseye snakehead is encouraged to call Florida Fish & Wildlife Conservation Commission Fisheries Biologist Kelly Gestring at (561) 292-6007 or e-mail kelly.gestring@myfwc.com.
Callers will be asked to provide their name, address and phone number, and the location where the fish was seen.
"If it is in a place that they can put an 18-foot boat, they can actually get into the canals and help us with the shocking thing," Swift said. "They, too, would like to not see these big fish take over the canals like they've taken over in Fort Lauderdale."
The best lure to use is a rubber or plastic frog fished on top of the weeds, he said. Anyone who catches one is asked not to release it back into the water.
"A lot of people catch and release, and they don't have a use for it, so they throw it back," Swift said. "The game commission tells us they're really good eating, but I don't recommend eating any fish from our canal system, quite frankly."
He said not to leave them on the canal bank because they have rudimentary lungs and can live up to five days out of water.
"If you want to try to find them, they're under aquatic weeds," Swift said. "We've done a pretty good job in the canal system of knocking the weeds down. I live on a canal that is maintained by the golf course. They have not done a good job this year… and there's quite a few weeds in my canal."
ABOVE: A Florida Fish & Wildlife Conservation Commission officer holds a bullseye snakehead fish.