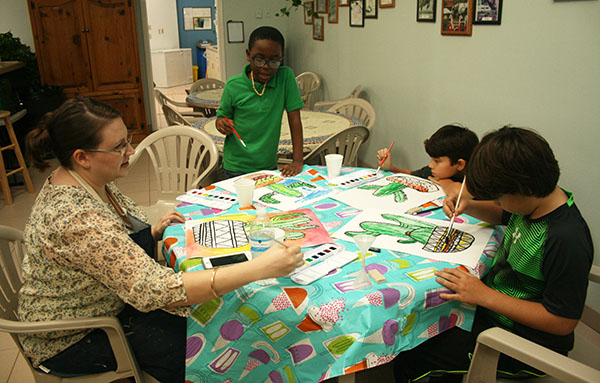 After a successful first session, the Armory Art Center and #1 Education Place are teaming up for a second session of art classes in Wellington. Artists of all ages are able to learn from professional Armory artists at #1 Education Place's location in the original Wellington Mall.
Judy Blake, one of the owners of #1 Education Place, is thrilled to be hosting Armory Art Center classes.
"We don't have an art program as part of our school, and we really wanted to not only provide our own students, but to provide an opportunity for the community to have access to the Armory Art program ," Blake said. "When I spoke to them, they were really excited about having their programs out here."
The Armory has long been interested in the idea of expanding into Wellington, but needed a location. #1 Education Place had the location, but needed the expertise. "It was like a match made in heaven," Blake said.
Last session, six students participated. For the upcoming session getting underway Nov. 2, nine students have already signed up as of Tuesday. Though the class size may seem small, this is one of those situations where a smaller class is to the students' advantage, Blake explained. "To have it right here in Wellington is just so exciting," she said. "I'm glad to see that the community is responding to the opportunity that this is."
Parents are calling daily for details about the classes, Blake said. Also, she has been told that many of the young students often ask their parents to visit the Armory Art Center in West Palm Beach.
"They're so proud of what they've created, especially now that we have it on display. It's inspiring to the other kids," Blake said. "There's this awakening of artistic expression and courage to try things that was lacking before. There's always a couple of kids who are very artsy and artistic, and that's nice, but when it encourages others to try it and express themselves, that's really cool."
The classes will take place Mondays from Nov. 2 to Dec. 7, and Saturdays from Nov. 7 to Dec. 12. The Monday classes begin at 2:45 p.m. and last until 4:15 p.m. They are designed for elementary school-aged children and are $150 for the session. The elementary session is followed by a session for middle school students from 4:15 to 6:15 p.m., which costs $220. The Saturday classes, from 9:30 to 11:30 a.m., cost $220, and are open to all ages.
Armory Art Center instructor Margaret Jahn will be returning to teach the Monday classes. During the previous session, Jahn taught the students how to use pastels, watercolors and more as they created three-dimensional art, paintings, drawings and other works.
Jahn attended the Dreyfoos School of the Arts before studying at the Kansas City Art Institute and the Savannah College of Art & Design.
Armory Art Center instructor Beth Sloat will be teaching the Saturday classes, which Blake explained were an addition to accommodate those who are unable to attend on Mondays, and to allow adults to join in the experience.
"Art develops an excellent sense of spatial relations and enhances people's ability to see and understand the environment around them," Sloat said.
Exploring three-dimensional artwork is something that she is interested in and will be bringing to the class. "Over the years, I've accumulated a great deal of knowledge and understanding about the development of art for children and adults, and I want to share that," she said.
Sloat is a painter, working with oils on plein air art. She teaches art camp at the Armory during the summer and is excited to be bringing her expertise to Wellington.
Sloat earned her bachelor's degree in graphic design from Colorado State University and worked for many years as a graphic artist before retiring. After moving to Florida, Sloat studied fine art at the Armory before teaching classes.
During the equestrian season, Blake said, there will be a special art course on horses.
#1 Education Place is located at 12794 W. Forest Hill Blvd., Suite 23, in Wellington. For more information, or to register for a session, call (561) 753-6563. To learn more about offerings at the Armory Art Center, visit www.armoryart.org.
ABOVE: Instructor Margaret Jahn works with students David Stevens, Nicky Ramirez and Paul Barth on cactus art during a recent Armory Art Center program at #1 Education Place.