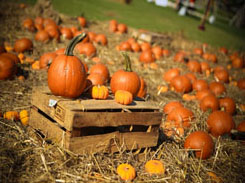 Stores are inundated with orange and black merchandise, and pumpkin spice is everywhere. It's that time of year, again. Halloween and fall festivals are on their way.
Wellington, Royal Palm Beach and The Acreage are each hosting festivities, promising to be bigger and better than previous years with trick-or-treating, music, games, bounce houses, face painting, haunted hallways, costume contests and more.
Wellington kicks off the festivities with its Fall Festival 2015 on Saturday, Oct. 17 from 6 to 10 p.m. at Village Park (11700 Pierson Road).
"There will be eight bounce houses for kids from toddler to middle school age," Community Programs Manager Michelle Garvey said. "We have pony rides until 8:30 p.m. on the field, and a petting zoo until 10 p.m. We have hay rides, trick-or-treat doors, and we have face painting inside the gymnasium until 9:30 p.m. We also have our haunted hallways — which we aren't recommending for the youngest children, but older children always enjoy that every year. We have food trucks again this year, offering a variety of different foods."
2015 Wellington Idol winner Adrianna Siena will be taking to the stage along with several local dance troupes. There will be a pie-eating contest at 7:15 p.m. before the costume contest at 7:30 p.m. The costume contest will be broken into five age groups. Registration is not needed for the costume contest, but registration for the pie-eating contest needs to be done at the stage.
Bracelets are available at Village Park for $7 in advance, and $10 the day of the event.
"It's just a great family event because we hit every age group, from toddlers to seniors," Garvey said. "We really have something for everybody this year."
There will be more than 25 vendors on hand — everything from chiropractors to orthodontists and politicians — providing another trick-or-treating opportunity for children and offering information for parents. Sponsors include the Goddard School, Bright Horizons, Velocity Community Credit Union and Whole Foods Market.
Wellington also has activities on tap for the next weekend. On Saturday, Oct. 24 at 9 a.m., Wellington will hold its 13th annual Howl at the Moon Festival, a festive event for dogs and their human companions.
Sponsored by the Courtyard Animal Hospital, Howl at the Moon will take place at the Wellington Dog Park (2965 Greenbriar Blvd.) until noon and begins with a doggy costume contest from 9 to 10:30 a.m.
There will be opportunities for pictures with your pet, micro-chipping, dog trick-or-treat bags, dog portraits, pumpkin painting, face painting for kids, games and more. This year, proceeds from the event will help SHARE Shepherd Rescue. For more information about Howl at the Moon, call Dr. Marc Pinkwasser at (561) 784-7387.
From 3 to 5 p.m., on Saturday, Oct. 24, the Village of Wellington and the Wellington High School DECA Club will hold their seventh annual Trunk or Treat at the parking lot of Wellington High School (2101 Greenview Shores Blvd.).
At the safe, family-friendly trick-or-treat event, volunteers bring out their vehicles and hand out candy to kids as a safe alternative to trick-or-treating, Community Projects Manager Scott Campbell said.
Approximately 70 to 80 vehicles and 800 people come out. There will be a live DJ, food trucks, a bounce house, an arts and crafts station, a costume contest and more. "It's a safe event for families to come out to and have a good time," Campbell said.
The high school kids do a great job decorating. "It turns out to be really neat," he said.
In the past, three or four bags of candy were suggested for volunteers, but more candy is always better. "Even that goes so quickly," Campbell said. "Last year, people were running dry an hour and 15 minutes in."
To participate by decorating your car and handing out candy, call DECA at (561) 795-4919 or e-mail susan.may@palmbeachschools.org.
Also on Saturday, Oct. 24, starting at 4 p.m., the Acreage Landowners' Association and the Indian Trail Improvement District will host their Spooktacular Rocktoberfest at Acreage Community Park (6701 140th Ave. North).
Volunteer Tamara Casanova has attended Rocktoberfest in the past but is working on it for the first time this year. "It has been a great event for our community. Our kids love it," she said. "This year, we have one of the local schools, Moosey's Preschool, bringing in 10 booths of children's activities."
There will be an interactive bounce house and a waterslide for the kids to play in. There will be photo opportunities, a 50/50 raffle, a car show, a costume contest, live music, food trucks, vendors, games and more. "Everyone has a lot of fun. It's a very good family close-knit community event," Casanova said.
Music from local bands — including James Dunn, the Alex Shaw Band, Under Pressure, SoundProof and the Earlysmith Band — is what she's looking forward to, along with the DJ, vendors and food trucks. For more information, visit www.acreagelandowners.com.
Royal Palm Beach will close out the month on Friday, Oct. 30 and Saturday, Oct. 31 with its Fall Fest 2015, spread out over two days at Royal Palm Beach Commons Park (11600 Poinciana Blvd.).
"We're going to be having all kinds of activities for two straight days," Community & Cultural Events Superintendent Carlos Morales said. "We have all kinds of bands and performances. All of our activities will be ongoing — our pumpkin patch, our petting zoos, hay rides and craft vendors."
One thing that is new this year, he said, is a full-fledged carnival with carnival rides and games. An all-day pass for the carnival rides is $20 per day.
"All of our Halloween-related things will be on Saturday, Oct. 31. We'll have our costume contests and our pet contests on Saturday," Morales said.
Those interested in the costume contest, which starts at 5 p.m. Saturday, can pre-register by calling the Royal Palm Beach Cultural Center at (561) 790-5149. Participants are asked to arrive a half-hour early for the contest.
Both days, he said, there will be trick-or-treating. The festivities will take place from 5 to 10 p.m. on Friday and 1 to 10 p.m. on Saturday. The Hero 5K Fun Run, benefiting Hugs & Kisses Inc., will take place Saturday at 8 a.m. "They want everybody dressed up as superheroes," Morales said, noting that the registration deadline is Oct. 23.
On the main stage, the Blues Brothers Soul Band will play at 7:30 p.m. Friday, with Emily Brooke taking the stage at 3 p.m. Saturday, followed by a Michael Jackson tribute at 8 p.m. Many other groups will take the stage, including the Ni Ma Lion Dance Performing Team, which will be doing acrobatics.
Black Beard's Pirate Ship will be available for photo opportunities, and Groovolution will be performing a fire show at sunset on Saturday. "Craft and domestic beer vendors will be onsite, so it will be fun for adults and families," Morales said.
Shuttle service will be available to and from the festivities, and plenty of parking will be available. For more information, visit www.royalpalmbeach.com.