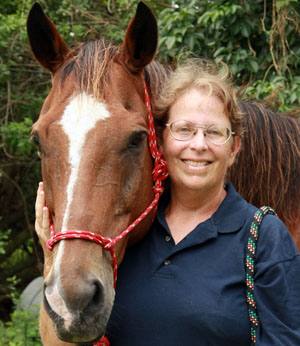 TALES FROM THE TRAILS
Have you been to Nicole Hornstein Equestrian Park recently? The little horse park in The Acreage is jumping! On any given day, and especially on weekends, you'll find people and their horses riding in the arenas, using the round pen or just enjoying a leisurely walk through the shaded grassy areas. The last weekend of September was a busy time.
On Saturday, Sept. 26, there was a birthday party, complete with pony rides, in the covered pavilion. A local church held a meeting, which also included pony rides, in the field next to the barn. And a good-sized crowd gathered at the round pen to watch and listen to Joe Mangravito and Brittany Beaupied give a talk and demonstration on their training methods.
By 10 a.m., more than two dozen people stood leaning on the round pen's rail as Joe, a John Lyons certified trainer, spoke about different training methods.
"Many trainers use pain or discomfort to get results," Joe told the crowd. "Our method is easy and gentle, and a lot of the stuff you can do at home by yourself. You give your horse two choices. The right one's easy, the wrong one's harder for him to do, so he learns to choose the easy one. Each time he tries to do what you're asking, you release the pressure. It's not hard to teach, and horses catch on quickly, but you can't rush the process. You have to go at the horse's speed, not yours."
Joe and his paint gelding, Tonto, demonstrated the head-down cue, lunging both ways, changing direction by turning both inward and outward, backing, side-passing, and turns on the forehand and haunches. Sometimes Tonto wore a simple rope halter, sometimes a bridle with a winged snaffle, and sometimes nothing. It didn't seem to matter. Joe also asked Tonto to lie down and got on, so when Tonto stood, he was mounted.
Brittany rode another horse, under saddle, to demonstrate other gaits and movements. They frequently stopped to solicit questions from the crowd. The group of onlookers had swelled to three dozen and included people dressed in breeches, people wearing cowboy boots, people in shorts, and a couple of riders who drifted over and sat on their horses. The crowd was engaged and interested, laughing at jokes and nodding in agreement as Joe explained his philosophy.
"Remember, if there's a problem, it's never the horse's fault," Joe said. "Horses are the most forgiving animals on the planet, but they're conditioned-response animals. If they're doing something wrong, it's because someone taught them that. If your horse spooks and you pat him, you've just taught him how that was the correct response."
Ross and Candyce Tiffany Lewis watched the demo with interest. They live in downtown West Palm Beach and ride hunter/jumper and dressage in Wellington. They learned about the talk through my article in the Town-Crier.
"I liked what he had to say and the techniques he used," Candyce said, taking one of Joe's flyers. "When you ride, you're always a student. Each horse teaches you something different. Riding is about improving your skills, not showing off. You have to be sensitive and use what works best for the horse, rather than demanding a response. I'd like to visit his farm and attend another clinic."
For more information about Joe's more in-depth training clinics, contact him at (954) 599-7272, or aperfecthorse@aol.com.
The next day, Sunday, Sept. 27, the Acreage Horseman's Association kicked off its 2016 show season with a hunter/jumper show. Horse trailers filled the small lot, and enthusiastic riders of all ages practiced and participated.
"We had a really good response to the show last year," AHA President Linda Rainbolt said. "This is our third year. We keep tweaking things, changing and adding classes in response to comments and suggestions. This year, we have added an adult walk/trot over fences division."
The AHA schooling shows are a great place for someone who is just starting out in showing or who wants to get back into it.
"Our shows are low-key, no pressure and very family-friendly. Last year, we had 250 members and about 200 entries in each show," Linda said. "Classes typically have five or six riders, though some had 12. Each division has two flat and two over fences classes. Individual membership costs $20 for the year or $30 for a family. Classes are $10 each, and there are no extra office fees. You're welcome to show in a polo shirt in any class, which is a lot more comfortable than a show shirt and jacket."
I attended the show and found everyone agreeing that it was well-run and enjoyable. Things ran smoothly, without delays or problems. Classes were small, and riders and horses looked relaxed and happy. Shows run October through April on the third Sunday of the month, and if you look hard, you'll find me there.
But wait, there's more! Mark your calendar for Saturday, Oct. 31, when the AHA will host a Halloween Fun Show.
"This is a completely free event for everyone, AHA member or not," said Mark Harmon, who is coordinating the show. "There will be 15 different games, both on-foot and mounted. Sign-ups for the games start at 10 a.m., and the show begins at 11 a.m. There will be costume contests, for humans and horses, a witch hat toss, egg relay race, pumpkin bowling, a tombstone race and more. We'll have a DJ,
refreshments and tons of fun decorations. And no, you don't need a horse to participate. We hope the whole community comes out and has a great time."
For more information about the AHA and the Halloween Fun Show, visit www.acreagehorseman.com.