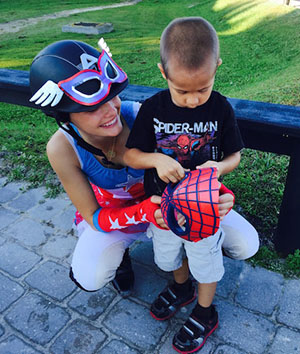 For the past six years, knights in their shining armor and on their powerful mounts have been taking center stage at the Palm Beach International Equestrian Center in Wellington. These fierce competitors only have one objective in mind: fighting for a deserving Palm Beach County charity and taking a shot at bringing home $150,000.
The Great Charity Challenge, presented by Fidelity Investments, is inviting all Palm Beach County-based charities to apply to participate in the event's seventh annual pro-amateur relay show jumping competition.
A total of 34 lucky charities will depend on their own fairy tale characters on Saturday, Feb. 6 to receive a share of the $1.5 million purse.
The application process opened on Oct. 15 and will remain active through 5 p.m. on Nov. 13 via www.greatcharitychallenge.com. All nonprofit organizations are invited to apply and try their luck.
The Great Charity Challenge, founded in 2010 by Mark and Katherine Bellissimo of Equestrian Sport Productions, and their daughter Paige, has distributed more than $7.5 million from the equestrian community and local corporate partners to more than 120 nonprofits in Palm Beach County over the last six years.
What makes this event truly unique is the fact that 100 percent of the money raised gets distributed to local nonprofits. With 34 participants selected each year, the top winning charity is guaranteed $150,000 with a sliding scale to the minimum amount of $15,000 for every participating charity.
"We are honored to hold this seventh annual event and look forward to helping many new Palm Beach County based charities along the way. It was our goal for the funds awarded to stay directly in Palm Beach County and benefit our community," Mark Bellissimo said. "This year's fairy tale theme reflects the fairy tale ending of the GCC, where each charity is guaranteed to be a winner. This event is truly the legacy of the Winter Equestrian Festival and the sponsors involved."
Paige Bellissimo agreed. "The GCC is a unique event that allows us to raise awareness of the diverse charitable organizations throughout the community," she said. "One hundred percent of the funds are distributed to charities and put to work immediately. This event serves as a 'magic wand' to the many heroes who lead these deserving nonprofits. We are very grateful for our rider teams, sponsors and partners who support the effort."
If you know of a deserving Palm Beach County based charity, have them visit www.greatcharitychallenge.com for full application details and information.
The drawing of the 34 charities to participate in the 2016 event will be held at random during Wellington's Winterfest at the Palm Beach International Equestrian Center on Nov. 28.
For further information, contact Anne Caroline Vatlin at acv@greatcharitychallenge.com.
ABOVE: Competitor Hannah Patten and a superhero at the 2015 Great Charity Challenge.