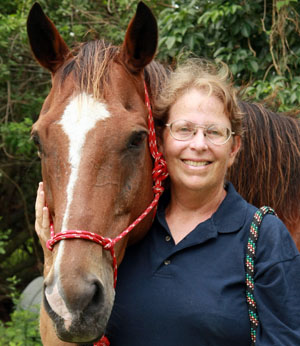 TALES FROM THE TRAILS
Like a lot of other people, I'm a sucker for a good yard sale, thrift store or flea market. When you own horses, you always need extras of everything: stirrup leathers, halters, reins, feed buckets, girths. Because, sure as shootin', there you are about to go for a ride, and something breaks, snaps or gets stepped on. Suddenly you need a replacement. Now. So even though I never exactly need anything, I can't pass up a nice horse-themed sale. Who knows what treasures await?
Sunday, Sept. 13, dawned warm and clear — perfect yard sale weather. A group of riding buddies organized a multifamily sale in a back yard on 72nd Road North in The Acreage. Danielle Estrada was one of the sellers. She keeps 12 horses on her 30-acre spread.
"We brought a little of everything," she said. "We cleaned out the barn and the house and hauled it here. Time to get rid of this stuff. I think holding this yard sale was a great idea. Everyone has so much stuff! And no, I'm not buying anything. I'm avoiding that."
Amy, one of the organizers, was also selling. "We've got about a dozen sellers. There are a lot of really beautiful, high-end western saddles. The timing's right. We're just at the start of a new show season. Some people are starting out and need equipment, some are changing riding disciplines and also need stuff," she said. "I've sold some items. Unfortunately, I'm probably buying more than I'm selling. I like that there's a hodge-podge of things here, a lot of horse stuff, but other things as well."
Amy's daughter, Christina Izquierdo, was selling some of her stuff, as well as items for a neighbor who was out of town. Her daughter, 10-year-old Eva, was selling lemonade, candy and horse treats to raise money toward her school trip. "I've made $5.25 so far!" she told me.
The sale had originally been scheduled for Aug. 30, but an unwanted visitor named Erika had made her presence felt in the Caribbean. Happily, the storm blew itself out, but the yard sale was postponed.
I was thrilled that I didn't find too much I couldn't live without, other than a cute gargoyle. My friend and riding partner Bobbie snapped up a good pair of paddock boots for $5 and some new suede half-chaps for $10.
Caroline Hoffman was also selling horse stuff, along with hockey sticks, skates and more. "It's stuff the kids outgrew that has been laying around," she said. "There has been good traffic so far. I sold a portable AC unit, some jeans, a set of shipping boots, a couple of pairs of spurs, some blankets. It's fun. Everyone's having a fun, relaxed time."
Tammie Rheney was looking for whatever. She ended up buying some shipping boots and a training cart.
"I have nine horses and a pony," she said. "I'm going to train a couple of the younger ones to pull the cart. I used to drive carriages down on Atlantic Avenue. Driving is a nice way to bring along non-riding friends. This sale is great. They should have them more often."
Yes, they should. And if you're hankering for an even bigger sale, have I got good news for you. Sunshine Meadows Equestrian Village will be hosting its third annual Equestrian Flea Market on Sunday, Oct. 25 from 10 a.m. to 3 p.m. I attended last year's sale, and it was wonderfully overwhelming.
I found extra reins, riding gloves, a nice bridle, some halters, a girth and two plastic garbage bags of chicken feeders and waterers.
"Last year, we had more than 40 vendors," organizer Scott Miller said. "There's mostly equestrian-themed items, but you never know what you'll find. Last year, a couple had a table with a lot of pictures, photos, and odds and ends. They drove up in a nice, older Cadillac convertible. 'You should sell this old thing,' said the wife. Two hours later, they did!"
Booths cost $20 for a 10-by-10 space.
"Bring your own tables and chairs," Miller said. "We offer free spaces to animal charities — dog and cat adoption shelters and horse rescues. It's a fantastic opportunity to get your name out there in the community, and maybe find homes for some animals."
Sunshine Meadows Equestrian Village is located at 16668 Winners Circle Drive in western Delray Beach, right off of State Road 7. It has 170 acres filled with three race tracks, 678 stalls, six different riding areas including jumping and dressage arenas, a full-service tack shop, an RV park and a restaurant. And, on Oct. 25, a lot of eager buyers and sellers. I can't wait!
For more information, call Miller at (561) 281-7659, or visit www.sunshinemeadows441.com.