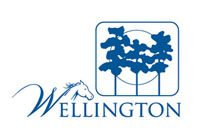 The Wellington Village Council gave its approval for medical offices in retail sections of the Village Green Center shopping plaza on State Road 7 last week.
The medical offices, which required a conditional use permit, will be located in four retail buildings at the back of the 16-acre retail parcel, which is located on the west side of State Road 7, just north of Stribling Way.
At the Oct. 13 meeting, Planning & Zoning Director Bob Basehart said that the center is currently home to a Trader Joe's grocery store, as well as restaurants such as Taco Bell, McDonald's, PDQ and Buffalo Wild Wings. There is a vacant spot at the corner of SR 7 and Stribling Way, which has been approved for a bank.
"Everything has been built on the site except for the bank and the office building," Basehart said.
The original site approval was for retail and professional offices.
"Medical offices are conditional uses," he said, adding that village staff recommended approval.
Wellington's Planning, Zoning & Adjustment Board recommended approval Sept. 2.
The medical uses will be limited to no more than 15,000 square feet, which is about 26 percent of the retail space, Basehart said.
"The reason we made that recommendation is because it was planned to be a retail building, and we want to effectively retain its retail character," he said.
Councilman Matt Willhite asked about the unconstructed two-story or three-story building on the site that has been approved for general offices, explaining that he would like to see that approved for medical uses as well. However, Basehart said that a traffic study would be required before that can be changed.
"The traffic generation for medical offices is about twice the generation rate for general offices," he said. "The traffic generation for retail and medical offices is about the same. A traffic evaluation would have to be done to see if they can still make traffic performance standards."
Patricia Ward Holloway of Ward Real Estate said the condition placed on them by the council was that they were required to build an office building on the site.
Willhite asked if village staff would recommend medical uses in the multi-story building if the applicant requested it.
Basehart said that he would support a combination of medical and general office use. "We believe that medical offices are needed in the area," he said. "We support the use, but it's a matter of evaluating the traffic impact for increasing the trip generation."
Councilwoman Anne Gerwig asked what the medical use would be, and Holloway said that her current client is a pediatric orthopedist.
"I have a signed lease with a pediatric orthopedics doctor that is waiting for this approval so he can submit his building plans," Holloway said. "His architectural drawings are done, and he's going to submit them if I can get it approved."
Gerwig made a motion to approve the resolution, which carried 5-0.