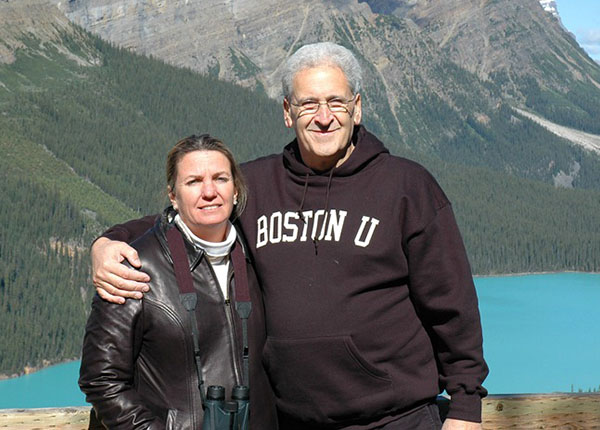 For 62-year-old Wellington resident Bill Lerner, the last few years have been difficult, to say the least. Bill and his wife Andrea moved to the area eight years ago from White Plains, N.Y., when their lives took a drastic turn.
"A week before we left New York, if not sooner, we were told by the doctor about the liver problem," he said.
They had just moved to Florida, and didn't have local doctors chosen, so they flew back and forth a few times to New York before they settled in and were referred to doctors at the University of Florida.
"At the end of 2013," Lerner said, "I was sent to the hospital by my cardiologist. He said, 'You're having problems with your heart, but I think it's due to something else.'"
The cardiologist was correct, and devastating news was in store.
"The nephrologist came in and he said: 'Your kidneys are failing. You'll have to go on dialysis at one point and you do need a transplant, otherwise your long-term prospects are low,'" Lerner said.
Lerner was quickly set up with a medical schedule, including traveling to UF facilities in Gainesville four to six times a year, depending on what procedures and scans need to be done. "It becomes expensive," he explained. "You're constantly driving up, you're staying over; my wife has to take the days off from work. That's why we got with this organization called HelpHOPELive."
The organization does fundraising for medical needs. The Lerners were able to create two online campaigns through HelpHOPELive (https://helphopelive.org/campaign/2218) and GiveForward (https://giveforward.com/fundraiser/0w29/bill-lerner-s-dialysis-amp-transplant-expenses-fundraiser) for friends and family to help them with expenses.
"It's an easier way for people to donate to the transplant fund," Lerner said. "A lot of people don't know that the wait can be years to get a transplant, and your insurance doesn't cover everything."
Insurance only partially covers anti-rejection medicines, which are expensive, he noted.
In addition to the campaigns, a fundraiser will be held at Buffalo Wild Wings in Wellington on Saturday, Nov. 7. To help, all attendees need to do is show a flier — which will be available on the fundraising campaigns — and a portion of the proceeds for the day will help the Lerners with medical expenses.
For now, his wife, who used to work at a veterinarian's office, is tutoring at the Huntington Learning Center when she isn't taking care of Bill.
"We do dialysis at home," he said. "We don't go to the center. They set us up with a machine here. That's one of the things that Andrea does — that's the reason she left the vet. It just wasn't a good fit, trying to work 40 hours a week, then dealing with this for five hours."
For Lerner, being hooked up to machines waiting for a liver and kidney transplant is a harsh change from his formerly active lifestyle.
"My mind is 25; my body is 92," he said. "The kidney takes a lot out of you."
When he was in college, Lerner was the student manager of his college hockey team, and then he trained racehorses in his 20s. For the last 30 years, he worked in the information technology industry, offering installation and support assessment for a few companies before going out on his own.
"It's a different world for me," he said. "I used to be able to get up at 5:30 a.m. and work away."
Now, he has less energy and isn't able to do what he used to.
Bill and Andrea would travel, and even adopted Connie, a border collie who is almost 6 years old. "She was on death row when we got her," he said.
Now, Connie is able to watch over Lerner and keep an eye on him while Andrea is at work. "She recognizes when you don't feel good," he said.
Good days, now, are days when he goes to the dog park with Connie and isn't exhausted upon return.
Even with long, tedious days, Lerner is focused on remaining a driving force for the American Cancer Society.
"Our volunteer team will host 'Bark For Life,' which is open to the dogs and their owners to raise funds for human cancer support and research, and to honor dogs who are caregivers to cancer patients," Lerner said. "This season's event will be on Feb. 21 from 11 a.m. to 4 p.m. at the South Florida Fairgrounds Agriplex."
To help Lerner, donate to his online campaigns, or contact him directly at blcs2000@gmail.com.
ABOVE: Andrea and Bill Lerner during their travels, before his current health problems slowed them down.