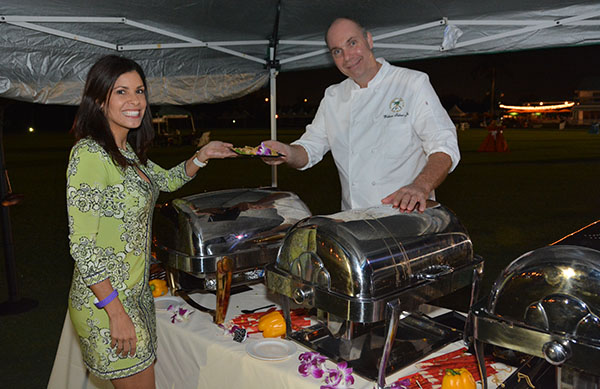 The Wellington Rotary Club's second annual Wellington Wine & Food Fest is gearing up to be bigger and better than last year's inaugural event, showcasing fine dining favorites from select Wellington restaurants, a charity auction, live entertainment and more.
"It's our big annual event to raise funds for the Wellington Rotary Foundation," Event Chair Andrew Burr said, adding that the foundation funds the club's scholarship program and donations that support local charities, such as Back to Basics and the Lord's Place.
The Wellington Wine & Food Fest will take place at the International Polo Club Palm Beach on Saturday, Dec. 5 from 6:30 to 10 p.m.
"It is essentially a kickoff to the equestrian season," he said. "We have wine, liquor and beer. We have Tito's Vodka sponsoring the event. As soon as you come in the door, you'll be handed a Tito's Vodka welcoming cocktail, then you'll go into the event and past our local food partners that are coming out and offering small plates."
Many of the restaurants from last year are expected to return, offering guests tasty treats. South African wines will be featured, and there will also be a cigar bar for those who are interested.
For entertainment, Flashback, a local five-piece band, will perform, and there will be a magician and other surprise entertainment acts to delight guests, Burr said.
The live auction will feature stays in exotic locales such as Cancun and Tortola, plus favorites Disney World and Sea World. Also on offer will be a bicycle from Wheels of Wellington, a dining round, a "restock your bar" gift basket from Star Liquors, artwork and other items. "There are some great items to bid on," Burr said.
Sponsorships, some of which are tax-deductible, include private seating and a private tent on the field. VIP presenting, gold and silver sponsorship packages include tickets to the event, premium champagne and wine, all you can eat and drink throughout the event, a private tent on the polo field and more. A valet sponsorship and entertainment sponsorships are also available.
"It's a great place to come out and have your holiday event with your company," Burr said. "If you're a company that has 10, 15 employees, you can come out and do the entire night for $2,500, possibly even less, and have all you can eat, all you can drink, a great venue and great entertainment. What better way to do it? If it's a smaller group, let me know and we'll see what we can work out."
Last year, the Wellington Rotary Club raised approximately $20,000, and aims to raise $30,000 this year to help local charities. Tickets sold out quickly last year, with only 250 available.
"Last year was a great success," Burr said. "Everyone who went had a great time. The majority of the sponsors are coming back, so we are building on it this year."
The Wellington Wine & Food Fest is expected to be an outside event, with a resort casual dress code. If there is inclement weather, it will be moved inside.
"I'm very excited," Burr said. "It was a great event last year. Everybody had a great time. We raised a lot of money for the charities, and that's really what it's all about. It's a good time, it's a party and it's time to kick off the season out here in Wellington."
In order to accommodate interest, approximately 300 tickets, at $125 each, are available for this year's event.
"A large portion of the funds goes toward scholarships for local high school kids," Burr said. "They're based on merit and need. Pretty much all of the money that gets raised at this event stays in the local community."
Contact Burr at (561) 324-8914 or realtorandrew1@yahoo.com for more information about sponsorship and group packages. To order tickets to the event, visit www.wellingtonwineandfoodfest.com.
The Wellington Rotary Club meets every Thursday at noon at the Wanderers Club.
ABOVE: Jasmine Velez receives a plate of food from International Polo Club Palm Beach Executive Chef William Sellner at last year's event. Photo by Denise Fleischman/Town-Crier