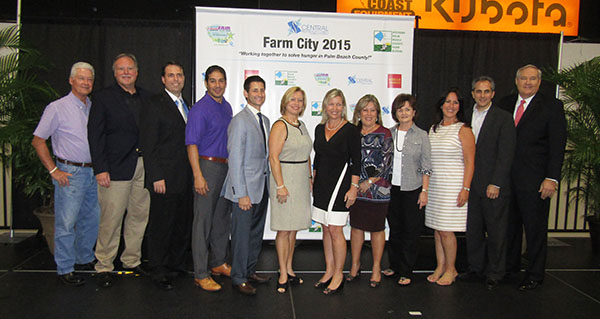 The Central Palm Beach County Chamber of Commerce held its Farm City Luncheon at the South Florida Fairgrounds Expo Center on Wednesday, Nov. 18 with a focus on feeding the hungry.
More than 200 people attended the lunch, a substantial increase from last year.
Four panelists representing groups involved with feeding the poor participated in the discussion: Perry Borman with the Palm Beach County Food Bank, Laurie George with the United Way of Palm Beach County, Denise Hatton of R.C. Hatton Farms and Paco Velez with Feeding South Florida. They answered questions posed by Rick Roth, president of Roth Farms.
Roth said that it was heartening to see the number of people attending.
"You have the ability to improve the amount of food that people get to eat in Palm Beach County through the food bank system," he said. "I serve on an advisory committee to a food bank, so I've been watching the situation for about four years, and I'm here to tell you this is the sleeping good news."
Velez said that Feeding South Florida is one of 200 food banks across the country.
"Last year, we rescued and distributed more than 41 million pounds of food to 3 million families who are struggling, and supported them with other programs as well," he said.
George explained that the United Way is heading the Hunger Relief Project, with the goal of reducing hunger in the county.
"I am absolutely thrilled with the response that we have in this community right now, and the passion, commitment and thought as to how we end hunger," she said. "I hear amazing ideas every single day."
Borman added that the Palm Beach County Food Bank is focused on strengthening the hunger relief system locally.
"We recover, collect and distribute food to several different organizations on the front line of hunger relief," he said. "We also have a nutrition education program that's a wonderful collaboration with the Palm Beach County Extension of the [Institute of Food & Agricultural Sciences], and our Weekend Backpack program for children at summer camp sites."
Hatton's farm has been a leader in gleaning projects, where groups are invited to come gather food from the farm that has not been collected by mechanical harvesters, and has been providing produce to local food banks for more than 20 years.
"It's wonderful for me to be here to represent the oldest vocation in history, and that is farming," she said. "Since the beginning of time, man has had the responsibility to tend the land and to encourage its growth and productivity."
She said that currently, less than 2 percent of the population is in the occupation of producing food to a worldwide population of 7 billion people.
"As farmers, we have a heavy responsibility to feed a lot of people," she said, adding that 15 percent of the county's population is food-insecure, and that RC Hatton Farms is one of many farms that provide fresh food to food banks.
Roth asked Velez if local food banks would be able to provide enough for what appears to be a growing need in the county.
"The United Way and Palm Beach County government have come together to put together a really solid plan for the county, and really bring the community together to try and address all the issues that are plaguing our families, with the help of a lot of major growers," Velez said. "The biggest issue to our families getting food is the distribution — getting food from those who have it to those who need it. How do you do that in an effective and efficient way?"
Velez said that among the things that plague families are low wages.
"You live in a destination spot, a paradise, so some of our wages are minimum-wage jobs, and how do you fill those gaps?" he asked, adding that his organization also helps families by educating them on the Supplemental Nutrition Assistance Program (SNAP) and Medicaid benefits that families are potentially eligible for.
"It's a difficult question trying to get people out of poverty," Velez said. "Those jobs have to somehow get out of that poverty-level wage, but also increase the amount of the poverty line that the government has put in place. It's really about trying to get our families to a better place financially."
George was asked what the United Way is doing to address increased demand for hunger relief.
She explained that the county has developed a strategic plan with 10 goals to relieve hunger. Those goals can be found at www.unitedwaypbc.org.
"This is really a community plan," she said. "The United Way is a partner with many other partners… There are so many bright spots. We have a lot of informed individuals who are from the school district, the for-profits, the nonprofits, the faith-based community. They really help us get our arms around where the greatest needs are."
George said that they issued a study with the help of the Food Research Action Center and the University of South Carolina that identified the greatest needs.
"They came down, boots on the ground, and conducted hundreds of interviews, focus groups, talked to people who are experiencing hunger, and we really heard what's going on with the senior population, what its looks like for them, and why they are having to make choices about food and medicine. We reached out to the schools, the children, to find out where those gaps are."
The study was presented to the Palm Beach County Commission in October.
"They blessed the plan," George said, adding that a hunger executive has been hired, and they are preparing to implement the plan. "I'm confident that we are going to be able to address hunger by working together."
Borman was asked about the number of food banks in Palm Beach County and the logistics of gathering and distributing food.
He explained that food banks are to food pantries or soup kitchens what Cheney Brothers or Sysco are to restaurants and country clubs.
"Those of us in the food bank or food recovery and distribution business are distributors of food in many of the things that we do," he said. "There are more food pantries and soup kitchens than there are food banks."
The Palm Beach County Food Bank, based in Lantana, is relatively small compared to other food banks, such as Pembroke Pines-based Feeding South Florida, he said.
"Just like growers, we have a 6,000-square-foot cooler, a 3,000-square-foot freezer and 6,000 square feet of warehouse space," Borman said. "That enables us to receive large quantities of food, perishable and non-perishable, and distribute those."
Hatton explained that gleaning is the act of gathering produce after the reapers have gone through.
"In biblical times, they were actually given a mandate for people to provide for the widows and orphans, and at that time, it amounted to the corn and shocks of wheat dropped on the ground," she said. "On our farm, in particular, we choose to do a gleaning where we allow people to come in and pick the corn."
In 1992, Hatton and her husband decided to start a gleaning program to help address hunger.
"He said, 'I have all this corn, but I don't have a way to get it to the people,'" she said. "We found CROS Ministries, which is Christians Reaching Out to Society."
CROS lines up volunteers to go to farms and gather produce, Hatton said.
"Your groups can be anywhere from 15 people to 100 people," she said. "They even allow children as young as 5 to come if they are under good adult supervision. This can be a family opportunity. There's something kids are missing so much in Palm Beach County. A lot of us sitting right here have kids who have no idea where their food comes from."
ABOVE: (L-R) Rick Roth of Roth Farms, keynote speaker Scott Etzel of Wells Fargo, Central Palm Beach Chamber of Commerce Chairman Thomas Bean of FPL, Paco Velez of Feeding South Florida, Steve Politziner of ESPN West Palm, Denise Hatton of R.C. Hatton Farms, Laurie George of the United Way, Vicki Chouris of the South Florida Fair, Western Palm Beach County Farm Bureau President Ann Holt, Rita De Mier of the South Florida Fair, Perry Borman of the Palm Beach County Food Bank and Walker Duvall with Wells Fargo.