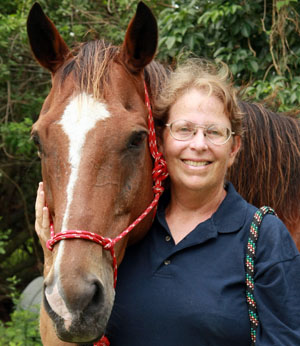 TALES FROM THE TRAILS
Saturday, Oct. 31, was warm and dry — a perfect day for trick-or-treating or just being out and about. In fact, many people did a little of both at two highly successful horse events.
The Acreage Horseman's Association hosted a community fun show at Nicole Hornstein Equestrian Park in The Acreage. By the time it kicked into full swing, the parking lot was crammed with horse trailers, and people and horses, many in costume, were ready for the games and contests.
AHA President Linda Rainbolt was thrilled. "It's going fantastic," she said. "We've got about 75 to 80 horses and a lot of spectators, family members and friends. The best part is that it's all free. The classes, the games, even the food and drinks. Everyone's welcome to participate, whether they're a member or not. This is a terrific way for the community to get together and have fun."
Jane Murphy, the AHA secretary for the pleasure and hunter/jumper shows, was also excited. "Everyone gets a prize," she said, gesturing to the booth piled high with stuffed animals, goody bags, medals on ribbons and toys. "Everyone's having tons of fun. We had more than 22 riders in the youngest age costume class. We also allow the parents to accompany their children and horses, for added security and peace of mind."
There were costume classes for kids of all ages, horses and riders both dressed up and/or decorated, and games like pass the pumpkin, four corners, pumpkin bowling, apple bobbing for horses and a skeleton scavenger hunt.
"I just came to watch and enjoy the day," Acreage resident Cindy Maxson said.
She had brought along Sophie, her Chihuahua, whom she planned to enter in the dog costume class. "This is a lot of fun. Some people did a lot of creative work on those costumes," Cindy said. "I think I might bring one of my horses next year and give it a try."
Judy Marino and her husband happened on the show by accident. "We were driving around in the golf cart with our granddaughter. Skylar is 4, and she loves horses, so we really hit the jackpot," she said. "It's a great community event, very family-friendly. We'll definitely put it on the calendar for next year."
Cheryl Back brought along two horses and four kids. "We decided on an Alice in Wonderland theme," she explained. "We have Tweedle Dum and Tweedle Dee, the Queen of Hearts, the Cheshire Cat, Alice and the White Rabbit. Everyone's having a blast."
Aryanna Back, 8, also known as the Cheshire Cat, agreed. "I like the prizes and getting to ride in costume," she said.
For more information about the AHA, visit www.acreagehorseman.com.
Further north in Jupiter Farms, Rachel Ibarra hosted a fundraising event for her charity, Nature Speaks. It's a nonprofit providing educational and empowerment programs for adults and children, which offers riding lessons, camping trips, workshops, trail rides, field trips, cattle drives, pony parties and family programs.
Nature Speaks is located in Jupiter Farms, but the event took place at nearby Golden L Ranch, owned and run by Steed Training, a 15-acre property that includes stalls, an arena with spectator seating, pastures and riding rings. One of the pastures was converted into a parking lot, which started filling up for the 2:30 p.m. start of the free event.
"Nine months ago Rachel asked if we'd help with her benefit, and I said absolutely, and here we are today," Rick Steed said. "We're very excited to give back to the community."
"This is our first time trying something like this," Rachel said. "It's a lot of work, but I think everyone will have a good time. We have costume classes for horses and riders, pony rides, face painting, a bounce house, a haystack filled with candy and prizes, and a reining demo by Rick and Trevor Steed."
Other sponsors included the Wild West Diner of Royal Palm Beach, which donated the food, and a dozen members of William T. Dwyer High School's culinary academy, who prepared and served the food.
"This is a nice way to give the kids exposure to real-world experiences dealing with the public," said Leo Renzette, one of Dwyer's culinary instructors. "They learn service can be in any venue, outdoors like this, or in a four-star restaurant. They also get community service hours."
Jackey Farias, 17, was one of the students serving food. She's in her third year at Dwyer's culinary program, and she loves it. The event also let her blend two of her favorite pastimes — she loves horses and used to ride.
Desiree Wood brought her grandkids. Kalia, 7, was entranced by the horses. "It's really cool," she said. "I'm excited to see the horses dressed in costumes. I can't wait to have a pony ride."
"I'm glad for events like this," Desiree said. "The whole atmosphere is very nice. It gives us a chance to meet other people and groups in the horse community."
Rachel was overwhelmed with the event's success. Her group raised almost $8,000 to support the rescued horses and low-cost educational and empowerment programs.
"About 400 people attended," she said. Everyone had a fantastic time. The kids tore up the haystack for the candy and prizes, the costume classes were a blast, and the Steeds' demo of reining was amazing. Everyone was also touched by a tribute to my dad, who passed away a few days ago. I'm very grateful to everyone who helped make it possible. It takes a lot of hands to pull off an event like this."
For more about Nature Speaks, visit www.nature-speaks.com.